A daughter's big reveal illustrates the power of Jayhawk generations
BY JENNIFER JACKSON SANNER
Taylor Getz thought of the perfect Christmas present for her dad, Peter, but when she learned that her family would travel from their home in Valencia, California, to KU in January, she decided to postpone the gift. 
After all, telling her dad she had finally chosen to attend his cherished alma mater would be so much more fun in Lawrence. 
Keeping the secret for a few extra weeks, however, proved to be tough for Taylor and her mom, Jenni. "This has been so hard; I've almost messed up so many times," Taylor said before her family's trip the weekend of Jan. 28-30. 
"The best thing is Pete is so angry; he is so mad at her that she won't commit," Jenni said. "I keep telling him how it's so important that we plan trips to visit other schools."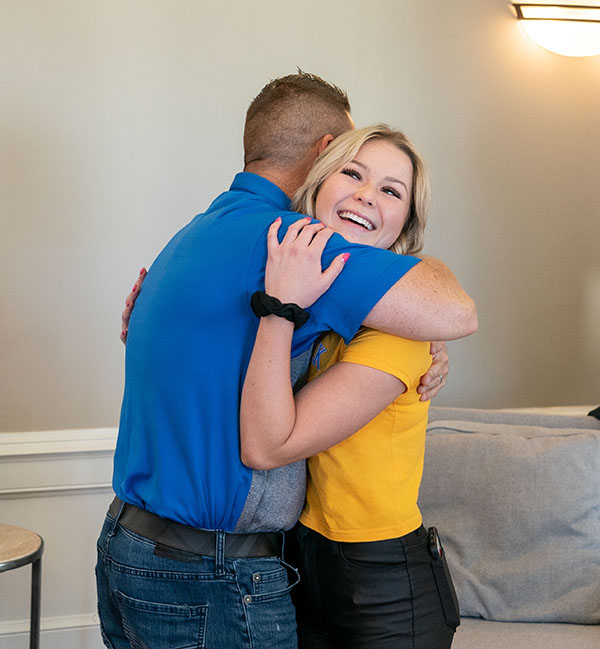 "Every day he thinks of some way to remind me of KU," Taylor said. 
Pete, d'97, had planned the January trip not as a final pitch to Taylor (at least not overtly) but to meet with fellow alumni of Sigma Alpha Epsilon fraternity. As president of the KU chapter's alumni group, he and others are preparing for the chapter's return to campus in the fall. He and his family also would rendezvous with his former roommate and best friend, Zack Holland, e'96, and his family to attend the KU-Kentucky game.  
Taylor and Jenni planned to surprise Pete on Saturday morning, Jan. 29, at the SAE house, 1301 W. Campus Rd., where he, Holland and others were meeting. With the help of Annie Santarelli Miller, the Alumni Association's assistant director of legacy relations and event services, they staged the announcement, complete with a banner and gifts for her dad and Holland, whom Taylor calls her "KU uncle."
Days later, back in his office in California, where he is principal of Valencia High School, Getz gushed about his daughter's memorable gift. "This was huge news for us, and it was quite the surprise. I was caught way off guard," he said. "I couldn't figure out why my 9-year-old son, Ryan, who loves to sleep in, was up and dressed, ready to go that morning before 10, but I still didn't suspect.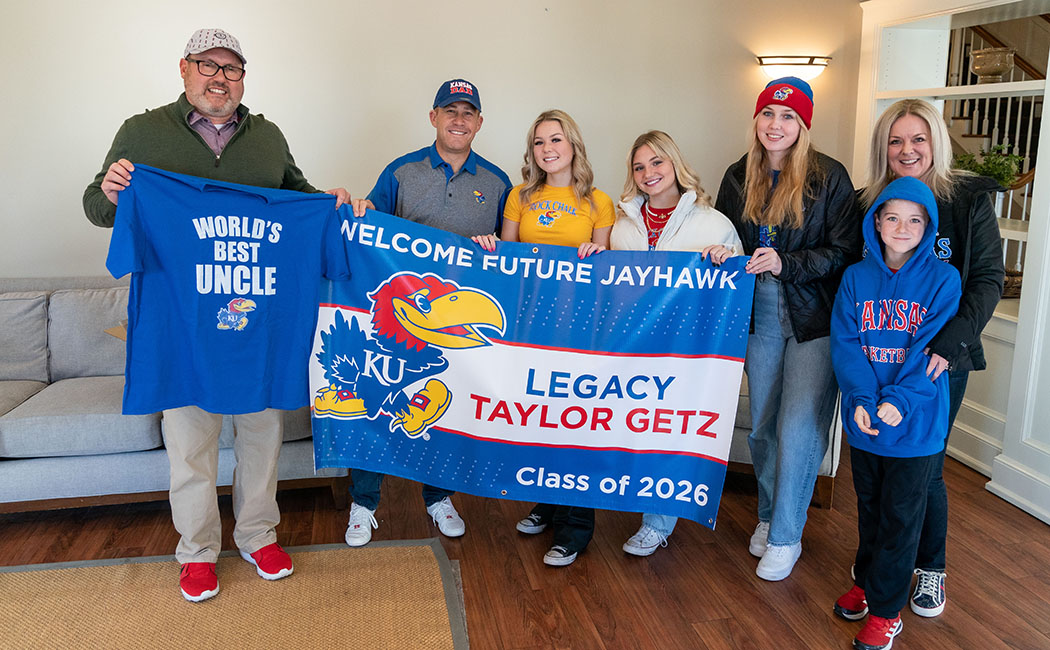 "When Taylor handed me the box of KU stuff, I was so surprised and thrilled. It made it even more special that Zack and other alumni were there, some of whom I didn't even know. The word had gotten out."
Miller, c'18, who joined the Association's team last August, says the moment was "really sweet" and a high point in her first six months of working with KU Admissions to help personalize the recruitment of prospective Jayhawks from KU families. "I don't say this lightly; it's a joy to be a part of families' college-decision journeys. I think it speaks volumes about the KU legacy and what it means to families that Taylor waited to tell her dad until they were here in Lawrence.''
Miller is the third Jayhawk to lead the Association's legacy recruitment efforts since the role originated in 2012 with Joy Larson Maxwell, c'03, j'03, who led recruitment until 2020, when her family moved to Salt Lake City, Utah. Former team member Danny Woods, j'13, took over the duties until last summer, when he accepted a new role in physician relations with the University of Kansas Health System. Since 2012, KU undergraduate enrollment of legacy students has grown from 15% to more than 25%, and prospects are bright for fall 2022. Association president Heath Peterson, d'04, g'09, says attracting students from Jayhawk families is critical to the long-term future of the KU community. "The Association wants to help recruit new Jayhawks from all backgrounds, whether they are first-generation college students, first-generation Jayhawks, or those who are continuing a KU family tradition," he says, "but our data through the years demonstrate that legacy students are more likely to remain at KU and stay involved as alumni volunteers and donors throughout their lives, which is so important to the continued strength of KU."
Recruitment of future Jayhawks in an increasingly competitive environment sparked the idea to construct the new Jayhawk Welcome Center (JWC) and renovate the Adams Alumni Center, as Kansas Alumni reported last spring (see "New Chapter," issue No. 2, 2021). As the Association and KU prepare for the public opening of the building in early 2023, Miller is learning new event-planning software and working with the Association and Admissions teams to become the point person for recruitment events in the JWC, where all campus visits for prospective students and families will begin. Her duties are a natural extension of her close collaboration with Admissions colleagues, about 25 of whom will work in the new center. 
Miller, who came to KU from Wisconsin, can personally attest that the campus visit is the linchpin of recruitment; she felt the attraction when she accompanied her older sister on a visit: "The moment I set foot on campus, I said to my mom, 'Even if Mia isn't coming here, I am,'" she recalls. Mia, c'17, chose Mount Oread, and Annie followed a year later. Their younger brother, Jimmy, is now a sophomore on the Hill. "Our legacy isn't generational yet, but it's horizontal," Miller says.
She helps personalize visits for families by connecting them with faculty and staff who align with students' interests, and following up to build relationships. "I'm a big fan of handwritten notes," she says. "As often as I can, I want to make those personal connections with students and their families."
Pete Getz, who as a student was a summer orientation assistant, says relationships tipped the scales toward KU for Taylor. Conversations and visits with Miller, admissions representatives and faculty differed dramatically from those at other schools, he says. "The other schools talked about how great their school is and their data and their position, but there was nothing about connection or family," he says. "What KU has is a sense of community as well as opportunity. It's a Jayhawk family, and you have a lot of resources embedded in that. Taylor is going to start out in the School of Education and theatre, and both of those schools were so willing to reach out and talk to her about what her path could look like. She got to walk through classrooms with the deans, and she could see herself in the academic world here."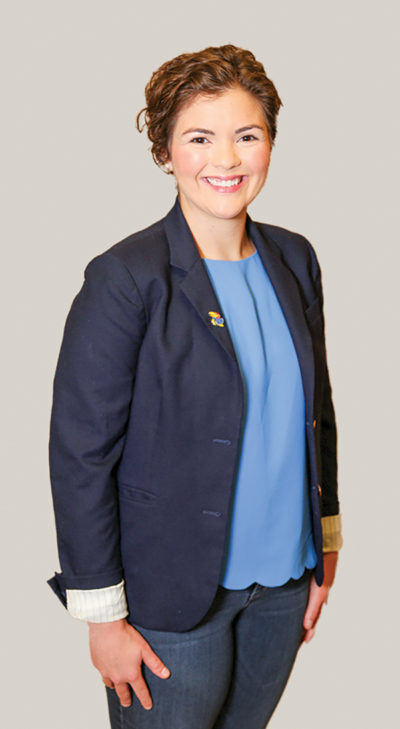 As a dad, Getz is personally thrilled by his daughter's choice, and he also takes professional pride as principal of her high school. He can picture graduation day, when he will hand diplomas to his daughter and her friends "who grew up playing in our front yard," he says, but he's in no hurry. "That's going to be a big day, probably equivalent to when I leave her in Kansas and drive away. 
"I'm not ready for either one."
Photographs by Steve Puppe and Dan Storey