Johnson lands 'dream job' as new archivist
With 30,000 cubic feet of records, including more than 10,000 films and audio recordings and more than 1 million photographs—all stored across the entire fourth floor of Spencer Research Library as well the library's basement and KU Libraries' west campus annex—newly appointed University Archivist Letha Johnson has a career's worth of priceless materials with which to indulge her lifelong passion for history.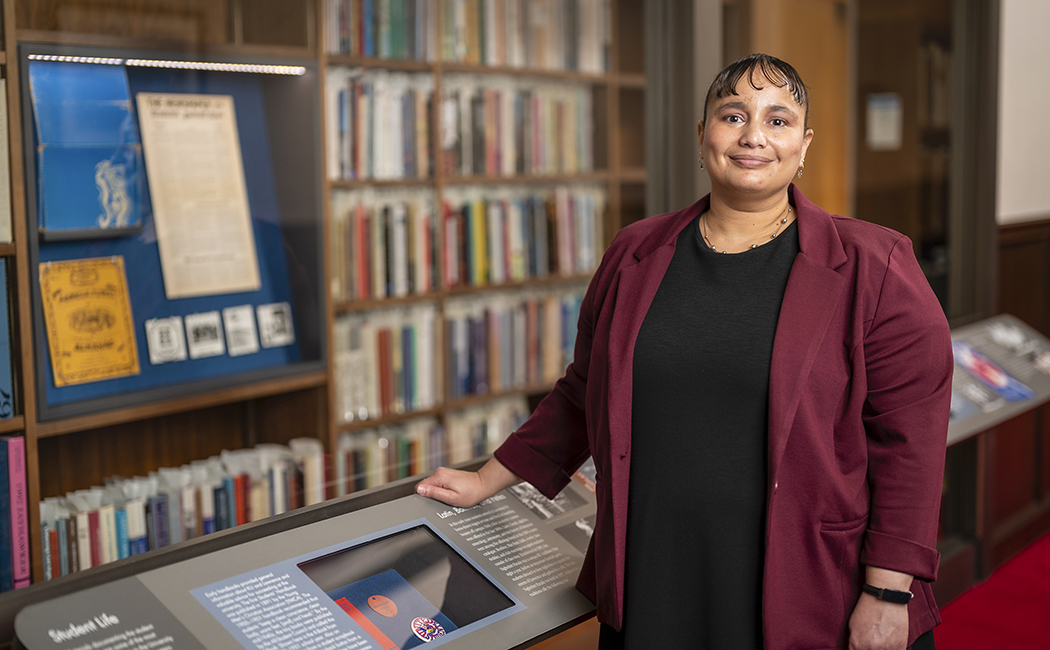 She hopes others will join her on that journey, including all alumni and anyone else with an interest in the unique heritage of our hilltop home.
"We're here and open for everyone to come in and view the collections," says Johnson, who joined KU Libraries in 2008 as associate archivist and most recently worked as curator of the Kansas Collection housed on the Spencer's third floor. "We really have tried to let people know in various ways that we're here for them. It's not just restricted to scholars or students."
Johnson replaces longtime University Archivist Becky Schulte, c'76, who last year began her phased retirement. Johnson says she hopes to emulate those who came before for their career longevity in the important post, and she already has her sights set on expanding archives' holdings from under-represented campus groups.
With online and Spencer gallery exhibitions, as well as a popular touring series organized in partnership with the Alumni Association—which unfortunately had to be paused during pandemic restrictions—Johnson is thrilled to deliver stories from KU's past that need to be shared.
"That's why I'm glad to be back up in University Archives, because it really does take some digging into the records that we have here to bring those stories forward," Johnson says. "And it's not only telling the stories of African Americans who have been at KU, but also members other under-represented groups, and really bringing those stories to the forefront."
Along with constant demands of records management—which require her to reach out to every campus department to make certain that important records are appropriately stored and, in many cases, eventually transferred to University Archives—Johnson plans to also actively solicit student groups to preserve and share current documents, photographs, scrapbooks and other materials, which collectively help represent the University experiences of all students for future researchers.
Alumni eager to indulge their KU curiosities are encouraged to visit Spencer Research Library. After registering at the front desk, researchers are welcomed in the Marilyn Stokstad Reading Room, where librarians assist them in requesting original source materials that are promptly delivered from the library's massive collections.
While in-person visits have their own unique value—the North Gallery's unequaled Campanile views alone are worth the trip—mind-boggling resources are now available online. Care to read through all of Phog Allen's papers? View the magnificent John Gould Ornithological Collection? Or peruse 30,000 campus photographs from University Archives' holdings? Just visit spencer.lib.ku.edu/collections and explore to your heart's content.
"Photographs from various student protests really stand out to me," Johnson says of her own strolls through the holdings. "It's the long continuum of students fighting for change, both here on campus and across the nation and world. Whether from the Black Student Union, or women marching for rights that technically should have been theirs under Title IX, those are some of my favorites.
"I love learning and I'm always learning something new. I've always described the University archivist position as my dream job, and I do plan to stay for quite a while."
For her fellow fans of KU history, no news could be more welcome.