Reporter tells Midwest stories
Annie Gowen shares heartland sagas with Post's wide audience
A cold wind whipped through the prairie as they laid Buck Timmins to rest.
So begins Annie Gowen's Dec. 9 Washington Post story about a mask debate cleaving Mitchell, South Dakota. While sharing tales of anger, mistrust and even death in the relentless season of pandemic that swept across the northern Plains, Gowen, a national correspondent now in her second year as the Post's Lawrence-based Midwest bureau chief, also reveals clues about her own world view, including a deeply held belief in the importance of storytelling.
"One of the things that was interesting about my South Dakota story was that a lot of people who read it converted it into subscriptions," Gowen says. "People still want that, whatever goes beyond Twitter or a basic news story."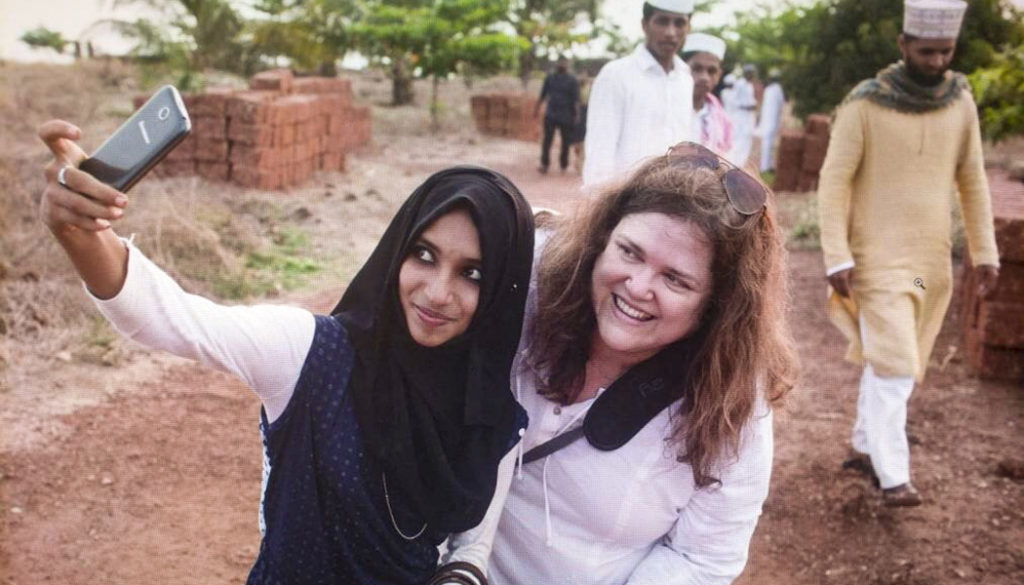 Forced to work her way through school after the 1981 death of her father, Tony, for many years a KU professor of freshman-sophomore English, Gowen, c'89, j'89, had little time for the University Daily Kansan, which, in its daily edition heyday, resembled a full-time job for reporters and editors.
Although she spent only one semester as a Kansan copy editor, a course requirement, Gowen headed to Washington, D.C., to chase her goal of someday writing for the Post's Style section. To gain experience, she first accepted a reporting job with the Washington Times, a conservative newspaper then riding high during George W. Bush's presidency.
"It was actually an interesting place to work," Gowen says. "It was a cool place to start, and a lot of people who were there went on to big jobs."
Gowen left the Times for a two-year feature writing fellowship at the Chicago Tribune and, after gaining additional experience as a Chicago freelancer, she landed her dream gig: The Washington Post.
Sort of.
"I got a job as a cops-and-courts reporter in one of our suburban bureaus, in southern Maryland, about an hour from D.C.," Gowen says. "At the time, hyperlocal was really big. We had a huge local operation when the paper was owned by the Graham family. That was their thing."
After applying for every possible opportunity in the prestigious mothership newsroom, Gowen in 1997 finally made her way to the Metro desk—"The Metro editor at the time, Jo-Ann Armao, said, 'I hired you because you won't go away'"—and Gowen settled in for a 16-year run as a news reporter while also eyeing her next goal: a posting in India, a multicultural country that had always tickled her imagination.
Turned down for the South Asia bureau when she finally had an opportunity to apply, Gowen in summer 2011 was instead offered a temporary assignment covering troop drawdowns in Iraq; her savvy as a foreign correspondent verified, the Post in 2013 offered Gowen its post in New Delhi as South Asia bureau chief.
"It's a dream foreign posting because it's just such a fascinating country. It's so multilayered, and I was always fascinated by that," she says. "To me, it was one of the best places you could go."
Upon her 2018 return following an award-winning five-year tour, the Post assigned Gowen to its "Team America," a group of reporters tasked with both enterprise reporting as well as on-site coverage of national events. In 2019, Gowen requested time to explore the plight of farmers snared by collapsing commodities prices triggered by the U.S.-China trade war, and she found three heartbreaking stories in Minnesota: a family trying to save their land after being forced to sell their dairy herd, a woman whose husband took his life in the face of financial ruin, and a farmer forced to live on food stamps.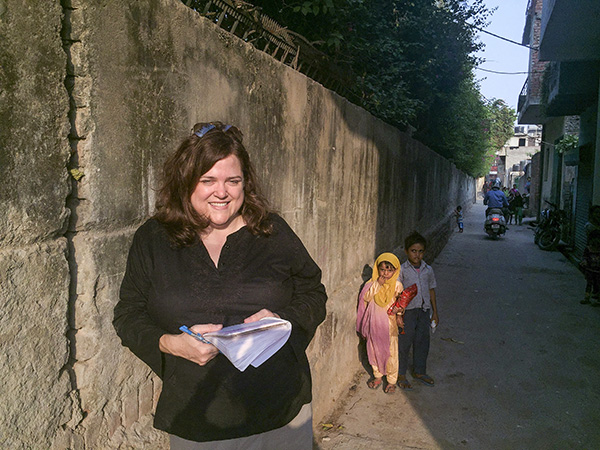 "When I got back to the U.S., I wanted to get back to my true love, which is narrative writing," Gowen says. "So they were able to give me the time to do the farmer series, which I think was well received."
When editors asked Gowen to open a Midwest office ahead of the 2020 election season, she happily accepted, in part to be close to her mother, longtime Lawrence therapist Marianne Gowen, g'84—with whom Gowen got to spend the final seven months of Marianne's life before her passing in April 2020—and also to be at the heart of the action as enthusiastic citizens across the political spectrum began rallying behind their candidates.
And then came 2020.
"I was sent here to write about Trump's America," Gowen says, "and I have done that, but it became about the pandemic. And, it became about the racial divide. I never would have thought when I came here that that would be a prime focus, but the Midwest has these deep, deep scars."
Also unexpected was her reception when she ventured into pro-Trump rural communities, where she worried about interviewing Americans distrustful, at best, of reporters from coastal news outlets.
"Sometimes people joke about it," Gowen says of the anti-media stereotype, "but they're always, 99.9 percent, very welcoming. I've had some very conservative farmers welcome me into their homes. When I did the mask debate, everybody on the other side was very patient about talking to me. I think they sense that I'm a down-to-earth person."
Eager to continue honing her storytelling craft while riding out social restrictions in Lawrence, Gowen fell into the habit of writing three longhand pages first thing each morning, as prescribed by creative guru Julia Cameron, and "refilling the well" by reading great books by gifted writers. She hopes to one day return to foreign reporting, and she's trying her hand at screenplays, but Gowen is mainly focused on her here and now, sharing stories of her native Midwest with readers unlikely to ever enjoy the opportunity of her access.
"A lot of people want to be narrative writers, but not everybody gets the chance," Gowen says. "It's hard for local reporters. They don't have time, they don't have the resources, they don't get the support, they don't have fancy designers turning your story into a thing of beauty. I think a lot of journalists aspire to that, and I did, also; it just took a long time to get to this level, to work at a place that supports this kind of journalism."
Photos courtesy Annie Gowen