Football star keeps it real
Aqib Talib brings welcome new voice to FOX broadcast booth
Rookie announcers, even famous former players, parade through NFL broadcast booths every season, most riding out forgettable stints calling the games they once played before being shown the door, never to be heard from again. Nothing about Aqib Talib is ever forgettable, as KU football fans well know, and Talib's rookie season as an analyst for national FOX Sports broadcasts was no exception.
"It feels honest, Aqib," sportscasting legend Dan Patrick told Talib, '09, in their Dec. 22 interview. "That's probably the best compliment I can give you. It feels honest in what you're telling me when you're breaking things down."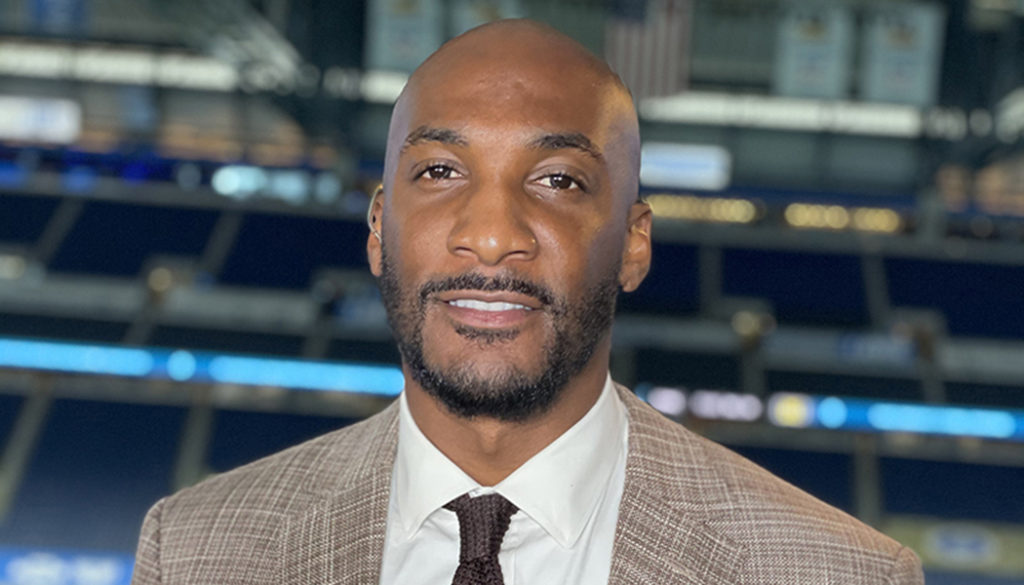 In his Dec. 21 podcast, recorded shortly after Talib's second broadcast of the season, the Dec. 20 Eagles-Cardinals game, podcast kingpin Bill Simmons lauded Talib as "our hero, the hero 2020 needed," and told his handicapping sidekick "Cousin Sal" Iacono, "I thought [Talib] was excellent today. I'm all in. Can we get him for Monday Night Football?"
"Really?" replied Cousin Sal. "I can't tell if you're kidding."
"I'm in," Simmons said. "I am not kidding. I love Aqib Talib."
"I saw the outfit," answered Iacono. "He went all out."
Talib's super-sharp Christmas-themed suit did, indeed, make headlines, but so did his natural voice, which drew praise from Yahoo Sports columnist Shalise Manza Young: "The reality is that for a not-small population of football fans, Talib marks the first time they've heard someone who sounds like them in a broadcast booth. He's quite literally speaking their language—Black English, or as it's called by academics, African American Vernacular English, the vernacular developed by Black Americans over centuries."
Speaking with Kansas Alumni from his Dallas home, Talib explained that the natural style that won over critics and fans alike was no accident. For one thing, he wouldn't have considered doing it otherwise—"I don't need to do this to feed my family. I just do it for staying around the game"—but FOX Sports also encouraged him to embrace his authentic voice. His producer on the Dec. 20 game even wrote out on a flip chart, in capital letters and exclamation points, "QI BE QI!"
Don't be Joe Buck; don't be Troy Aikman, Talib was instructed. They have enough of both.
We all have enough of both.
"They're coaching me to be myself," Talib says, "so that must be what FOX wants. FOX must want that new voice. That must be why they came to me. They know I'll keep it as real as possible."
Talib, MVP of KU's 2008 Orange Bowl, finished his potentially Hall of Fame NFL career after the 2019 season, and promptly became a popular analyst for the NFL Network, starting with guest stints on the network's set at the Super Bowl in Miami, site of his collegiate triumph. Talib had yet to announce his decision to retire, but an appearance on the podcast "Inside the Green Room with Danny Green" caught the attention of co-host Harrison Sanford, who approached Talib about starting his own podcast.
Talib agreed, and announced on the debut episode of "Call to the Booth" that he was officially retired. Now teamed with Sanford, the duo immediately sounded like old buddies from Houston.
Not so. They never knew each other until intersecting on Green's show.
"That's one of my talents," Talib says of his easy-going charisma. "Put me with anybody, man, and we'll make it work."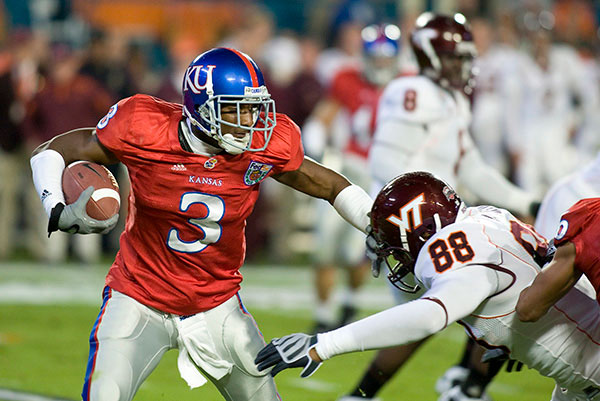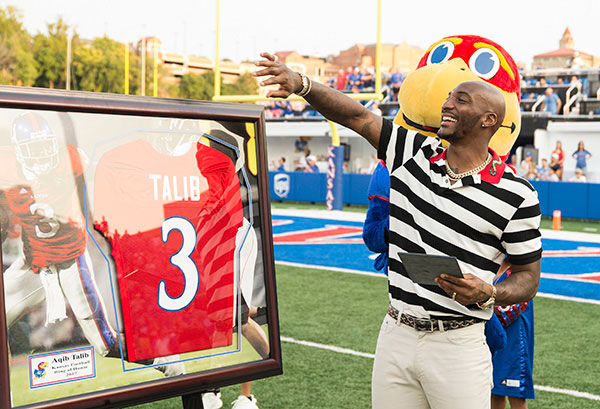 Aqib Talib intercepting a Virginia Tech pass in the 2008 Orange Bowl and celebrating his 2018 induction in KU football's Ring of Honor. Photos by Steve Puppe.
Ensconced with a home theatre outfitted with a fleet of flat-screen TVs, Talib says he was perfectly content watching games on Sundays and talking about the action on his podcast, while leaving plenty of room for coaching his 7-year-old son, Jabril, and three nephews in youth football. When FOX approached him about a tryout, he was intrigued enough to record a demo tape, but didn't give it much thought one way or the other.
"The next thing I know, they called and said they wanted to sign me to a three-game-max deal," Talib says. "Then it took two months for the paperwork to come through. It wasn't even real to me yet."
It got real in early November, when FOX hailed Talib for the Nov. 15 Washington-Detroit game. Featuring two uninspiring teams, Talib's debut garnered just enough notice for fans and critics to anticipate his return, which came a month later in Arizona, where Talib's call of a spectacular TD catch by DeAndre Hopkins became a highlight reel of its own, widely appreciated by fans happy to hear analysis by an ebullient defensive star rather than the usual staid former quarterback.
"It's kind of surreal to me," Talib says, "because I didn't go out pursuing it. It kind of just fell upon me. I'm trying to just do."
Talib says he's been in regular contact with his FOX producers since the season ended, and he anticipates that he'll be invited back for 2021—which would be a delight, he insists, if for no other reason than the opportunity to continue demonstrating to children of color that there's a place for their voice on TV, too.
"I hear kids, 'Qi, I heard you call the game!' and that definitely puts a smile on my face," he says. "They know exactly where I'm from. They know Qi is just being himself. That's what it does, more than anything. It gives the inner-city kids the confidence to be themselves and go do what you want to do."