Well, hey there, sweet Baby Jay!
KU Alumni Association unveils first campus statue of the cutie in our mascot flock.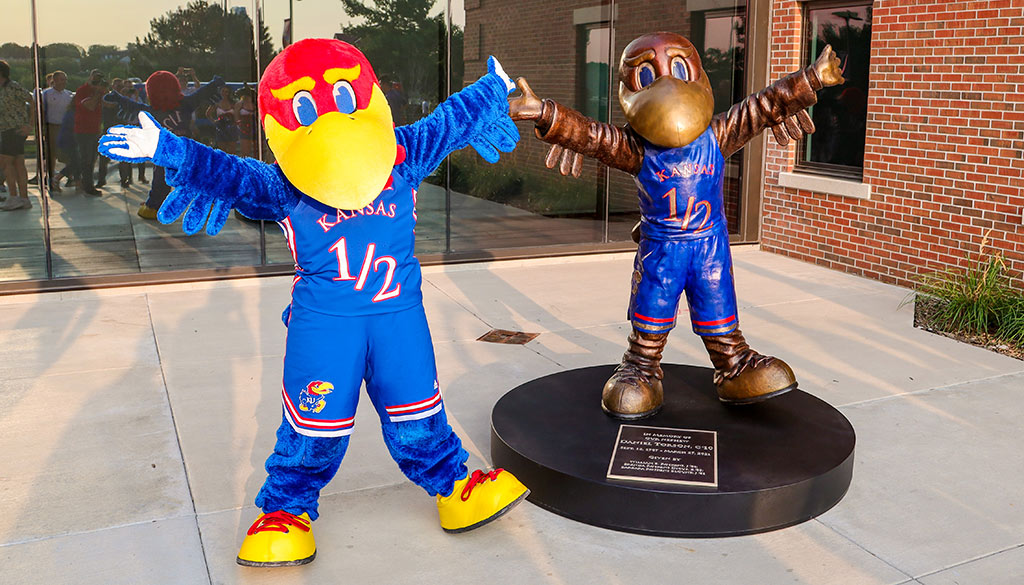 Under a gentle, robin's egg sky reflecting off the glass facade of the jazzy new Jayhawk Welcome Center, the school year on Aug. 18 took its first bouncy steps: "Horns … are … up!" commanded Marching Jayhawks drum major Rachel Rellihan, "… and … 'Fighting!'"
And so boomed the stirring return of "Fighting Jayhawk"—the leadership pep band's first publicly performed song of the semester—followed by "Kansas Song" and "Sunflower Song," all while Baby Jay bopped and cheerleaders cheered.
With Traditions Night festivities beckoning down the Hill, Alumni Association President Heath Peterson, d'04, g'09, offered a snappy speech, thanking donors William E. Roskens, j'86; Brenda Roskens Dicus, b'83; and Barbara Roskens Blount, j'81. The bronze bird is a memorial to their late nephew, Daniel Torson, c'10.
Then, in a matter of minutes, it was time for the unveiling. Assisted by student officers of the Homecoming Steering Committee and Student Alumni Endowment Board, Baby Jay pulled away a crimson-and-blue cover to reveal: Baby Jay!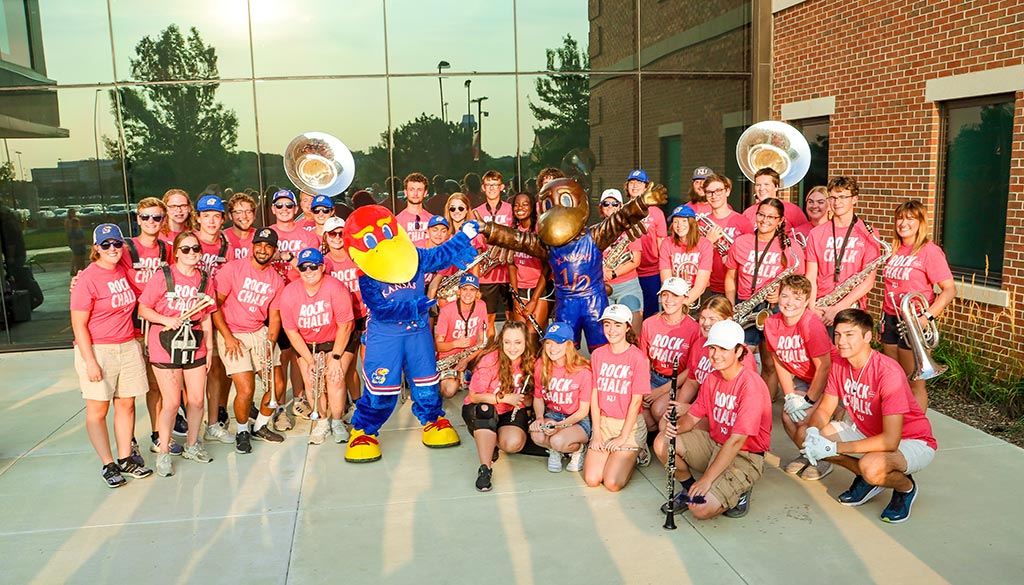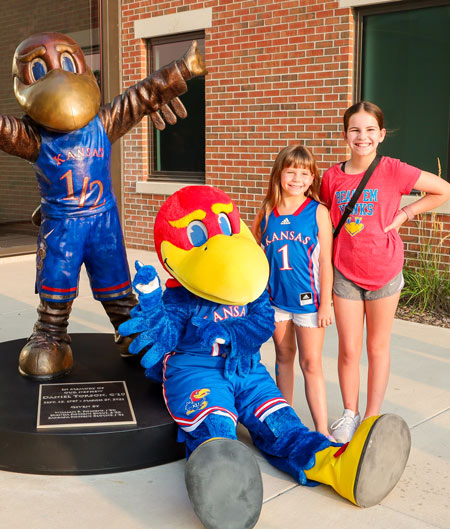 The first Baby Jay statue anywhere—by Oregon sculptor Alison Caswell—now welcomes campus visitors young and otherwise, arms spread wide, happy and joyful and everything a Baby Jay should be. Please drop by and say hello, and, of course, pose for pics with the darlingest, dancingest li'l statue you'll ever see.
But please also allow those of us of a certain generation—the aforementioned "otherwise"—to also retain our affection for our aerie's other statue, the stoic Eulich Jay, of 1983 vintage, which has been slightly repositioned yet retains its perch of pride. Few children have ever danced in its stern shadow, but it is a comfort to know there's an adult watching over things out front of the Adams Alumni Center and its dazzling new neighbor, the Jayhawk Welcome Center—even if Baby Jay gets all the Instagram love.
Chris Lazzarino, j'86, is associate editor of Kansas Alumni magazine.