Jayhawks celebrate 109th Homecoming with return of in-person events
The University celebrated its 109th Homecoming Oct. 13-16, culminating in the KU football game against Texas Tech Oct. 16 in David Booth Kansas Memorial Stadium. The theme for this year's event was "Back in Action."
After canceling in-person events last year because of the COVID-19 pandemic, the Alumni Association scheduled the return of several popular Homecoming traditions and also debuted new activities, all of which aimed to celebrate KU and connect all Jayhawks.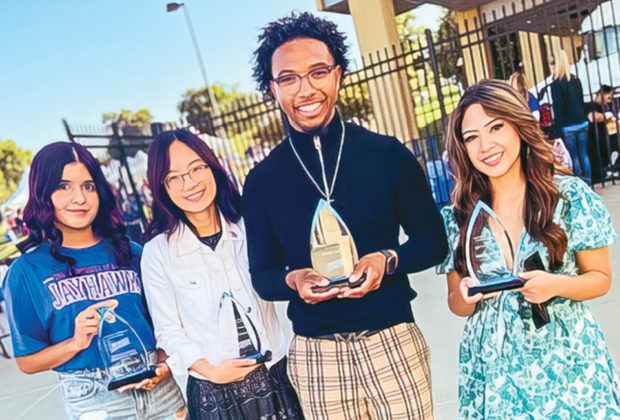 Students returning from Fall Break participated in Homecoming Kickoff, a two-part event that featured food and giveaways, followed by a movie in the Kansas Union. Other campus activities included a virtual sign competition, Chalk 'n' Rock and Jayhawk Jingles. The Association's Jayhawk Career Network also hosted Kyou Networking Week, a series of nine virtual events that drew more than 300 student and alumni participants—a 40% increase over last year's networking week.
The Association and the Student Alumni Leadership Board named Andrew, c'82, and Cecilia Romero Godwin, c'82, of Leawood as winners of this year's Rich and Judy Billings Spirit of 1912 Award, which recognizes Jayhawks who consistently display school spirit, pride and tradition. The award commemorates the first year of KU's Homecoming and honors Rich, c'57, and Judy Howard Billings, d'57, of Lakewood, Colorado, who in 2011 created an endowment to fund future editions of Homecoming. The Godwins received their award at the One Team tailgate, before kickoff of the football game.
During halftime, three students, Javen Betts of Kansas City, Kansas; Nikki Brown of Kansas City, Missouri; and Lily Nguyen of Wichita, were announced winners of the 31st-annual Excellence in Community, Education and Leadership (ExCEL) Awards, which provide an annual $250 scholarship to students. Nominees were selected on the basis of leadership, effective communication skills, involvement at KU and in the Lawrence community, academic scholarship and ability to work with a variety of students and organizations.
The Association also honored Navya Singh, a pre-medicine sophomore from Chandigarh, India, with the Jennifer Alderdice Homecoming Award, which recognizes students who demonstrate outstanding loyalty and dedication to the University. The award honors Alderdice, g'99, of Lawrence, who led student programs for the Association from 1999 to 2009.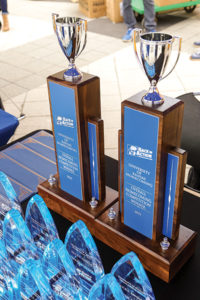 "This year's Homecoming experience was a week to remember," says Paige Freeman, '22, director of student programs. "We received stellar participation from the KU and Lawrence communities, and we were excited to jump back in action to provide opportunities for both students and alumni to celebrate what it means to be a Jayhawk."
KU's 109th Homecoming was sponsored by Best Western Plus West Lawrence, KU Bookstore and Truity Credit Union.