Association welcomes new staff for existing and new positions
The Alumni Association recently hired new team members to carry out essential roles in alumni, student and career programs; hospitality; business development; donor and member relations; administration; and finance and human resources. The Association also created a new position to help elevate its focus on diversity, equity, inclusion and belonging. The new staff are: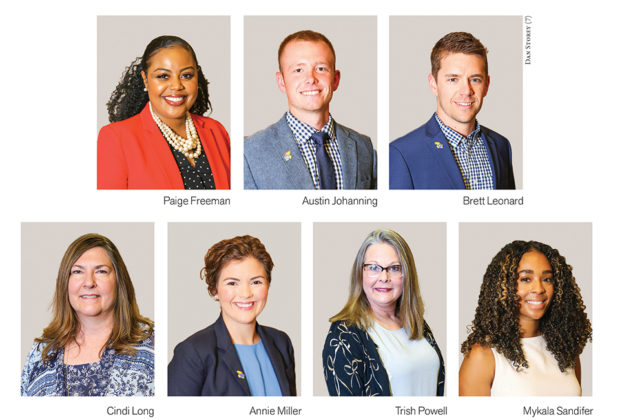 Paige Freeman, '22, director of student programs, who earned her bachelor's degree from Western Kentucky University and her master's in higher education and student personnel from the University of Mississippi. She is currently pursuing her doctorate in higher education administration at KU. A Kentucky native, Paige previously served as associate director of orientation programs at KU's Office of First-Year Experience.
Austin Johanning, g'20, assistant director of membership, who earned his bachelor's degree in business and sports administration from Baker University and his MBA from KU. Formerly with Kansas Athletics and the Williams Education Fund, he joined the Association to help promote member recruitment and retention.
Brett Leonard, d'09, assistant director of business development, a Caney native and lifelong Jayhawk. He recently spent eight years at the Golf Course Superintendents Association of America, where he focused on corporate sales, digital marketing and publications. He lives in Lawrence with his fiancee, Caitlin.
Cindi Bogard Long, '85, accountant, who joined the Association in 2020. A lifelong Jayhawks fan, Cindi and her husband, Dennis, '85, have two sons, Nick, '17, and Carter.
Annie Santarelli Miller, c'18, assistant director of legacy relations and event services, who hails from Wisconsin. She graduated with a bachelor's degree in communication studies and earned her master's in communication at Wake Forest University. Annie is happy to be back in Lawrence, where she lives with her husband, Chris.
Trish Powell, office coordinator, a longtime KU fan. She lives in Lawrence and has two sons, Korbin, a basketball player, and Kenzi, a first-generation Jayhawk in his junior year at KU.
Mykala Sandifer, c'15, director of inclusive programs and talent development, who joined the Association to bolster its efforts in diversity, equity, inclusion and belonging through inclusive programs and community and campus partnerships. She also supports talent development and culture for Association staff. A Chicago native who previously worked for Kansas Athletics as assistant director of the Williams Education Fund, Mykala this fall completed her master's degree in diversity and equity and human resource development from the University of Illinois.