Myriad influences, backgrounds key to KC band's 'smart pop'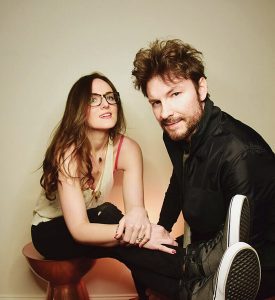 Becky and Nathan Bliss of the Kansas City duo Barnaby Bright stumbled onto the name for their band in a book of fables and myths.
"It dates back to medieval England when the Christians would sort of usurp pagan holidays and Christianize them," says Nathan. "They did this to the summer solstice holiday, and merged it with the feast day of St. Barnabas. So it was known as 'Barnaby Bright, the longest day, the shortest night.'"
A similar sort of mixing and matching typifies the couple's approach to music.
Becky, f'06, studied voice performance at KU and grew up in a musical family of professional opera singers. Nathan majored in jazz composition and saxophone performance at Berklee College of Music and also studied audio engineering.
"I have a degree in jazz, but, truly, at my core, I'm a rocker," Nathan says. "I would describe our earlier style as folk, but with a rocker push, in my direction. On Becky's side, beautiful, accessible, inviting …"
"… A little more female singer-songwriter, a little more emotional, perhaps," Becky finishes. "It's sort of a melding."
A booking agent introduced them in 2005 in Kansas City. "I was finishing my last year at KU, studying vocal music, but I knew I wanted to do more contemporary music and less the traditional operatic route," Becky recalls. "I was looking for a guitar player and Nathan happened to be looking for a singer."
For a year they played mostly cover tunes, occasionally slipping one of Nathan's songs into a set. Both felt a romantic spark but were involved with other people at the time. In 2006 Becky moved to New York City and began writing songs for an EP. "They were all pretty much about Nathan," she says. "He heard it and got wise to the fact that I kinda had a crush on him." He moved to New York City in 2007, and they married later that year.
Around recording their first two albums, "Wake the Hero," in 2009, and "The Longest Day," in 2012, they toured heavily, playing 150 to 200 dates a year. They won songwriting awards in New York City, including a $10,000 first prize from The New York Songwriters Circle that helped buy a touring vehicle. They eventually moved to Nashville, where, worn down by the road grind, they started work on their third album, using $30,000 raised from fans via the crowdfunding site PledgeMusic.
They set out to expand their sound beyond the folk template, working with "a great producer" who gave them "everything we asked for—brilliantly," Nathan says. "But nobody was minding the fact that while it's good as an artist to push your boundaries, it's important not to go too far. And we felt after listening to the end product that we'd gone too far."
"We made a record that we really weren't happy releasing," Becky says. "We ended up cutting a lot of those songs, redoing a lot of songs, writing new songs and adding those. So the record that came out this summer is a reflection of four years of growth and self-reflection and coming back to who we really are."
That album, "Barnaby Bright," released June 21, on the summer solstice, reveals their deep roots in folk, classical, jazz and world music. The songs—five written by her and six by him—showcase Becky's virtuoso vocals, the duo's tight harmonies, and an eclectic instrumentation that includes clawhammer banjo, harmonium, ukulele and shimmering synths and strings. The folk flavor is enlivened by forays into moody electronica and bright pop. The result is what the duo calls "smart pop with an authentic Americana stamp, not the other way round."
The four-year journey to a finished album may have been roundabout, Becky says, but they ended up right where they need to be.
"I'd say we're probably in the best place we've ever been. We just bought a house in Kansas City; we've got a great community of other musicians and a great band." They also, for the first time, have a team to handle production, publicity and social media. "In many ways, it feels like the pieces of the puzzle are all coming together."
Later this fall, Barnaby Bright will release an extended LP of the album, featuring five new tracks, and on Oct. 19 they will play at a benefit concert in Kansas City for the veterans' charity Warriors' Ascent. All proceeds from their song "This is Life" benefit the nonprofit organization.