Professors' book shows how new growers are taking old approaches to raising food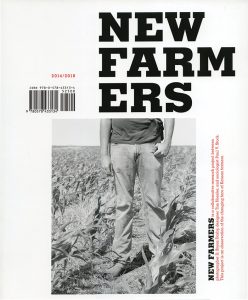 Building on an exhibition produced by a trio of KU professors and first seen on campus three years ago at The Commons, New Farmers 2014/2018 brings together photographs and reflections of farm families practicing sustainable agriculture across eastern Kansas.
Paul Stock, associate professor of sociology and environmental studies; Bryon Darby, former KU assistant professor of photo media and now a lecturer in photography at Utah State University; and Tim Hossler, associate professor of design, collaborated on the project, which explores the reasons these "new" farmers—many of whom came to the field from other professions like teaching rather than from farm family backgrounds—are pursuing an approach to agriculture that relies much less on technology than does the typical large-scale, Midwestern row-crop farm. Stock's interviews allow the growers to speak for themselves, while Darby's rich, black-and-white photographs and Hossler's bold, throwback design (influenced by Great Depression-era photographers such as Dorothea Lange and Walker Evans) give a face to a movement too often obscured by buzzwords like sustainable, locavore and farm-to-table.
New Farmers reminds that by growing actual food (stuff that can be picked and eaten or prepared by customers) rather than commodities (which must first be processed by corporate middlemen) these farmers are returning to traditional ways as much as blazing trails.