Richard "Dick" Sias, c'51, l'54, in November received the Global Vision Award from Sister Cities International OKC for his philanthropic efforts in the Oklahoma City area. 
Jean Elston, d'60, is president at Prosperity Housing Solutions in Long Beach, California. In September she was honored as 2021 Professional of the Year by Strathmore's Who's Who. 
Jeanne Rustemeyer Kern, c'61, d'63, wrote Love is a Filing Cabinet, The Nutcracker Nibbles Christmas Case and Fortune Cookie Christmas, all of which were published in 2021. She also appeared in three indie horror films.
Thomas Jenkins, e'63, g'67, vice president and national transit/rail consultant at HNTB in Santa Ana, California, in October was honored with the 2021 Mobility 21 Lifetime Achievement Award.
Catherine Leibach Anthony, n'64, lives in Independence, Missouri, where in May she celebrated her 100th birthday. A retired nurse, she stays active in her church community and enjoys quilting.
Richard Scharine, g'64, PhD'73, is professor emeritus of theatre at the University of Utah. He lives in Salt Lake City.
Zafar Israili, PhD'68, professor of chemistry at Emory University in Atlanta, recently was recognized as a top educator by Marquis Who's Who.
Richard Konn, e'68, retired as president and CEO of Arkon Investments in Palm Desert, California. 
Robert Wuthnow, b'68, in July became professor emeritus of sociology at Princeton University. He's the former director of the university's Center for the Study of Religion.
James Bredfeldt, c'70, m'74, in September was included in Marquis Who's Who for excellence in gastroenterology, hepatology and clinical research ethics. A retired physician, he lives in Bellevue, Washington.
Allin Herring, d'70, retired as vice president of customer service at Insight Communication. He makes his home in Fishers, Indiana.
Fred Meier, j'70, is a freelance automotive reporter and editor. He and his wife, Lorrie, live in Washington, D.C.
Joel Weigand, m'70, lives in Wellington, where recently he retired as a physician at Ascension Via Christi. He practiced medicine for more than 50 years.
Carl McFarland Jr., c'71, g'73, PhD'75, is professor and chair emeritus of psychology at the University of Alabama at Birmingham. In September he was inducted into the Hall of Fame at Topeka West High School. 
Patricia Lafferty Ballard, c'72, graduated in 2016 with a degree in graphic design from Santa Fe University of Art and Design in New Mexico. She and David, c'71, live in Lawrence.
Charles, c'72, and Martha Bryant Howard, '73, celebrated their 50th wedding anniversary in May. They met at KU and were married in Danforth Chapel. The Howards, who have a son, Matthew, recently moved from the East Coast to Boise, Idaho, where they continue to enjoy retirement. 
Gary Brown, c'73, directs product development at TDI Global Solutions in Meriden.  
Sharene Plattner Oldham, b'73, is a retired tax auditor at CCH Inc. She lives in Derby. 
Brent McFall, c'74, g'76, retired as city manager in Buckeye, Arizona, where he lives with his wife, Gail. 
Theresa "Terry" Foiles O'Malley, c'74, directs 911 public safety for the City of Tulsa, Oklahoma.
James Oswalt, b'74, is an attorney in Hutchinson. 
Roy Heatherly, j'78, is president and CEO at the Chamber of Commerce in Monroe, Louisiana.
Andrew Kasnetz, c'78, general counsel and shareholder at Sandberg Phoenix in Clayton, Missouri, joined the mediator and senior arbitrator panels of United States Arbitration & Mediation.
Chad Leat, b'78, retired vice chairman of global banking at Citigroup, serves on the board of directors of Bridge Investment Group. He lives in New York City.
Julie Robinson, j'78, l'81, a U.S. District judge for the District of Kansas, in November was inducted in the Kansas African American Museum 2021 Trailblazers Hall of Fame.
J. Ann Selzer, c'78, a political pollster and president of Selzer & Co. in Des Moines, Iowa, in September was inducted in the Hall of Fame at Topeka West High School. 
Petra Tasheff, c'78, retired senior attorney at the National Center for Law and Economic Justice, in October was elected to the board of trustees at KU Endowment. She lives in New York City.
Barney Graham, m'79, whose decades-long research led to the development of COVID-19 vaccines, was named 2021 Federal Employee of the Year. He is former deputy director of the National Institutes of Health Vaccine Research Center in Bethesda, Maryland.
Alison Banikowski, g'80, PhD'81, in October was inducted in the Olathe Public Schools Wall of Honor. Dr. B., as she is affectionately known, received the Distinguished Person of Honor recognition for her 34 years of service in the school district, which included roles as a special-education instructor, principal and assistant and associate superintendent. She retired in 2017 as deputy superintendent.
David Eisenlohr, g'80, is managing director at Baker Tilly's state and local government consulting practice in Plano, Texas.
Julie Shelton Oatis, c'81, retired after a long career in human resources. She makes her home in Virginia Beach, Virginia.  
Steven Salter, g'81, lives in Overland Park with his wife, Cindy. He recently retired as director of acquisitions and divestitures at Hallmark Cards. 
Bari Thornton, d'81, is retired and lives in Chandler, Arizona. 
Mark Boutwell, c'82, is executive director at Senior Solutions in Springfield, Vermont. 
G. Mark Kelsey, b'82, g'84, retired as director of acquisitions and integration at Coca-Cola Company, where he worked for more than 30 years. He lives in Atlanta.
Sam Stuckey, e'82, lives in Woodland Park, Colorado, where he retired as manager of commercial aviation and bulk marketing at ConocoPhillips.
Michael Bolt, m'83, retired in August from Labette Health Physicians Group in Parsons. He specialized in general, vascular and thoracic surgery. 
Michael Grauer, f'83, affectionately known as "Cowboy Mike," is a curator at the National Cowboy & Western Heritage Museum in Oklahoma City. He recently was inducted in the Kansas Cowboy Hall of Fame.
Larry Schulte, PhD'83, is a full-time artist who creates large-scale woven displays. He lives in Albuquerque, New Mexico.
Frank Tsuru, e'83, co-founder and CEO of Momentum Midstream in Houston, in October was elected to the board of trustees at KU Endowment. He also serves as president and CEO of Indigo Natural Resources.
James Williams, '83, is medical science liaison at Vanda Pharmaceuticals. He and Lois Wearth Williams, n'74, g'87, live in Leawood.
Tom Bené, b'84, is president and CEO of Breakthru Beverage Group. He lives in Naples, Florida. 
Mark Mears, j'84, lives in Olathe, where he's chief marketing officer at WOWorks. He recently was featured on the Clicks 2 Bricks podcast to discuss multi-location marketing.
Jerry Sass, g'84, owns Sass Winery in Salem, Oregon.  The winery recently earned Pinot Noir of the Year honors at the 2021 Sommeliers Choice Awards in San Francisco.
Tom Kane, c'85, a legendary voiceover artist who launched his career in radio and television commercials, recently won Clio's 2021 Honorary Award, the advertising industry's highest individual honor.
Marsha Ambler Mauch, c'85, l'88, s'16, is a CASA volunteer supervisor in Salina.  
David Thronson, c'85, d'85, in July received the Elmer Fried Excellence in Teaching Award from the American Immigration Lawyers Association. He is the Alan S. Zekelman Professor of International Human Rights Law at Michigan State University College of Law and director of the Talsky Center for Human Rights of Women and Children. 
Diana Jordan, c'86, is an actress in Venice, California.
Brian McClendon, e'86, co-creator of Google Earth and adjunct professor of engineering at KU, has joined Niantic Labs, developer of the mobile games Pokémon GO and Ingress, as senior vice president of engineering for augmented reality, research and mapping. In 2013 he was included among the United Nations' "Champions of the Earth" and in 2016 he was awarded an honorary doctorate of science by KU. Brian, who also serves on the board of trustees at KU Endowment,  and his wife, Beth Ellyn, will remain in Lawrence, where he will open a Niantic Labs engineering office.
Julian Meyrick, g'86, is professor of creative arts at Griffith University in Queensland, Australia. 
Todd Olson, g'86, is president of Mount Mercy University in Cedar Rapids, Iowa. 
Leo Redmond, b'86, is chief financial officer at Aulos Bioscience in Larkspur, California.
Bob Fee, c'87, is president and chief operations officer at Fee Insurance Group in Hutchinson. He also chairs the Independent Insurance Agents & Brokers of America, also known as the Big "I."
Russell Scheffer, c'87, m'91, '20, lives in Benton, where he practices psychiatry.
Alexandra Becker Sielaff, c'87, g'89, is the MBA director at Carroll University School of Business in Waukesha, Wisconsin. 
Kendra McIntosh, e'88, is chief chaplain at the St. Cloud VA Health Care System in Minnesota. She lives in Madison, Wisconsin. 
Vern Sneed, a'88, is owner and designer at Q Cabin Kits in Chico, California.
Chris Stanley, d'88, f'89, is associate professor of art at the University of Texas Permian Basin in Odessa. His exhibition "Never Wonderland" was on display last summer at the Ellen Noel Art Museum.   
Paul Bassett, l'89, m'03, a physician at Sedalia VA Clinic, was elected to the Bothwell Regional Health Center board of directors. He lives in Sedalia, Missouri, with his wife, Michelle, and their daughter, Chloe.
Todd Cohen, c'89, j'89, associate vice president of marketing communications at Regis University in Denver, recently was elected to a four-year term on the city council in Broomfield, Colorado. He and Stacy Smith Cohen, j'91, g'08, PhD'11, a language-arts instructor, have two children, Abby and Alex.
Joseph Hoefgen, g'89, retired in November as city manager of Redondo Beach, California. 
Dan Lichty, m'89, retired after nearly 30 years as a family physician. Most recently he practiced at McPherson Medical and Surgical Associates. 
Jeff Robertson, c'89, in August was promoted to associate vice president for academic affairs at Arkansas Tech University in Russellville. 
Katy Monk Yocom, j'89, is associate director of communications and alumni relations at Spalding University in Louisville, Kentucky. She's also an author whose first novel, Three Ways to Disappear, was published in 2019.
Holly Hill-Stanford, PhD'90, is professor of English and dean of the Geneva Casebolt College of Arts and Sciences at Southwest Baptist University in Bolivar, Missouri, where she lives with her husband, Tom. 
Stephen Raskin, a'90, lives in St. Louis, where he's senior associate and project manager at Ittner Architects.
Curt Schlesinger, c'90, manages e-commerce at St. Croix Rods in Park Falls, Wisconsin. 
Kannon Shanmugam, '90, is managing partner and chair of the Supreme Court litigation practice at Paul, Weiss, Rifkind, Wharton & Garrison in Washington, D.C. In October he was elected to KU Endowment's board of trustees.
Shailesh Shukla, g'90, is vice president and general manager of networking at Google Cloud in Mountain View, California. In July he was selected to serve on the board of directors of the Bay Ecotarium.
Stephen Wade, j'90, directs financial and administrative services for the City of Topeka.
Donna Lowen, '91, in September won the women's club championship at the Links at Redstone Golf Course in Alabama. She played golf for the Jayhawks from 1986 to 1990.
John Racunas, c'91, is senior vice president of real estate at Alliant Insurance Services in Newport Beach, California. 
Angela Jacobson Watson, b'91, is president of healthcare sales at UPS. She lives in Marietta, Georgia.
Marc Buehler, b'92, g'97, lives in Dallas, where he's president of BDO Hospitality.
Braxton Copley, l'92, was promoted to director of utilities for the City of Topeka. He previously served as deputy director. 
Sal Intagliata, c'92, l'95, is an attorney at Monnat & Spurrier in Wichita. He recently was honored by Best Lawyers in America as a Wichita Lawyer of the Year in DUI/DWI defense.
Paola Sanguinetti, a'92, directs The Design School at Arizona State University's Herberger Institute for Design and the Arts. 
Kris Weidling, c'92, makes his home in Frederick, Maryland, where he's chief human resources officer at Civica Inc. 
Cindy Lewis Kindsvater, b'93, is a real estate agent at RE/MAX DFW Associates in Frisco, Texas.
David Kuhlmann, c'93, m'01, a sleep medicine specialist at Bothwell Regional Health Center in Sedalia, Missouri, recently was elected to the board of directors of the American Academy of Sleep Medicine.
Ernie Sifford, b'93, lives in Leawood, where he's executive vice president of client solutions at Tellworks Logistics.
AJ Cleland, c'94, is enterprise customer success manager at Maxwell, a FinTech company based in Denver. He and his wife, Kathleen Brenk, live in Minneapolis, Minnesota. 
Gregory Knipp, g'94, PhD'97, associate professor of industrial and physical pharmacy at Purdue University, was recognized in June by Marquis Who's Who as a top educator. 
Emmanuel Nyirinkindi, g'94, is vice president of cross-cutting solutions at the International Finance Corp. in Uganda.
Bryan Phillips, e'94, is senior vice president, general counsel, secretary and chief compliance officer at Inspire Medical Systems in Minneapolis. In August he was appointed to the board of trustees of Blue Cross and Blue Shield of Minnesota.
Andrea Conlee, s'95, is a therapist at Shadow Wood Clinical Associates in Topeka. 
Dana Gibbs, m'95, is a physician and director of the allergy clinic at Central Park ENT in Arlington, Texas. She also directs the Pan American Allergy Society.
Brenda Harkins, m'95, is an obstetrician and gynecologist at Texas Health Medical Associates in Mansfield.
Lanelle Dibble Hunter, n'95, is an emergency department medical auditor at Duke Raleigh Hospital in Raleigh, North Carolina. She lives in Fuquay-Varina with her husband, Reginald, and their daughter, London.
Margaret Maderak Kenefake, c'95, a partner at Royal Street Ventures and managing director of the Fountain Innovation Fund, is a member of Class 25 Kauffman Fellows. She and Jerry, c'92, live in Leawood with their three children.
Brian Black, PhD'96, is distinguished professor of history and environmental studies at Penn State Altoona.
Andrew Lees, c'96, s'00, '07, manages IT programs at Valorem Reply. He and Megan Altman Lees, '00, live in Lawrence and have four sons.
Taylor Banks Reynolds, e'96, is a municipal engineer and project coordinator at Spalding DeDecker in the Detroit area.   
Anna Butler Stubblefield, d'96, g'98, g'99, is the new superintendent of the Kansas City, Kansas, Public School District. She previously served as deputy superintendent for Lawrence Public Schools.
Amy Ott Decker, l'98, is litigation counsel at Newell Brands Inc. in Wichita.
Mark Tremaine, l'98, lives in Nickerson, where he is an attorney and associate professor of criminal justice at Sterling College.
Jarrod, f'99, and Sisavanh Phoughvong Houghton, f'99, live in Murfreesboro, Tennessee, where Sisavanh is professor of painting and studio art and Jarrod is a senior instructor in foundations at Middle Tennessee State University. Their collaborative exhibition "Excavating Tradition" recently was on display at the Gadsden Museum of Art in Gadsden, Alabama. 
Mindie Miller Paget, c'99, g'01, is assistant vice chancellor for diversity, equity, inclusion and belonging and director of external affairs at the KU Office of Research.  
Lindsey Cox Bailey, b'00, g'02, is vice president of operations at Envision Physician Services. She lives in Lenexa and has three children, Quinn, Keira and Elias.
Rebecca Lang, b'00, is executive vice president and regional credit officer at UMB in Kansas City, where she lives with her husband, Matt Sweeney, and their children, Hudson and Hannah. 
Ellyn Smith Lester, j'00, g'02, '03, is assistant dean of construction and architectural technology at Pennsylvania College of Technology in Williamsport.
Timothy Tweito, m'00, is an ophthalmologist at Florida Retina Specialists in Merritt Island, Florida.
Brant Brown, b'01, '02, is president of Westmount Realty Capital in Dallas. 
Titus Daniels, m'01, is associate professor of medicine in the division of infectious diseases at Vanderbilt University Medical Center. 
Stephanie Krause, j'01, lives in Denver, where she directs marketing at Natural Grocers Vitamin Cottage.
Dominic Ortiz, b'01, g'02, is CEO and general manager at Potawatomi Hotel and Casino in Milwaukee.
Deirdre Pilch, EdD'01, is superintendent of Greeley-Evans School District 6 in Colorado. In June she was honored as Weld County Distinguished Citizen of the Year by the Greater Wyoming-Longs Peak Council Boy Scouts of America.
Fredrick Reimer, b'01, supervises decision support and analytics at HTC, an internet provider. He and his wife,
Ashlee, assoc., live in Myrtle Beach, South Carolina. 
Nathan Willis, j'01, is the Washington night editor at The New York Times. 
Dusten Crichton, d'02, directs Thompson Learning Community at the University of Nebraska in Omaha. 
Jacy Hurst, b'02, l'07, in August was sworn in as a judge on the Kansas Court of Appeals. She and Joshua Hoskins, '21, make their home in Lawrence.
Jeff Jones, e'02, is a rail leader in the transportation group at Burns & McDonnell in Kansas City. 
Matthew Makens, c'02, lives in Castle Rock, Colorado, where he owns Makens Weather, a weather and media consulting firm.  
Marquita Norman, m'02, in June was named to the board of trustees at Hendrix College, where she did her undergraduate studies. She is an associate professor of emergency medicine and assistant dean for student inclusion and diversity at Wake Forest School of Medicine. She lives in Winston-Salem, North Carolina. 
Liz Boldridge Tovar, c'02, g'09, PhD'11, in October was elected to KU Endowment's board of trustees. She is executive officer and associate vice president of the division of diversity, equity and inclusion and senior associate athletics director for student-athlete academic services at the University of Iowa. 
Jackie Berra, f'03, is a project manager at Imagemakers in Wamego. 
Andrew Dies, s'03, is assistant vice president for student affairs at Stephen F. Austin State University in Nacogdoches, Texas.
Shane McCall, c'03, g'05, l'10, is managing partner at Koprince Law in Lawrence, where he lives with Kaelyn Fox McCall, b'04, and their children, Kingston and Stella. 
Michael Sheridan, b'03, is senior counsel at Bond, Schoeneck & King. He lives in Indianapolis.
Fally Afani, j'04, g'20, g'21, directs communications at the Lawrence Chamber of Commerce. 
Krista Lee Gentry, c'04, s'06, is a resolution specialist at the U.S. Department of Housing and Urban Development in Kansas City. She lives in Lawrence.
Meka White Morris, j'04, chief revenue officer at global payment and data company Tappit, was named to Sports Business Journal's "40 Under 40" list in 2021. She lives in Plano, Texas.
Eric Toler, g'04, a retired U.S. Army colonel, is executive director of the Georgia Cyber Center in Augusta. In July he was inducted in the 2021 Class of the Army ROTC Hall of Fame.
Amity File Dannefer, j'05, was promoted to director of recruiting at VMLY&R, a marketing agency in Kansas City.
Meghan Bahn, g'06, directs development at the Grandstreet Theatre in Helena, Montana. 
Caroline Biggs, c'06, lives in New York City, where she's market editor at Business of Home.
Derek Klaus, j'06, is vice president of public relations at MMGY in Overland Park.
Dayvid Prahl, e'06, is space test branch chief at at Arnold Air Force Base in Tennessee.
Tony Quartaro, c'06, lives in Chicago, where he is chef and owner of Gemma Foods, a fresh-pasta delivery service.
Adonia Simpson, c'06, directs policy and pro bono services at the American Bar Association Commission on Immigration in Washington, D.C. 
Matthew Smith, c'06, is vice president of BluSky Restoration Contractors in Denver.
Natalia Villate, m'06, lives in Boca Raton, Florida, where she's an ophthalmologist at Fort Lauderdale Eye Institute.
Jeremy Case, c'07, '09, in August was named assistant coach for Kansas men's basketball after serving as interim assistant coach since April. A member of KU's 2008 national championship team, he joined the Jayhawk staff as video coordinator in 2016.
Amanda McQuin Kluener, b'07, is a senior tax manager at Deloitte. She and her husband, Bryan, live in Cincinnati with their daughter, Clara, who recently turned 6.
Cassandra Leyden, e'07, lives in Brooklyn, New York, where she's head of engineering at WeWork.
Dan McCarthy, b'07, manages corporate development at Hero Technologies, a cannabis company. He lives in Hot Springs, Arkansas.
Louis Mora, j'07, lives in Flower Mound, Texas, where he's vice president of media relations at Comerica Bank.
Sara Hampton Morrow, c'07, is a physician coder at The University of Kansas Health System. She and her husband, Steve, live in Basehor and have a son, Austin. 
Lacey Arndt Williams, d'07, g'10, was promoted to vice president of ticketing at 12 Man Foundation in College Station, Texas.
John Comerford, PhD'08, president of Otterbein University in Westerville, Ohio, recently was appointed to the Delaware County Finance Authority.
Jaime Hornbaker Dupy, j'08, is vice president of investor relations at the Wichita Regional Chamber of Commerce. 
Robert Grant, b'09, is president of online insurance brokerage firm SelectQuote in Overland Park. He is a fourth-generation member of his family to work in insurance.
Paul Hefferon, b'09, is a financial planning associate at Financial Avenues. He makes his home in Mission and has a son, Calvin, and a daughter, Norah. 
Benjamin Sharp, l'09, is an associate in the mergers and acquisitions group at Fredrikson & Byron in Minneapolis, Minnesota.
Nick Allen, a'10, manages development at Revesco Properties in Denver.
Brent Blazek, d'10, g'12, was promoted to senior director of alumni and donor relations at Rockhurst University in Kansas City.
Kyle Goerl, m'10, medical director at Lafene Health Center at Kansas State University in Manhattan, served as grand marshal for K-State's Homecoming celebration in October.
Brenna Hawley-Craig, c'10, j'10, is a manager solutions architect at Lev. She lives in Baldwin City.
Jessica Sain-Baird, c'10, j'10, g'17, g'18, g'19, lives in Brooklyn, New York, where she's deputy editor at Lending Tree.
Rachel Vaughan, b'10, was promoted to paid media director at Jackson Spalding. She lives in Plano, Texas.
Stephanie Miller Blakely, j'11, is vice president at FleishmanHillard inKansas City. 
Michael Chavez, c'11, g'14, lives in Lawrence, where he's associate director of admissions for diversity and access initiatives at the KU Office of Admissions.
George Diepenbrock, g'11, is communications specialist at the Douglas County Sheriff's Office. 
Dezeree Hodish, g'11, '14, is assistant director of the Executive Office of Health and Human Services in Cranston, Rhode Island.
Megan Hopp, a'11, lives in Maitland, Florida, where she's a designer at Marc-Michaels Interior Design.
Elliot Johnson, b'11, g'14, manages digital marketing at Rexel USA and also founded Civice. He lives in Addison, Texas.
Meghan Kirkwood, g'11, is a photographer and assistant professor of visual arts at the Sam Fox School of Visual Arts and Design at Washington University in St. Louis.
Leah Kohlman, c'11, is an internship program assistant at KU's School of Business. 
Raymond Lee, g'11, is city manager of Greeley, Colorado.
Andrew Posch, j'11, is senior communications partner at Cerner in Kansas City.
Justin Pregont, g'11, lives in Atchison, where he's interim city manager. He previously served as assistant city manager.
Emily Richardson, c'11, is a wholesale business analyst at Minted.com. She lives in Lenexa.
Connor Treanor, g'11, lives in Lawrence, where he's principal at CT Design & Development. 
Laura Vinci, j'11, was promoted to vice president and media relations specialist at New York Health. 
Josh Baden, c'12, is senior actuarial specialist at SE2 in Topeka. He and his wife, Kara, live in Lawrence with their son, Flynn, who recently turned 1.
Elizabeth Brittain, d'12, is an account executive and senior associate at Pricewaterhouse-Coopers in Dallas. 
Danford Bryant, g'12, is a U.S. Army colonel and commander of Garrison Fort Detrick in Frederick, Maryland.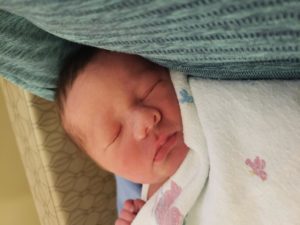 Matthew Gorney, g'12, l'13, is an associate attorney at Monnat & Spurrier in Wichita. He recently was named to the Best Lawyers list for the second consecutive year. He specializes in criminal and DUI defense.
Daniel Horn, g'12, is commander at Tobyhanna Army Depot in Pennsylania. 
Leann Horsley, PhD'12, is dean of the College of Nursing at East Tennessee State University in Johnson City.
Michael Reynolds, e'12, is a modeling and analytics engineer at Flint Hills Resources. He and Sammantha Baldwin Reynolds, e'12, live in Corpus Christi, Texas.
William Dalton, b'13, manages client experience at Alight Analytics in Kansas City.
Martin Hochman, c'13, s'20, lives in Topeka with his son, Martin "Mac," who will be 1 in April.
Joseph Kellum, c'13, founded 1 Source Medicine in Dallas.  
Tejinder Sodhi, g'13, is an assistant editor at CNN-News 18 in Uttar Pradesh, India.
Danny Woods, j'13, works in physician relations at The University of Kansas Health System. He lives in Lawrence.
Born to:
Samuel Stallbaumer, e'13, g'20, and his wife, Jade, daughter, Nora, April 7 in Lenexa, where they make their home. Samuel is a civil engineer at WSP. 
Bryan Do, d'14, is a project manager at WellSky in Overland Park. 
Amanda Kuehn, c'14, recently earned her doctorate in osteopathic medicine at Midwestern University in Glendale, Arizona. She will pursue a pediatric residency at Phoenix Children's Hospital. 
Niko Roberts, c'14, is associate commissioner of men's and women's basketball in the Mountain West Conference. He was a guard at KU from 2010 to '14. 
Marilyn Schallom, PhD'14, retired as director of the department of research for patient care services at Barnes-Jewish Hospital. She lives in St. Louis.
Amanda Stanley, l'14, lives in Topeka, where she's city attorney.
Stephanie Bickel Arteaga, j'15, manages marketing and communications at the American Student Dental Association.  
Brendan Bishop, b'15, is a private equity analyst at UMB Capital Corp. in Kansas City. 
Michael Collins, b'15, g'16, is chief financial officer at Foley Equipment in Kansas City.
Patrick Curry, c'15, lives in Washington, D.C., where he's a senior compliance associate at Capitol Compliance Associates.
Ashley Farris, c'15, is a research staff member at the Institute for Defense Analyses in Alexandria, Virginia. 
Taylor Hanna-Peterson, c'15, g'17, is a senior academic adviser for the University Honors Program at KU. She and Dan "Petey" Peterson, g'16, an academic adviser in the Undergraduate Advising Center, live in Lawrence.
Graham Naasz, c'15, is a dentist at Emporia Family Dental Clinic.
Natalie Pennington, PhD'15, is assistant professor of communication studies at the University of Nevada in Las Vegas.
Tony Reames, PhD'15, is a senior adviser at the U.S. Department of Energy in Washington, D.C. 
Erika Garcia Reyes, c'15, g'17, directs community planning at United Community Services of Johnson County. She lives in Shawnee.
Anthony Rittof, b'15, g'17, is professional sport program manager at Drug Free Sport International in Kansas City.
Gregory Stroh, m'15, is a physician who specializes in pulmonary medicine at Essentia Health-St. Mary's Medical Center in Duluth, Minnesota.
John Toner, e'15, is a U.S. Air Force pilot. He lives in Shalimar, Florida. 
Jin-Ho Yun, g'15, is a research scientist at the Korea Research Institute of Bioscience and Biotechnology in Daejeon, South Korea.
Married
Kaitlin Nolte, c'15, to Alexander Beal, Oct. 9 in Seneca. They live in Kansas City, where she's a compliance technical manager at Raintree Systems.
Madeline Farber, j'16, lives in New York City, where she's an associate editor at WebMD. 
Raymond Hower, b'16, is a Harrier pilot in the U.S. Marine Corps. He lives in New Bern, North Carolina.
Dylan Jacobus, m'16, is a general surgeon at Northern Light Maine Coast Hospital in Ellsworth, Maine.
Jennifer Berroth Lahasky, g'16, is music director of the Summer Sisters of Lee's Summit and a music educator in the Blue Valley School District. She lives in Belton, Missouri. 
Jarett Sauer, b'16, g'17, is a CPA at Young & Associates. He lives in Overland Park.
Kellyann Jones-Jamtgaard, PhD'17, is a biological science specialist at the National Institute of Food and Agriculture in Kansas City. 
Danielle Sorensen, j'17, directs brand and digital messaging at Alexandria Ocasio-Cortez for Congress. She lives in New York City.
Brooklyn Winkel, j'17, is a fiscal analyst at KU Medical Center. She lives in Overland Park.
Ryan Brinker, c'18, j'18, communications coordinator at the Kansas Department of Commerce, was named Employee of the First Quarter in 2021. He lives in Topeka.
Claudia Close, j'18, is assistant director of athletic communications at Davidson College in Davidson, North Carolina.
Hugh Ebb, c'18, is an associate at Weil, Gotshal & Manges in Dallas.
Erin Gabriel, c'18, is a family mentor at Soccer Without Borders. She lives in Colorado Springs, Colorado.
Ashley Hocking Golledge, j'18, g'21, directs marketing and communications at University of the Pacific McGeorge School of Law in Sacramento, California.
Kyle Gratton, c'18, lives in Kansas City, where he writes features and reviews for the games section of Screen Rant.
Jacob Hood, c'18, an author and illustrator in Lawrence, recently published Baby Jay's Jayhawk Journey, a storybook for all ages.  
Danya Issawi, j'18, is an assistant news editor at The New York Times. She lives in New York City. 
Kara Kahn, j'18, manages development at Kansas City Girls Preparatory Academy. 
Gerone Navarro, j'18, lives in Prairie Village, where she's an account manager at Sojern.
Cooper Scott, j'18, is a revenue and marketing analyst at Optimally Business Performance in Leawood.
Robert Adams, c'19, manages media and marketing at the Bedder Way Company in Indianapolis.
Megan Schwartz Crowe, PharmD'19, is a pharmacist at Health Ministries Clinic Pharmacy in Newton. 
Cokethea Hill, PhD'19, lives in Kansas City, where she's CEO and founder of Blaque KC (Black Leaders Advancing Quality Urban Education). 
Jordan Wolf, j'19, is a producer for MLB.com. He lives in Lawrence.
Pavlina Clarke, j'20, is an account manager at Insight Global in Kansas City.
Ryan Cordts, g'20, g'21, manages business operations at the University of Nebraska Medical Center. He and
Katrina Poppert Cordts, g'16, PhD'19, an assistant professor of psychiatry at the College of Medicine, live in Papillion, Nebraska.
Hanna Festa, s'20, s'21, is an intake clinician at Wyandot Behavioral Health Network in Kansas City.
Cecelia "Cele" Fryer, c'20, lives in Denver, where she's a behavioral health counselor at Children's Hospital Colorado.
Matthew Garcia, g'20, teaches art at Missouri Western State University in St. Joseph and coordinates the print studio at the Lawrence Arts Center. 
Haley Leach Gillett, g'20, teaches behavior skills at Paddock Lane Elementary School in Beatrice, Nebraska.
Hadley Oehlert, j'20, coordinates marketing at KU Memorial Union in Lawrence.
Hailey Dixon Phillips, j'20, is assistant managing editor at the Parsons Sun. 
Kurtis Rood, b'20, works in sales at Safe Fleet Fire, EMS and Industrial in Elmhurst, Illinois. 
Michael Thibodeau, c'20, j'20, is a research associate at VMLY&R in Kansas City.
Jamie Tholen, j'20, is a client development specialist at Indeed.com in Kansas City.
Morgan Bresolin, b'21, coordinates media at Red Mountain Weight Loss in Scottsdale, Arizona.
Mitchell Cassell, b'21, lives in Las Vegas, where he's a pricing analyst at Southern Glazer's Wine and Spirits.
Kaitlyn Cokeley, c'21, lives in Raymore, Missouri, where she's an optician at Vision Source.
Austin Crawford, e'21, is an engineer at Styers Equipment Company in Overland Park.
Sheyenne Denton, j'21, is creative coordinator at Wieden + Kennedy in Portland, Oregon.
Danielle "Dani" Kolker, g'21, is a Tradewell Fellow at EYP, an architectural firm in Dallas. 
Lisa Martin, g'21, is vice president of vocational development at Worksource Enterprises in Danville, Illinois, where she lives with her husband, Glen.
John McPherson, e'21, is a mechanical engineer at Delta Railroad Services in Ashtabula, Ohio.
Harold Mohr, b'21, lives in Kansas City, where he's an investment real estate agent at New Western Acquisitions.
Tarynn Mosqueda, PharmD'21, is a pharmacist at Palace Drug Store in Colby.
Carly Newcomb, j'21, is a multimedia journalist and producer at NewsChannel 21/NPG Oregon. She lives in Eugene. 
Abigail Plank, c'21, coordinates referrals at Bardavon Health Innovations in Raytown, Missouri.
Roy Ricaldi, b'21, is an integrity and risk consultant at Ernst & Young. He lives in Lawrence.
Nathan Schmitz, PharmD'21, is a pharmacist at CVS. He and Madison Urban Schmitz, PharmD'21, make their home in Manhattan. 
Nandhini Sehar, m'21, is a pediatrician at Siena Medical Clinic in Garden City. 
Austin Skoba, b'21, is a financial adviser at Northwestern Mutual in Olathe.
Jade Steffensmeier, c'21, is a meteorologist and multimedia journalist at KQTV in St. Joseph, Missouri. 
Maximo Umali, b'21, is a market research analyst at SomaLogic in Boulder, Colorado.
Angela Wright, j'21, coordinates social media and events at Great Plains SPCA in Mission.