Mary Beth Dodge Engleman, '42, celebrated her 100th birthday in July. She served on the Alumni Association's national Board of Directors from 1967 to '72 and has participated in several alumni network events in her hometown of Salina.
George Cooper, e'49, a 100-year-old retired U.S. Air Force colonel and World War II pilot, is the subject of a recently published biography, "Jayhawk: Love, Loss, Liberation and Terror Over the Pacific." The former vice president of the medical gas division at Puritan Bennett, who in 2018 was named a distinguished alumnus by the KU department of mechanical engineering, makes his home in Tonganoxie.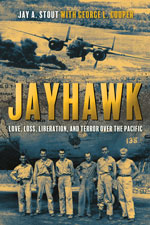 Eugene Herkins, '50, who flew in a U.S. Navy dive bomber in the Battle of Okinawa in 1945, recently celebrated his 96th birthday. He lives in Naples, Florida. 
Charles Malone, g'53, EdD'60, a retired professor at Arizona State University, lives in Tempe, Arizona, with his wife, Phyllis. His book, A Superintendent's Guide to the Instructional Leadership of Elementary Principals: A how-to-do-it manual, recently was accepted for publication. Charlie continues to play handball, a sport he picked up at age 15, eventually earning world champion honors. 
Bob Hartley, j'58, wrote Power, Purpose & Prison, his 12th published book and 10th on Illinois politics. He lives in Winfield.
Beth Greathouse Tedrow, d'59, lives in Garden City, where in 2019 she retired as dean of student services at Garden City Community College. During that year, she received the Award of Merit from the Garden City Area Chamber of Commerce, was inducted into the Garden City High School Hall of Fame and was elected to the Garden City Community College board of trustees.
Don Bosseau, g'61, lives in San Diego, where he is involved in research and development at two biotechnology startup companies and serves on the advisory board for Aequor in La Jolla. He retired as dean and professor emeritus at the University of Miami and had previously served as dean at San Diego State University and the University of Hawaii.
Marlin "MG" Zimmerman, j'61, is retired from Sprint North Supply and now volunteers at Advent Health. He and his wife, Susie, recently celebrated their fifth wedding anniversary. They make their home in Merriam.
Fred Perry, c'62, a former Tulsa County Commissioner, in January received the Guardian Angel Award at the Toyland Ball, an annual benefit for the Parent Child Center of Tulsa. The award is given to individuals who advocate for victims of child abuse and neglect. He and Marcia Ediger Perry, c'64, make their home in Broken Arrow, Oklahoma.
Peggy Ball, d'63, works part time at Juice Plus in McPherson. She has two children, one of whom is Kimberly Stroup Wells, d'92, g'95.
Byungse Suh, g'67, PhD'69, a physician and professor in the Lewis Katz School of Medicine at Temple University, in May received the Albert Nelson Marquis Lifetime Achievement Award from Marquis Who's Who. He lives in Ambler, Pennsylvania.
Chuck Warner, b'67, l'70, is a finalist for the 2020 High Plains Book Awards for Birds, Bones, and Beetles: The Improbable Career and Remarkable Legacy of University of Kansas Naturalist Charles D. Bunker, which was featured in issue No. 3, 2019, of Kansas Alumni magazine. It also was named a Kansas Notable Book by the Kansas Center for the Book, a program of the State Library.
Steve Ridgway, c'69, is president of Criterion Travel in Beaverton, Oregon.
Mark, d'70, g'72, and Elaine Goldsmith Corder, d'72, g'91, in May celebrated their 50th wedding anniversary. They live in Olathe, where Mark has practiced law for more than 40 years and Elaine is a retired high school teacher.
Ken, c'70, and Susie Leckband Guest, d'70, in June celebrated their 50th wedding anniversary. They live in Salina and have two children, Kate Guest Gross, c'98, and Scott, b'03, and six grandchildren.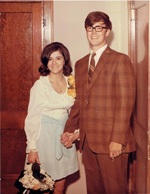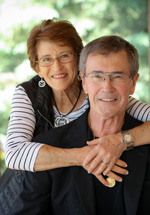 Guest Gross, c'98, and Scott, b'03, and six grandchildren.
Lonnie Lee, c'70, wrote A Brief History of Belle Isle Plantation, Lancaster County, Virginia, 1650-1782, which was published in March by Heritage Books. He is a retired pastor and lives in Olathe.  
Roy Ranney, b'70, is a consultant with Ranney Consulting. He lives in New South Wales, Australia.
James Davis, c'71, g'74, is president of Jim Davis Images. He and his wife, Diane, live in Fairfield, Iowa. 
Greg Gorman, '71, a renowned photographer, in July released his latest book of photography, It's Not About Me. He lives in Los Angeles.
Joseph MacDoniels, PhD'72, is an adjunct professor of communication at George Washington University in Washington, D.C. He and his wife, Thelma, live in Holland, Michigan. 
Carmelo Monti, a'72, and his wife, Mary, celebrated their 40th wedding anniversary with a cruise to the Dalmation Coast. They live in Orlando, Florida, where Carmelo is retired after a long career in aviation architecture. He's currently a consultant for local architectural firms. 
Allyn Risley, e'72, in March was elected chairman of the Houston Grand Opera board of directors. He retired as vice president of global shipping at BG Group.
Jerry Spencer, m'72, a retired physician, recently celebrated his 79th birthday by traveling the Camino Francés, a 500-mile trek that spans parts of France and Spain. 
Monica Schmidt Thompson, d'72, l'76, is a senior attorney at the United States Automobile Association in San Antonio.
Konnie Kennett Viner, d'72, wrote Amaryllis Journey, which was published in May by Redemption Press. It's her second book. 
MaryAnn Genova Diorio, g'74, PhD'77, won first place in the historical category at the 2020 Christian Indie Awards Contest for her latest novel, In Black and White, which was published in October 2019. She and her husband, Dom, live in Merchantville, New Jersey.
Bruce Frazey, b'74, l'77, g'78, lives in Las Vegas, where he's a managing member at The Assurance Team. 
Clayton Koppes, PhD'74, in June retired as professor of history after 42 years at Oberlin College in Oberlin, Ohio. During his tenure, he also served as academic dean, provost and acting president. He and his partner, David Kelly, were married in March in Palm Springs, California, and currently are writing a book on the history of HIV and AIDS in the United States.
Terry Kroshus, b'75, lives in Bentonville, Arkansas, where he's a quality manager at Hewlett-Packard.
Alberto Alexander, PhD'77, is managing director at EGP. He and his wife, Marina, live in Lima, Peru.
Kevin Flynn, a'77, executive vice president at design firm Kiku Obata & Company in St. Louis, in June was awarded the President's Medal for Distinguished Service by the National Council of Architectural Registration Board. He served as president of the National Architectural Accrediting Board and is a member of KU School of Architecture and Design's advisory board. 
Shannon Krysl, d'77, in February was inducted in the Wichita Business Journal's HR Professionals Hall of Fame. She retired in July as chief human resources officer after 15 years with Wichita Public Schools.
Robert Nugent III, c'77, l'80, in June retired from the U.S. Bankruptcy Court. His portrait was presented to the court at a ceremony in Wichita. He served as a judge for 20 years and previously practiced law for 20 years in Hutchinson and Wichita. He was president of the National Conference of Bankruptcy Judges from 2014 to '15 and led the Alumni Association's Wichita Network from 2017 to '19.
Steve Leben, j'78, l'82, in June left his position as a judge on the Kansas Court of Appeals to join the faculty at the University of Missouri-Kansas City as a visiting professor. He had been on the court since 2007 and served as state district judge from 1993 to 2007. He also has taught part time at KU School of Law since 2007. 
Howard Cohen, b'79, retired in May after 41 years at Deloitte, where he was lead client service partner. He and his wife, Debbi, assoc., live in Leawood.
Dorothy Nickel Friesen, g'79, a retired Mennonite pastor, wrote The Pastor Wears a Skirt: Stories of Gender and Ministry, which was published in 2018. It was designated a Kansas Notable Book in 2019.
Marilyn Richardson, m'79, is a reproductive endocrinologist and gynecologist at the Hormone Hair & Vein Center in Shawnee and KC Wellness Center.
Stephanie Thorne Allegre, s'80, s'86, is a clinical social worker at Behavioral Health Specialists in Overland Park. She and William, p'80, have three daughters, Adrienne, j'06, l'11, Jenna Allegre Dammerich, s'09, s'10, and Eliza Allegre Peters, c'13. 
Clay Bastian, b'80, in March was named Admiral Windwagon Smith XLVII, ambassador of Wichita's Riverfest 2020. He retired from Fidelity in 2018 and continues to live in Wichita.
Charles Holt, c'80, is retired from the U.S. Army Reserves and works as a family medicine physician in Indianapolis.
Kevin Kelly, c'80, m'84, lives in Harrisburg, Pennsylvania, where he's a family physician at UPMC Medical Group.
Inad Atassi, m'81, is a neurosurgeon at DHR Health in McAllen, Texas. 
Keith Browning, b'81, e'83, in June retired after 22 years as public works director for Douglas County. He served in various roles since joining the county in 1985. He and Theresa Schuchart Browning, d'79, live in Baldwin City.
Katie Conboy, c'81, is president of Saint Mary's College in Notre Dame, Indiana.
Tami Rose, d'82, lives in Pratt, where she retired as an adaptive physical education instructor.
Ross Dalton, j'83, owns Villi USA, a tile manufacturing company. He lives in Atlanta with his wife, Ellen.
Tammy McBroom Dodderidge, j'83, g'20, manages marketing and communications at the International Essential Tremor Foundation in Overland Park. 
Wayne Feuerborn, a'83, a'84, g'87, g'87, was promoted to president of HNTB's west division in Los Angeles. He has worked for the design firm for nearly 20 years.
Suzanna Robinson Laramee, g'83, '92, is executive director of the Newport Music Festival in Newport, Rhode Island. She and her husband, John, have two daughters and two grand- children.
Gregory Hall, b'84, is partner in the corporate group at Faegre Drinker law firm in Denver. 
Steven Hardin, g'84, PhD'88, in March retired as vice president and dean of academic affairs at the University of Pittsburgh at Bradford. He had served numerous roles during his 16 years with the university, including professor and chair of the school of natural science.
Paul Mattson, d'84, is a physical therapist and athletic trainer at Venture Physical Therapy in Marietta, Georgia. He and his wife, Alyssa, have four children.
Charles Nmai, g'84, in April was elected vice president of the American Concrete Institute. He's head of engineering services at Master Builders Solutions USA in Cleveland.
Roger Ramseyer, b'84, vice president and Tulsa market leader at Cox Communications, has been named chairman of the board of the Tulsa Regional Chamber of Commerce. He lives in Broken Arrow, Oklahoma.
Jeff Shackelford, c'84, was promoted to CEO at the Enterprise Center in Johnson County. He previously served as senior vice president of investment capital and financial operations.
Sheryl Sweeney, l'84, is a shareholder at Ryley Carlock & Applewhite in Phoenix. She specializes in water and environmental law.
Shon Barenklau, j'85, is editor of several daily and weekly newspapers in central and western Nebraska. He and his wife, Terri, live in Kearney.
Mayli Davis, c'85, m'90, is an ophthalmologist and founded Advanced Eyelid Surgery Center in Colleyville, Texas.
Susan Schultz Huxman, g'86, PhD'88, is president of Eastern Mennonite University in Harrisonburg, Virginia.
Donna La Londe, g'86, directs strategic initiatives and outreach at the American Statistical Association in Alexandria, Virginia.
Rashid Mosavin, p'86, lives in Houston, where he's dean of the College of Pharmacy and Health Sciences at Texas Southern University.
Marcia Higginson, g'87, hosts evening classical music at Kansas Public Radio.
Allison Coleman Smith, c'87, lives in Overland Park, where she's professor and chair in the art history department at Johnson County Community College. 
Gary Brandt, b'88, was promoted to CEO at Cooperative Producers Inc. in Hastings, Nebraska. He and Janet Asmus Brandt, d'88, live in Kearney and have two daughters, one of whom is Emma, c'17. 
Chris Hale, a'88, an architect and project manager at Perkins and Will in Chicago, was promoted to principal. He had led the firm's K-12 education practice for the past 14 years.
Carrie McAdam-Marx, p'88, is professor and directs the master's program in the department of pharmacy practice and science at the University of Nebraska's College of Pharmacy. She and her husband, Jim, live in Omaha.
Mark Simerly, c'88, lives in Omaha, Nebraska, where he's a product manager at NCR Corp.
Tory Britton Sims, b'88, is chief financial officer at Frank Family Vineyards in Calistoga, California. 
Shawn Turner, e'88, was promoted to senior vice president and principal at TranSystems in Kansas City. He has worked with the engineering consulting firm since 2006.
Matthew Hinkin, c'89, lives in Knoxville, Tennessee, where he's a meteorologist at WATE-TV. 
Loraine Brown Nolla, m'89, is an obstetrician and gynecologist at Bothwell OB/GYN Associates in Osage Beach, Missouri.
Tracy Morris Warner, b'89, is CEO of Greene County Medical Center in Jefferson, Iowa.
Margaret Berg, c'90, PhD'09, was promoted to professor of language & literacy in the School of Teacher Education at the University of Northern Colorado. Her areas of research are Content and Language Integrated Learning (CLIL) and comparative education.
 Christine Cavataio, e'90, is president and chief operating officer at the Cunningham Group, an architectural design firm based in Minneapolis, Minnesota.
W. Darrin Clouse, c'90, a professor and chief of vascular and endovascular surgery at the University of Virginia, in April was included in Marquis Who's Who. He and Krista Hixson Clouse, c'89, j'89, make their home in Charlottseville.
Kelly Kultala, c'90, manages public affairs for the Kansas City metro area at the Kansas Department of Transportation. She lives in Basehor.
Kyle Mathis, e'90, lives in The Woodlands, Texas, where he's a general manager at Chevron Phillips Chemical Company.
Tim Patterson, d'90, is a quality assurance auditor at Sekisui XenoTech in Kansas City. He works remotely from his home in Fort Myers, Florida.
Mark Ramsey, c'90, j'90, is a real estate adviser at Better Homes and Gardens Real Estate Paracle in Cary, North Carolina.
Andrea Boyd Steinle, c'90, g'96, is a petroleum geologist and principal consultant at RS Energy Group. She makes her home in Morrison, Colorado.
Dennis Wright, e'90, lives in Lenexa, where he's a distribution engineering manager at Finley Engineering.
Diane Hoose Goddard, g'91, chief financial officer and vice provost for finance at KU, will retire at the end of this year. She has held various roles during her 36-year tenure at the University.
Sherry Bowman Perkins, PhD'91, is president of Anne Arundel Medical Center in Annapolis, Maryland. 
Kelly Bibb Tines, d'91, g'98, coordinates instructional coaching at Olathe Public Schools. She and Dave, c'95, '03, live in Lenexa.
Michael Bamshad, g'92, is editor-in-chief of the journal Human Genetics and Genomics Advances. He also is professor and chief of the genetic medicine division of the department of pediatrics at the University of Washington in Seattle. 
Denise Drake, l'92, is an attorney and chair of the labor and employment department at Polsinelli in Kansas City. She recently was one of 25 women included in Kansas City Business Journal's newest class of "Women Who Mean Business."
Soon Pak Flynn, g'92, is retired vice president of institutional effectiveness and accountability at Austin Community College. She and her husband, Brian, live in Leander, Texas.
Nicole Nielsen Gates, c'92, owns Nicole Gates Photography in McAllen, Texas.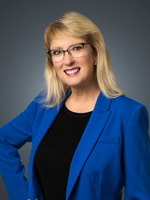 Kellie Hogan, c'92, l'95, in March was appointed by Gov. Laura Kelly to serve as judge in the 18th Judicial District. She lives in Wichita.
Angelique Kelly-Lara, b'92, is chief people officer at Enterprise Community Partners, a nonprofit organization that connects low- and moderate- income individuals with affordable housing. She lives in Silver Spring, Maryland. 
Mike Maddox, b'92, l'94, in May was named president and CEO of CrossFirst Bankshares, the holding company of CrossFirst Bank. He has been president and CEO of the bank since 2008.
Carey Adams, PhD'93, is provost and vice president for academic affairs at Hanover College in Hanover, Indiana.
Todd Arnold, g'93, lives in Lewisville, Texas, where he's a supervisory management and program analyst at the Department of Homeland Security.
Amy Engel, c'93, wrote The Familiar Dark, which was published in March by Dutton. It's her second novel for adults, following The Roanoke Girls, which was published in 2017.
Bruce Jackman, e'93, is a maintenance manager at Marathon Petroleum in Kenai, Alaska.
Kevin Abbott, c'94, is vice president of North American truckload at C.H. Robinson in Eden Prairie, Minnesota. 
A.J. Cleland, c'94, is an operations manager at United Mortgage Funding . He lives in Denver. 
Holly Dyer, l'94, a partner at Foulston Siefkin in Wichita, was elected as a fellow of the American College of Trial Lawyers. 
Col. Jason Knobbe, d'94, g'98, was appointed commander of the Kansas Air National Guard's 184th Wing.
Chad Tenpenny, c'94, l'97, was promoted to chief of staff for U.S. Sen. Pat Roberts. He has served as the senator's state director and counsel since 2001.
Mark White, g'94, PhD'99, is executive director of the New Mexico Museum of Art in Albuquerque. 
Jennifer Bohannon, c'95, is lead clinician at Lutheran Family Services Rocky Mountains in Fort Collins, Colorado.
Chris Costello, b'95, is co-founder, chairman and CEO of Blooom, a financial management firm in Leawood.
Chih Han, e'95, owns Acme Sunshades Enterprise Inc. in Hayward, California.
Anne Guerin Flaherty, g'96, PhD'12, is vice president for student affairs at Eastern Illinois University in Charleston.  
Shannon Peterson Kimball, c'96, an attorney and member of the Lawrence school board, serves on the board of directors of the National School Boards Action Center. She is former president of the Kansas Association of School Boards.
Tyler Quast, b'96, lives in Hinsdale, Illinois, where he's chief operating officer at Blue Star Properties.
Katrina Stullken Rothrock, e'96, g'07, PhD'19, is an assistant professor of mathematics at the University of Wisconsin-Eau Claire.
Ann Andres Stowe, f'96, PhD'07, is an associate professor of neurology at the University of Kentucky College of Medicine in Lexington. 
Patty Berg Fuller, '97, lives in Kansas City, where she's a data analyst at LCM Data Group. 
Pete Getz, d'97, '98, directs student services in the William S. Hart Union High School District in Santa Clarita, California. 
Darren Lawson, PhD'97, dean of the School of Fine Arts and Communication at Bob Jones University in Greenville, South Carolina, received the Honored Artists Award in January from The American Prize, a nonprofit organization that celebrates excellence in the arts. 
Danelle Meall Walters, d'97, g'12, manages community development for the city of Lawrence.
Jason Wiltshire, m'97, is a general surgeon at South Central Kansas Medical Center in Arkansas City.
Jeff Bourgeois, g'98, is an assistant professor in the global leadership PhD program at the Indiana Institute of Technology in Fort Wayne. 
Brian Cleveland, c'98, g'04, directs the Ralls County Library in Center, Missouri.
Stanley Sheldon, c'98, g'01, is a professional musician in the band Ronin. The longtime Lawrence resident used to play bass for Peter Frampton.
Scott Thomas, c'98, wrote Violet, his second novel, which was published in September 2019. He lives in Sherman Oaks, California, with his wife, Kimberly, and two daughters.
Jarod Goff, c'99, l'02, is associate general counsel for litigation at Garmin International. He and Kendall Dittmer Goff,f'00, live in Overland Park. 
Brian Milligan, e'99, is a neurosurgeon at the University of Kansas Health System. He and Cheri Funke Milligan, b'98, live in Prairie Village and have two future Jayhawks, Adele, 12, and Robert, 10.
Susan Roeder Kammerer, c'00, is a resource management analyst at Waddell & Reed in Overland Park. 
Marcus Mossberger, c'00, lives in Kansas City, where he's senior director of industry and solution strategy at Infor, a global software company.
Irina Chuykova Rodriguez, g'00, earned her PhD in English at Texas A&M University-Commerce. She lives in Rockwell, Texas, with Robert, g'96, PhD'06, and their children, Gabriela and Diego.
Tiffany Strohmeyer, PharmD'00, was appointed to the Kansas Board of Pharmacy by Gov. Laura Kelly. She also was named a "Top 20 under 40" in Topeka, where she makes her home.
Deana Wilhoite, n'00, g'16, is a clinical assistant professor in the KU School of Nursing. She makes her home in Paola.
Joseph Santiago, m'01, retired as a family physician after nearly 20 years in private practice. He now works for Indian Health Service and provides medical care to Native American reservations.
Andre Fortune, c'02, g'05, is vice president of student affairs and enrollment management at the University of West Georgia in Carrollton.
Jami Wall Helm-Meairs, PharmD'02, is a pharmacist and owns Montezuma Drug. She lives in Montezuma and has two daughters, Corrin and Vi.
Crystal Nesheim Johnson, l'02, is Minnehaha County state's attorney in Sioux Falls, South Dakota.  
Sean Walsh, c'02, is vice president of insurance and restoration at BCCM Construction in Kansas City.
Andre Castro, c'03, directs communications at Manufacturers Association in Washington, D.C. 
Joanna Gorin, PhD'03, is vice president of global language learning, teaching and assessment and chief operating officer of global language learning markets at Educational Testing Service in Princeton, New Jersey.
Craig Jonas, PhD'03, is founder and CEO of CoPeace, a sustainable-investment company. He lives in Littleton, Colorado.
Michelle McCormick, s'03, directs the victims' services division in the Kansas attorney general's office. Making her home in Topeka, she also serves as the state victims' rights coordinator. 
Shawna Morris, g'03, lives in Simi Valley, California, where she's CEO of Casa Pacifica Centers for Children and Families.
Casey Old, d'03, directs competitions at Central Links Golf in Lenexa. He and his wife, Kara, live in Lawrence and have a son, Cooper, who turned 1 in August.
Stephanie Spire, c'03, is an executive assistant at Amazon Web Services. She lives in Arlington, Virginia.
Susan Banks, c'04, lives in Lakeland, Florida, where she's an assistant professor of biology at Florida Southern College. 
Rebecca Carl, c'04, g'11, is the area practice manager for oncology services at HCA MidAmerica Division in Leawood.
Kala Bray Dill, c'04, directs compliance courseware at KnowBe4 in Clearwater, Florida. She lives in Safety Harbor with her husband, Trent, and their children, Jada, Kyzen and Avyn.
Peter Dillett, g'04, is vice president of geology at Birch Resources in Houston, where he and his wife, Rachelle, live with their three sons, Anthony, Andrew and Marcus.
Kendra Jenkins Knotts, j'04, is a senior global customer service success program lead at Adobe Systems. She and her husband, Will, live in Seattle. 
Married
Destiny Deitch, n'04, and Derek Klaus, j'06, May 9 in Kansas City, where they make their home. Destiny works in labor and delivery at Overland Park Regional Medical Center, and Derek directs communications at Visit KC.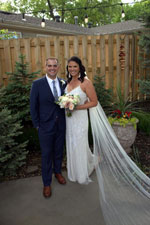 Grant Crawford, PhD'05, professor of mechanical engineering at Quinnipiac University in Hamden, Connecticut, received the 2020 Ralph Coats Roe Award from the American Society for Engineering Education.  
Jeff Crick, c'05, g'07, directs planning and development services for the city of Lawrence, where he has worked since 2013.
Monica Randall Dittmer, s'05, in April was named CEO of the Boys & Girls Club of Lawrence, after serving as interim leader since summer 2019. 
David Doeren, c'05, lives in Waterloo, Illinois, where he's executive vice president and chief operating officer at Allsup, a company that specializes in disability services. 
Lisa Lewin, c'05, is vice president of the Bank of New York Mellon's Pershing. She lives in New York City.
Harshinder Singh, g'05, is lead engineer at Boeing India Private Limited in Karnataka.
Jeremy Allen, b'06, g'12, lives in Kansas City, where he's a solutions engineer at NAVEX Global. 
Meghan Bahn, g'06, manages community engagement at the Lawrence Community Shelter. 
Stefani Gerson Buchwitz, c'06, g'08, EdD'16, directs the Madison & Lila Self Graduate Fellowship program at KU.
Lori Dougherty-Bischel, l'06, is a judge on the 3rd Judicial Court in Shawnee County. She was appointed in April by Gov. Laura Kelly.
Jeff Hawkins, c'06, a guard at KU from 2001 to '05, in May was named head varsity boys' basketball coach at Pembroke Hill School in Kansas City. Jeff and Heather Plante Hawkins, j'06, director of donor relations
and executive assistant to the president at the Alumni Association, live in Lawrence with their children, Mavrick, Sienna and Atticus.
Meghan Armstrong La Rose, d'06, g'10, teaches in the Southwest Independent School District in San Antonio, where she lives with her husband, Christopher.
Christopher Porter, c'06, '12, is a physician at Midway Medical Center in Clyde, North Carolina. He and his wife, Olivia, have two daughters.
Weston Rockers, b'06, is an attorney in the real estate finance group at Morrison and Foerster in Palo Alto, California. 
Ashley Burnett, c'07, g'10, directs care management at TFI Family Services in Topeka. 
Ashley Chitwood, j'07, lives in Boulder, Colorado, where she's vice president of marketing and enrollment management at Naropa University.
Jessica Smith, d'07, is the head women's soccer coach at the University of Missouri-Kansas City. She played for KU from 2002 to '05 and served as an assistant coach for the Jayhawks from 2011 to '15.
Born to:
Andrea Wolf McLin, c'07, '08, and her husband, Ryan, daughter, Finley, June 9 in Haltom City, Texas, where she joins a sister, Ava, 1. Andrea is a physician assistant at Epiphany Dermatology in Fort Worth.
Allison Friend Mazzei, j'08, is president and executive director of the Kansas Association of Broadcasters. She previously was a senior vice president at Pennington & Company in Lawrence. 
Bradley Dillard, c'09, works in retail management at Christy Sports. He and his wife, Nicolette, live in Edwards, Colorado.
Molly Rothove, g'09, is vice president of Creative Planning, a wealth management firm in Leawood.
Rebecca Schonemann, PharmD'09, is an event specialist at Crossmark in Farmington, New Mexico. She has two daughters, Meric and Emily.
Born to: 
Brooke Badzin Fineman, b'09, and her husband, Nathan, daughter, Zoe Faye, Nov. 2 in Chicago, where they live. She's the couple's first child.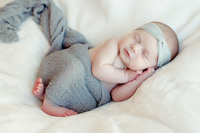 Andrew Herrs, g'10, lives in Houston, where he's a geoscience manager at Navitas Petroleum.
Mark Kennedy, d'10, b'12, is assistant vice president and trust officer at Citizens State Bank & Trust in Ellsworth, where he lives with his wife, Emily.
Ayesha Mehdi, g'10, l'10, a partner at Spencer Fane in Las Vegas, was honored in January at the MANAO Asian Women of Inspiration Gala.
Melissa Stahlecker Tracht, g'10, is a nurse practitioner and department head for occupational health at Branch Health Clinic China Lake in Ridgecrest, California. In May she was sworn in to the Army Nurse Corps as an Army Reserve captain.
Born to:
Elizabeth Robb Lang, d'10, g'12, and her husband, Isaah, son, Hayden, Oct. 9 in Wichita, where Elizabeth teaches sixth-grade mathematics.
J. Angelo, b'10, e'10, g'11, and Lindsey Fisher Tiberti, PharmD'12, son, Everett Leo, Nov. 14 in Las Vegas, where he joins a sister, Sutton, 4, and a brother, Jay, 2. J. Angelo is an engineer at Red Star Fence Company.
Danielle White Dulin, g'11, lives in Warrensburg, Missouri, where she's assistant city manager. 
Kelly Unger Houghteling, c'11, g'13, is deputy town administrator in Wellington, Colorado, and president of the League of Women in Government.  
Chassica Kirchhoff, g'11, PhD'18, lives in Detroit, where she's assistant curator of European sculpture and decorative arts at the Detroit Institute of Arts.
Briana Saunders McDougall, '11, manages engagement marketing at Highspot, a software company in Seattle. 
Becky Sullivan, c'11, u'11, is a news producer at National Public Radio in Washington, D.C.
Michaela Greeley Voss, m'11, is assistant professor of pediatrics at the University of Missouri-Kansas City School of Medicine. 
Adam Weigel, c'11, g'17, manages transit and parking for the city of Lawrence.
Born to:
Matthew, j'11, and Kelsey Smith Thiessen, c'11, son, Kashton, Feb. 29 in Castle Rock, Colorado. Matt is a video editor and producer at Kroenke Sports & Entertainment, and Kelsey works at the Aging Resources of Douglas County.
Leslie Bross, g'12, g'19, PhD'20, lives in Charlotte, North Carolina, where she's assistant professor of special education at the University of North Carolina. 
Hilary Ferguson, j'12, is a digital strategist at Denver7 News. She makes her home in Lakewood, Colorado.
Chris Harris, c'12, who played football for the Jayhawks from 2007 to '10, signed this year with the Los Angeles Chargers. The All-Pro cornerback and Super Bowl champion previously played for the Denver Broncos.
Chandra Hopkins, PhD'12, is dean of the Converse College for Women in Spartanburg, South Carolina.
Adam Long, PhD'12, is executive director of Arkansas Heritage Sites at Arkansas State University in Jonesboro.
Jeanne Tiehen, g'12, PhD'17, lives in Selinsgrove, Pennsylvania, where she's assistant professor and artistic director at Susquehanna University. Her original play, "Anniversary," premiered in fall 2018 at the Otherworld Theatre in Chicago. 
Elias Underwood, b'12, is an associate attorney at Foulston Siefkin in Wichita.
Lisa VanHoose, PhD'12, g'16, director of the doctor of physical therapy program at the University of Louisiana Monroe, was appointed by the Louisiana governor to the state's Health Equity Task Force.  
Martha Jarden Baldwin, g'13, PhD'19, is an adjunct professor of English at Jefferson College in Hillsboro, Missouri.
Regina Bird, c'13, is a meteorologist at NTV and KFXL in central Nebraska. She makes her home in Kearney.
Carrie Burkhead Combs, c'13, is a legal administrative assistant at Seck & Associates in Overland Park. She and Tyson, '08, vice president and financial consultant at Charles Schwab, make their home in Lawrence.
Lauren Gaylor Hughes, c'13, l'16, lives in McPherson, where she's a partner at Wise & Reber. 
Brian McInnes, e'13, is first officer at Air Wisconsin Airlines. He makes his home in St. Charles, Missouri.
Joseph Moriarty, b'13, was promoted to director of acquisitions at Dayton Street Partners, a real estate investment firm in Chicago.
Jacob Norquist, b'13, g'20, g'20, was promoted to supply chain coordinator at Kocher + Beck USA. He lives in Lawrence.
Married
Maxwell Campbell, b'13, and Dana Whetter, c'13, Nov. 30 in Eudora, where they make their home. Max works in sales at Lockton Companies in Overland Park, and Dana is a high school counselor in the Blue Valley School District.
Joe Barforoush, e'14, PhD'19, is co-founder and chief technology officer at Avium, a startup firm at KU's Bioscience & Technology Business Center that focuses on hydrogen production.
Tyler Jaspan, c'14, g'19, g'20, is data privacy lead at Deloitte Touche. He lives in Arlington, Virginia.
Katrina McClain-Lewis, s'14, is a case manager at Select Specialty Hospital in Savannah, Georgia.
Bailey Reed, c'14, lives in Boulder, Colorado, where she coordinates projects at LogRhythm, a security intelligence company.
Jana Tigchelaar, PhD'14, is assistant professor of English and director of the department's graduate studies at Marshall University inHuntington, West Virginia. In April she received the university's Pickens-Queen Teacher Award, which honors outstanding junior faculty.
Carissa Miller Tucker, d'14, is the wine club coordinator at Trump Winery in Charlottesville, Virginia. She and her husband, Daniel, live in Scottsville.
Carlo Aquize, b'15, lives in London, where he's a private equity associate at Infracapital.
Suzanne Bentley, DNP'15, a clinical nurse specialist at KU Medical Center, is on the board of directors for the Kansas Breastfeeding Coalition.
Chuck Sepers, g'15, g'17, '20, is chief public health officer at the East Central District Health Department in Columbus, Nebraska.
2016 Stephen Hetro, c'16, was promoted to group service coordinator for the New Orleans Pelicans and New Orleans Saints sports teams.
Benjamin Heyen, m'16, is a family physician at Mission Community Medicine in Old Fort, North Carolina.
Zachary Tusinger, g'16, directs planning and building for the city of Calistoga in California.
Cole Anneberg, j'17, is a marketing specialist at TopCon Solutions Store in Portland, Oregon. 
Ryan Fargen, l'17, is an attorney at IpHorgan in Sioux Falls, South Dakota.
Drew Gooden, c'17, in October will be inducted in the Kansas Sports Hall of Fame. The two-time All-Big 12 forward played for the Jayhawks from 1999 to 2002 and was drafted by the Memphis Grizzlies in 2002. He played professionally in the NBA for 14 seasons.
Emma Gordon, c'17, g'19, g'20, lives in Chicago, where she's a service executive for the Chicago Bulls basketball team. 
Frank Mason, c'17, a guard in the Milwaukee Bucks' organization, was named the NBA G League's Most Valuable Player. The former national Player of the Year averaged a league high 26.4 points with the Wisconsin Herd.
Slader McVey, d'17, is an operations manager at Uber Technologies. He lives in Portland, Oregon.
Cordelia Brown, '18, lives in Lawrence, where she directs classical music at Kansas Public Radio.
Joseph Faerber, b'18, is a financial analyst at Lakefront Futures & Options in Chicago. 
Tim Fidler, g'18, g'20, works at Duncan Aviation, where he manages accessories business development. He and his wife, Erica, live in Wichita and have two sons, Easton and Beckham.
Lauren Lucht, '18, is executive director of mental and behavioral health at the University of Kansas Health System. 
Andrew Pipes, l'18, is an attorney at Coan, Payton & Payne in Fort Collins, Colorado. He specializes in corporate and real estate law.
Michelle Von Ruden, g'18, g'18, manages financial planning and analysis at Whitehall Specialties in Whitehall, Wisconsin.
Jason Bradley, g'19, g'19, was promoted to battalion chief at the Omaha, Nebraska, fire department. 
David Decker, EdD'19, directs business services for Newton Public Schools. 
Lauren Hakmiller, a'19, lives in Charleston, South Carolina, where she's a junior designer at SDCO Partners.
Chaney Jewell, g'19, is curator of collections and exhibitions at the Arts & Science Center for Southeast Arkansas in Pine Bluff.
Conner Mitchell, c'19, j'19, is a reporter at the Lawrence Journal-World. He covers KU news and the Kansas Legislature.
Vanessa Torres, n'19, lives in Salina, where she's an emergency room nurse at Salina Regional Health Center.
Wesley Williams, l'19, is a trial attorney at Susan L. Florence & Associates in San Antonio.
Married
Logan Shetlar, m'19, to Harriet "Libby" Tudor, May 25, 2019, in St. Joseph, Missouri.
Carly Beck, DNP'20, is a senior strategist at Cerner Corp. in Kansas City. 
Tiffany Beems, '20, is vice president and senior business control specialist at Bank of America. She lives in Chandler, Arizona, with her partner, Wayne Burnett, assoc.
Tarin Clay, c'20, is a client relationship consultant at U.S. Bank. She makes her home in Eudora.
Stephen Denny, g'20, is a consultant at Booz Allen Hamilton in Honolulu.
Alexandre Gachet, g'20, is chief information officer at the University of Fribourg in Fribourg, Switzerland, where he makes his home with his wife, Jessica, and their children, Justin and Chloe.
Kiandra Hudgins, n'20, lives in Salina, where she's a registered nurse at Salina Regional Health Center.
Kaitlin Hamman Jackson, n'20, is a registered nurse at College Hill OB/GYN in Wichita.
Ember Krech, PhD'20, lives in Lawrence, where she's a senior research engineer at Evoke Medical.
Nootan Pandey, PhD'20, is a postdoctoral fellow in the department of molecular biosciences at the Perlman School of Medicine at the University of Pennslyvania.
Julie Taylor, g'20, is an environmental professional at HEPACO in Richmond, Virginia, where she lives with her husband, Brandon Rivenbark.
Tomas Smith, g'20, is a research associate at Kintai Therapeutics in Cambridge, Massachusetts.