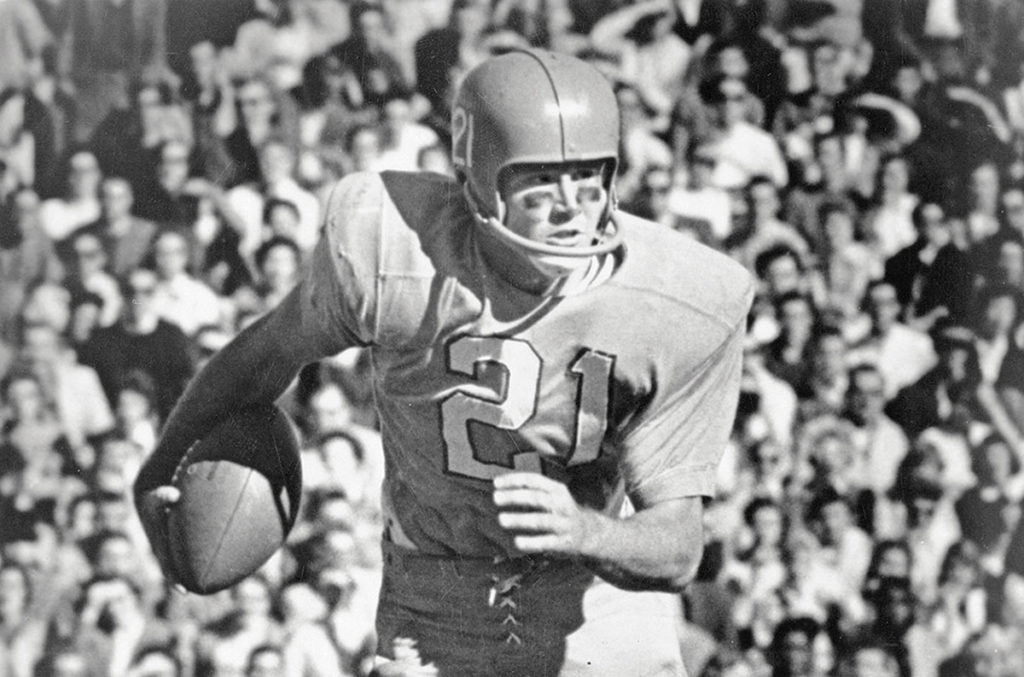 The precise circumstance of the quote is uncertain, but presumably the only time Syracuse football coach Ben Schwartzwalder would have commented on John Hadl was after a 1960 game in Lawrence. The Jayhawks had played at Syracuse the previous season, but that was only the second varsity game for Hadl, then a relatively anonymous sophomore halfback.
For the 1960 season, coach Jack Mitchell moved Hadl, then a junior, to quarterback, opening room for TCU transfer Bert Coan, '63, a 6-foot-4 speedster, to take Hadl's spot at left halfback, playing alongside Curtis McClinton, d'62. Hadl, Coan and McClinton: future NFL stars all, and yet it was Hadl, d'68, whose only previous experience at quarterback had come in backyard games, who impressed a coach whose own roster included future Heisman Trophy winner Ernie Davis.
"If we had our choice of one player in the country," Schwartzwalder said, as quoted in 2008 by Big 12 Sports.com, "he would be John Hadl."
Now that he's set to be honored as the 2020 recipient of the Fred Ellsworth Medallion for lifelong service to the University—a unique career as player, assistant coach and 30 years as associate athletics director for the Williams Education Fund—it's once again Hadl's turn in the spotlight he so deftly avoided while working behind the scenes at Kansas Athletics.
Lifelong friend and Lawrence High teammate Larry Hatfield, d'64, says he was not surprised, exactly, that Hadl became a two-time All-American and amassed the third-most passing yards in NFL history, because he knew firsthand that Hadl rose to challenges.
He just didn't see it coming.
"The only time John ever threw the ball," Hatfield recalls, "was in touch football. Could he pass? Yeah, he could pass. Did I think of [Johnny] Unitas or [Norm] Van Brocklin? No. I don't think so."
Hadl's final game at KU was a victory over Rice in the 1961 Bluebonnet Bowl, and in 1962 the Detroit Lions drafted Hadl 10th overall. But it was the San Diego Chargers, who chose Hadl in the third round of the American Football League's draft, who caught Hadl's eye. He wanted to play for coach Sid Gillman, a passing-game genius, rather than the old-school Lions.
When Hadl told Hatfield he was going with the Chargers, Hatfield was stunned, and asked why.
"Detroit wants a Paul Hornung run-pass-kick guy," answered Hadl.
"But that's what you're best at, John," said Hatfield.
"Dang it, Larry, I can learn to pass!"
Two years into Hadl's pro career, he and Hatfield met on the Allen Field House court for a winter workout. Hatfield knew Hadl had been working with weight-training pioneer Alvin Roy, but didn't expect what he saw that day. Or, more specifically, what he didn't see: the football, rocketing toward his face from 25 yards away.
"Where did that come from?" exclaimed Hatfield.
"Well," Hadl replied, "I've thrown about a thousand balls since we last played."
Over the years, Hadl's legend shifted from dazzling football exploits—he set KU punting and interception return records, he was John Elway's first quarterback coach in Denver (the two remain close), and he coached Steve Young, another Hall of Famer, as head coach of the USFL's L.A. Express—and became more about the man behind the No. 21 jersey.
Former Lawrence Journal-World sports editor Tom Keegan recalls desperately wanting to play well in the only round of golf he shared with Hadl, and now he doesn't know why it mattered.
"I hit the best shot of my life with Hadl," Keegan says, "but it's just weird that I wanted to impress him. He was the most secure guy you could meet. He's the coolest guy in the room, so he doesn't have to act like he's the coolest guy in the room."
No. 21 in your program, No. 1 in our hearts: the legend of John Hadl, the superstar who could have lived the good life in sunny San Diego, but instead always returned to Lawrence and KU.
"I don't know anybody who could have given any more than John," Hatfield says. "He had chances to go different places, but he never chose to do that. He loves KU. He loves Lawrence. He loves all his old friends … and, his new friends."
If we had our choice of one player in the country … hold that thought. We did. We chose Hadl, and we chose wisely.