Supreme Court appointment echoes traditional role according to Arizona jurist
On Jan. 28, when Tina Tsinigine was sworn in as associate justice of the Supreme Court of the Navajo Nation in Window Rock, Arizona, it marked the first time the tribe's three-member high court has comprised three women.
Tsinigine, g'03, "didn't really think about that" when she sought the appointment, but it seems to her entirely appropriate that the final say on legal matters for the largest American Indian territory in the United States should rest with women.
"Some people say, 'Why should we have three women?'" says Tsinigine, noting that the tribal council is mostly male. But under traditional gender roles "a long way back," men went out to tend livestock while women cared for the home. "Women were the disciplinarians of the family. The Navajo term is Hashkééjí Nahat'á. 'You talk sternly.' That was our role."
Caring for the greater Navajo family is how Tsinigine views her role on the Supreme Court, the ultimate judicial authority for tribal lands that sprawl across parts of Arizona, Utah and New Mexico. The Navajo Nation spans 27,000 square miles (a larger area than 10 U.S. states) and in the 2010 census tallied a total enrollment of 332,00 people, 47% of whom live on the country's largest reservation. Its courts form one of the most active Native American judicial systems, with its rulings widely disseminated and closely followed by other tribes.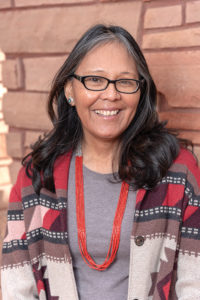 Her mentor, Allen Sloan, for whom she worked as a staff attorney in the Tuba City Judicial District, modeled compassion. 
"He was a very wise judge. I used to sit in his court and listen through his hearings as he helped people. He would take the time to listen to them, and I think that's what has motivated me. He taught me how to be patient, be compassionate and understanding."
Until Tsinigine became the court's third justice, the position had been vacant for nearly a decade. District judges like Sloan were appointed to cases pro tem to provide a third vote; assisting Sloan was how Tsinigine got her first exposure to the high court. Then in 2017, when she became a district judge, Tsinigine served as a pro tem judge on Supreme Court cases. She applied for the permanent job because she saw the toll these temporary appointments take on district judges.
"They are all day on the bench hearing cases at district court—all the family cases, criminal cases, protection orders—there's one judge hearing everything. To do Supreme Court cases on top of that is hard. It takes a lot of time."
Tsinigine grew up in Tuba City and earned her undergraduate degree at Arizona State University. She set out to study architecture but switched to math after her diligence in a summer calculus course caught the attention of Joaquin Bustoz, founder of the school's Math-Science Honors Program. ASU had never had a Native American graduate with a math degree, Bustoz told her. "He said, 'You will be the first and I'll help you.'"
She returned to Tuba City after graduation to teach high school math for several years before deciding to pursue a graduate degree. Bustoz wanted her to earn a math PhD, but an ASU visiting professor, the outspoken writer and scholar of Native American studies and politics Elizabeth Cook-Lynn, suggested she attend a conference for Indigenous scholars hosted by KU. Tsinigine liked what she saw of the state and the campus. She decided to study federal Indian policy before attending law school, and completed her master's degree in KU's Indigenous studies program.
"I never knew my past as a Native American," Tsinigine says. "On the reservation they don't talk about it. So that really helped me understand how we got to where we are."
After completing her law degree at New Mexico State University, she returned home, once again, to serve her community.
"'When you finish law school, you need to come home,'" Tsinigine says Cook-Lynn told her, "'and going to Kansas you'll probably understand why. Because they're going to focus on Indigenous people and their needs.'
"That's what I got from KU, a good history not only of Native Americans being removed from their homelands, but all the policies and law that was really growing all the time," Tsinigine says. "The things I learned really helped me think and ask questions, and I just realized, 'Yeah, I gotta go to law school, and I gotta go home.'"