Editor shares zest for travel
Hamm nudges readers toward finding their own way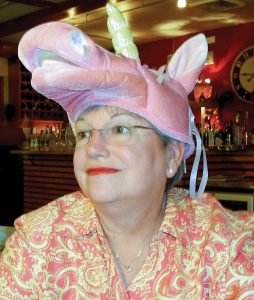 Los Angeles Times travel editor Catharine Hamm concedes that, as a better writer than photographer, she might need to take 92 photographs to artfully capture visual details of her journeys.
As for the rest of us? Just stop.
"You don't need 92 pictures of the Louvre. You don't need 92 pictures of Corsica. You don't need 92 pictures of Tokyo. You need one," Hamm, '93, says from her Los Angeles office, shortly before departing for 10 days in the Alps.
Not only do we miss the chance to make memories rather than pictures when we obsess over posting updates the instant a Wi-Fi signal is lassoed, but we also fail to honor elements of travel that can't be conveyed by social media or even glossy magazines: smell, taste, sound, touch.
"We tend to think of travel as mostly visual," Hamm says. "It's not."
Thanks to varied postings required of her father's civil service job, Hamm grew up in Washington, D.C., Hawaii and the Philippines; thanks to scholarships from McPherson College, she landed back in her parents' native Kansas for school. Intending to follow her father into a government career, Hamm studied Spanish, but also fell in love with journalism while finding "lots of trouble" on the school paper.
After stints at two small papers, Hamm in 1980 became a copy editor with the Kansas City Star, where her first promotion was to travel editor. Her career detoured back into news, however, and it was during her stint as the Star's assistant managing editor that Hamm enrolled in graduate school at KU, studying journalism management with Professor Emeritus Rick Musser and business management with Associate Professor Emerita Renate Mai-Dalton.
"There is not a day that goes by that I don't use a lot of what Dr. Mai-Dalton taught me," Hamm says of lessons on seeking perspectives beyond the obvious. "Particularly in our business, it is important to not only consider other points of view, but to report them."
Hamm left the Star in 1992; after stints at two Gannett papers in California, she joined the Los Angeles Times in 1999 as deputy travel editor, and since 2003 has led the travel department as editor.
Hamm relishes the memory of her mother's reaction when she phoned with the news of her first travel gig, in Kansas City: "She started laughing and said, 'You are the worst traveler ever!" Hamm concedes that as an adolescent she was known to order hot dogs when the family dined in exotic Asian ports of call.
As for consuming travel journalism, Hamm—referencing the original and still greatest travel piece of all, Homer's Odyssey—cautions against falling for "rosy fingers of dawn" hyperbole.
"If everything is great, you should probably put that story down. There is no trip I have ever taken that has gone completely right."