University Welcome launches Hawk Week for freshmen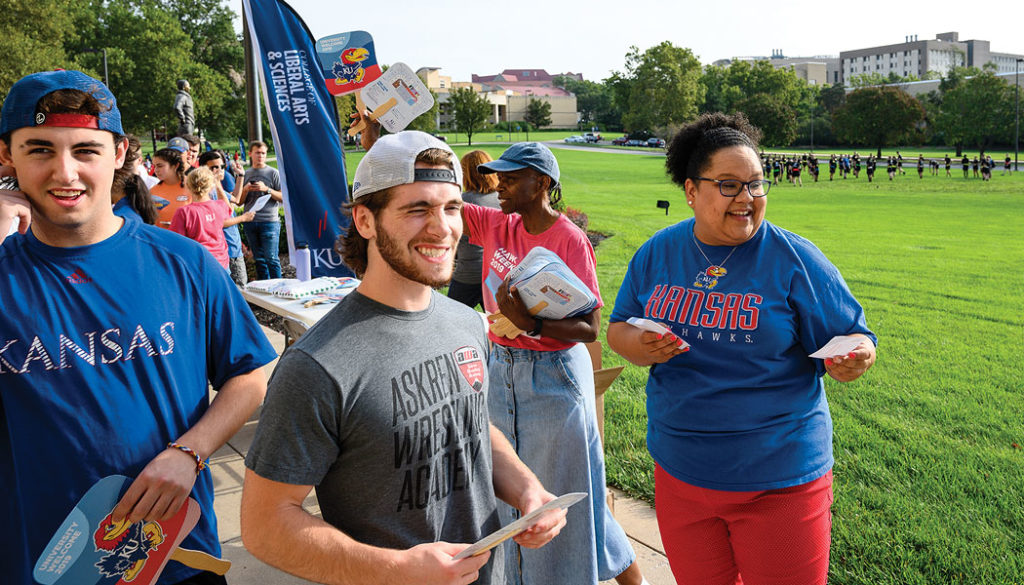 First-year students checked in with their respective schools and received colorful Jayhawk fans before proceeding into Allen Field House for the University Welcome, where Chancellor Doug Girod and University leaders provided helpful advice and encouragement for the new Jayhawks.
Less than 24 hours after moving into Douthart Scholarship Hall, Lakin Adams was seated in Allen Field House at 8:30 a.m. on Aug. 23, brimming with anticipation for the day ahead. The Topeka freshman, who's majoring in pre-pharmacy, was one of the first students to arrive for the University Welcome, KU's newest tradition to help ease first-year Jayhawks into campus life and celebrate the start of their academic journeys.
"It's a lot," Adams admitted with a smile. "I'm excited, but mostly I'm nervous. I'm trying to go to as many Hawk Week events as possible to meet new people."
Within minutes, she was joined by dozens of her pre-pharmacy peers, who spilled into the music-filled arena along with hundreds of freshmen and transfer students, all of whom were seated with their respective schools or the College of Liberal Arts & Sciences. 
The celebratory event was created by the Office of the Chancellor, Undergraduate Studies, Student Affairs and the Office of First-Year Experience and replaces KU's annual Convocation, which was typically held the evening before fall classes began, concluding the week of freshman activities.
Hawk Week outstretched its name this year to span 10 days and more than 25 activities for first-year students. Events such as Union Fest, Rock the Rec, Hawk Fest and Traditions Night combined food, giveaways and entertainment with helpful information on campus organizations and cherished KU lore. The lineup also featured job and volunteer fairs as well as classroom, library and bus-system tours. Two programs—Common Book discussion groups and Jayhawks Give a Flock, the KU Sexual Assault and Prevention Education Center's bystander intervention training—were mandatory. The 10-day itinerary concluded with a tailgate celebration Aug. 31 before the first KU home football game.
"I think Convocation happening later in Hawk Week wasn't really capitalizing on everybody's excitement," said Kate Nygren, PhD'19, assistant director for academic programs at the Office of First-Year Experience. "This way, we're getting the chancellor in front of all the new students much earlier, so we're able to build excitement around all the events surrounding Hawk Week. It's also a great opportunity to establish expectations early on in the Hawk Week experience and make sure that students know what's available for them."
Office of First-Year Experience's Paige Freeman, associate director of orientation, and Howard Graham, g'09, associate director of academic programs, began the program with an enthusiastic roll call, summoning cheers and hollers from students as their schools were announced. Graham, recalling advice he offered during orientation this summer, reminded freshmen to connect with fellow students, faculty and staff during their time on the Hill and to be open about communicating their needs to others. He emphasized that members of the KU community would become the foundation of each student's academic experience.
"Hawk Week has been designed to maximize your chances, your opportunities to connect with and meet people that will be part of your support network," he said. "That will be part of your journey here."
Tammara Durham, vice provost for student affairs, and Susan Klusmeier, interim vice provost for undergraduate studies, detailed the fundamental values that all Jayhawks share—unity, innovation, inclusion and engagement—and led students through an amusing icebreaker, asking them to glance to their left and right as Durham and Klusmeier drew laughter with jokes like, "One of you almost chose to go to MU," and "One of you thinks there's sand on Wescoe Beach." The activity concluded with an encouraging, "Look to your left, look to your right: All of you belong at KU."
Klusmeier, g'03, also stressed the importance of becoming involved and engaged in the KU community, finding support both in and outside of the classroom, and embracing the challenges and opportunities ahead. "All of these things are going to help you not only figure out who you are, but also who you're meant to be."
Durham echoed those sentiments by urging students to take advantage of critical resources, such as the Jayhawk Buddy System and the University's counseling services, and to participate in any of the multitude of clubs and groups available on campus. 
"There are over 600 student organizations," said Durham, EdD'09. "I dare you, I double dare you, to not find something that you are connected to."
Chancellor Doug Girod, who began his tenure on the Lawrence campus just two years ago after leading KU Medical Center as executive vice chancellor, reassured the new Jayhawks, recognizing their excitement and nervousness. "It can be overwhelming," he affirmed, "but you have a lot of family around to make sure you're successful."
Before Girod introduced University leaders and deans, he encouraged students to search for learning opportunities outside of the classroom, develop a broad set of skills and discover their true passions over the next four years.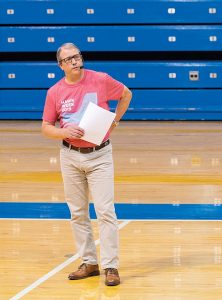 "We're here to welcome you to the Jayhawk family and to make sure that your career at KU is off to a great start," he said. "It's an incredible opportunity for you to really transform yourself and prepare yourself for the next phase of your lives."