Diverse KU career prepares Cook for public affairs role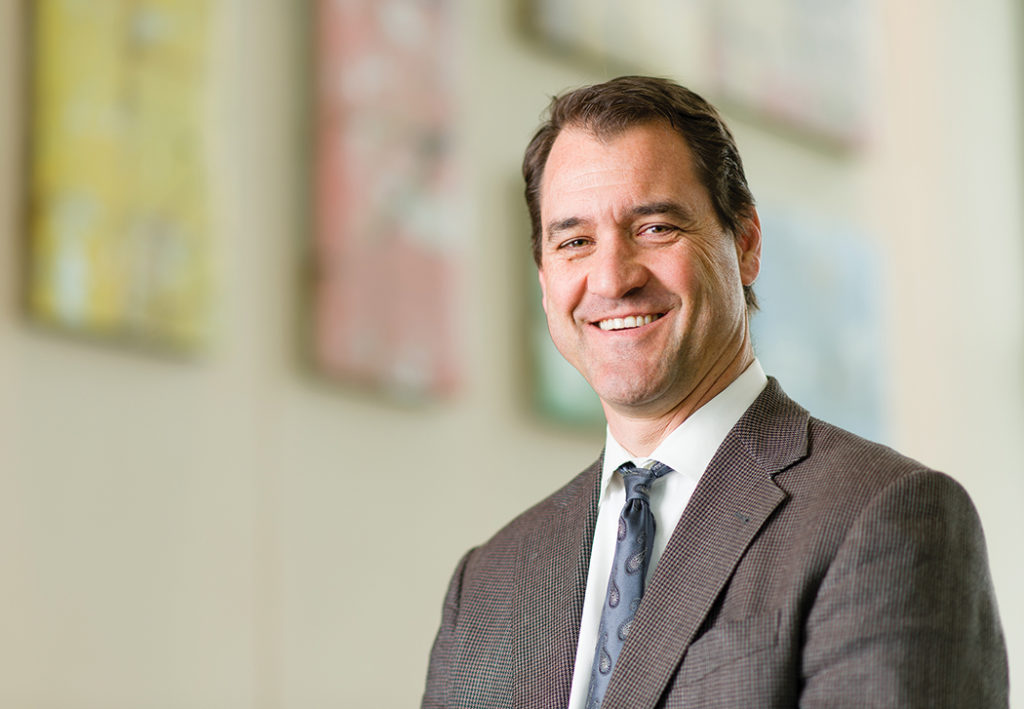 Announcing that he had filled a key role in his senior leadership team this spring, Chancellor Doug Girod named Dave Cook as the University's new vice chancellor for public affairs and economic development. 
"You will note the phrase 'economic development' is new to this vice chancellor title," Girod wrote in a message to the campus community April 7. "This change reflects my belief that economic development, broadly defined, must continue to be elevated as a priority for KU."
As vice chancellor of KU's Edwards Campus since 2013, Cook, g'96, PhD'99, has led what is arguably the most workforce-centric of the University's five campuses. Offering more than 60 degrees, certificates and professional education programs primarily for adult learners while forging tight partnerships with Kansas City metro employers, the Overland Park campus has developed a laser-like focus on economic development. 
Schumaker instead argues that because the Electoral College long ago ceded its role of identifying candidates to political parties, which are concerned only with putting forth nominees who can finish "first past the post," then the system has outlived its usefulness.
Also refreshingly, Schumaker offers alternatives, including his favored option: an "instant run-off" system, with an early September "preliminary national election" narrowing a field of 20 or 25 qualified candidates to a final group of perhaps five, from which voters, returning to the polls in November, would then declare their preferences in a ranked order.
"You see people coming together and rising to the occasion. I think there's a pretty good case to be made that this truly could be our finest hour."
Dave Cook
But don't think that the job's new charge applies to the metro only, Cook cautions.
"I see great opportunity in the greater Kansas City area with economic development," he says. "But I think it goes beyond that, and I don't want that point to get lost: Obviously Kansas City is really important to Lawrence and to the University, but there are greater opportunities beyond that as well that I want to explore."
Beyond, in this case, means all across Kansas, where Cook has lots of experience as well.
Before joining the Edwards Campus, where he also served as dean of the School of Professional Studies and oversaw the launch of 16 new academic degree programs and an enrollment increase of 36%, Cook spent 14 years at the KU Medical Center, the last seven as part of the campus leadership team. His many roles there included the sort of external affairs and government relations he will lead from Strong Hall, but he also headed KU's telehealth program, a job that took him all across Kansas.
"I did a lot of community engagement and outreach, so I spent time in literally every county in the state," Cook says. "When you start talking about telemedicine, you're talking about dozens of different communities where I was working with rural hospitals and health centers and all the rest. So I will bring that element to economic development as well, looking west as well as looking east."
In addition to economic development, Cook oversees several units within the Office of Public Affairs: strategic communications, government relations, KU News, marketing communications, Kansas Public Radio and the Kansas Audio-Reader Network, a free reading and information service for blind, visually impaired and print-disabled individuals in Kansas and western Missouri. 
Cook's appointment comes during a time of great uncertainty for KU. With classes transitioned to remote learning for the remainder of the spring and the entire summer session—and with the status of fall classes yet to be determined—Girod on April 27 listed the ongoing challenges for the University in a message to staff, faculty and affiliates, including possible enrollment drops, prospects for additional federal stimulus funding, and a projected state revenue shortfall that could wipe out a modest increase for higher education in the 2021 state budget and instead lead to cuts in the current fiscal year budget. 
"Though these factors are still developing," Girod wrote, "our initial losses undoubtedly will be in the tens of millions of dollars." He announced a 10% salary cut for nearly 40 university leaders, which will save $573,000 in payroll costs over the next six months, and said that no decision has been made yet on the need for furloughs, layoffs or more widespread salary reductions at KU.
Like Barbara Bichelmeyer, j'82, c'86, g'88, PhD'92, who stepped into the provost role on Feb. 26, just weeks before KU shut down campus operations in response to an unprecedented global health crisis, Cook's transition to the Strong Hall leadership team has required him to hit the ground running. Long before his official start date of May 1, he was reaching out to affiliates such as the Alumni Association, KU Endowment and Kansas Athletics, whom he considers key players in helping the University come through the current crisis stronger than ever.
"It's obviously a crazy time," Cook says. "Right now we're trying to do what's best for our students and staff and faculty, because it's hard for everybody.
"We're taking on a lot of unprecedented challenges. It's hard, but it's a good hard, if that makes sense. We're coming together to address things and come up with solutions in ways I've never seen before. While it's exhausting, it's exhilarating. Maybe now more than ever I've been proud to be a Jayhawk. You see people coming together and rising to the occasion. I think there's a pretty good case to be made that this truly could be our finest hour."
 —Steven Hill