Hoglund tackles new challenge
Oil and gas veteran creates new shipping solution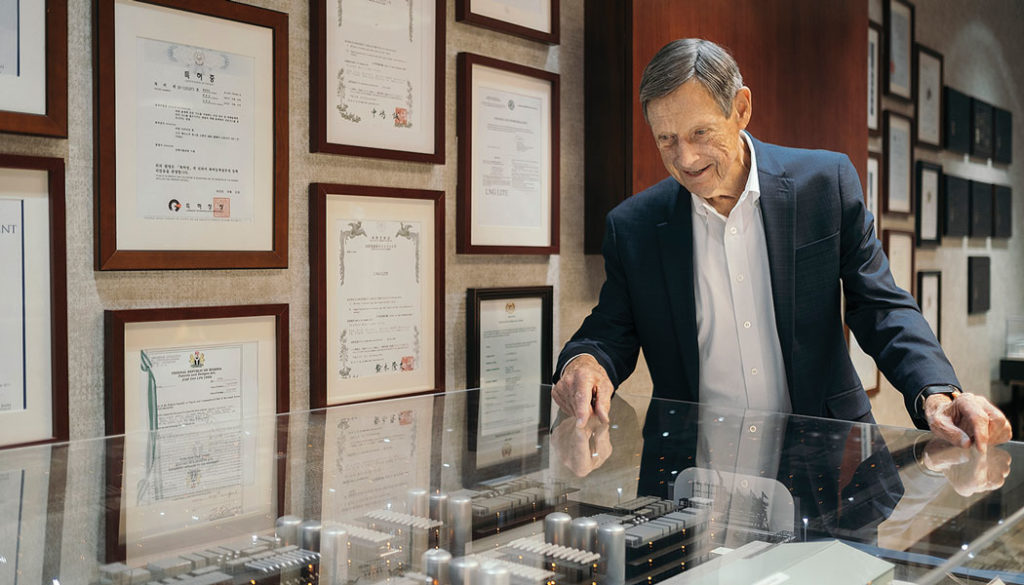 "I've always been kind of a builder," Forrest Hoglund says. "This one is so big and has taken longer and more money and all that, but it's just gigantic in its benefits."
Venezuela, the Caribbean's largest fuel supplier, is crippled by volatile politics; state-owned power companies with reputations for missing payments scare off lenders that could help build infrastructure and fund contracts with U.S. oil and gas exporters; and the Caribbean's hydroelectric resources are uneven and unreliable.
A veteran oil and gas entrepreneur hopes to soon sail to the rescue.
"Ninety percent of their electricity is generated from oil products, and they pay two to three times what you do for electricity," says Forrest Hoglund, e'56. "It's impoverished, those islands. We're able to offer them half-priced energy, with fixed prices for an extended time period, even up to 20 years, saving billions and billions of dollars, and it's about a 60-percent reduction in emissions."
Hoglund, the 86-year-old chairman and CEO of SeaOne Holdings, says his company, which he formed in 2004, has perfected and patented a natural gas shipment method called CGL, or compressed gas liquids.
The traditional system, LNG, liquifies natural gas at about minus 260 degrees. First, however, the raw product must be distilled down to methane, leaving behind valuable byproducts such as propane and butane. CGL, Hoglund says, forms a liquid at about minus 40 and includes the entire gas product, which the purchaser can distill and sell at the shipment's destination.
"We can make the product for 15 to 20 percent of what it takes to make LNG," says Hoglund, who, as he has for much of his career, lives in Dallas with his wife, Sally, c'56, and works in Houston.
SeaOne plans to build ships and export and import facilities; for its first big contract, with Colombia, SeaOne won the right to purchase a large energy port and build a propane power plant, which will eventually switch to CGL.
"It's right on every single part of the equation," Hoglund says. "The economics, the social gains, the environmental gains."
Hoglund in the 1990s built EOG Resources from a $400 million company into a crude oil producer worth $4 billion; he left EOG the day after he engineered its separation from Enron, two years before the infamous collapse, and, under the leadership he put in place, EOG's value has since soared to $70 billion.
Freed from corporate obligations, Hoglund in 2001 agreed to chair KU Endowment's KU First campaign; among the Hoglunds' numerous other gifts to the University is KU Medical Center's Hoglund Brain Imaging Center.
Recently described by the Wall Street Journal as "an oil-industry stalwart," Hoglund plans to remain at SeaOne's helm and guide the company to maturity.
"I just want to create the most value we can in the company and do the most good with it."