Foster guides KU's pandemic response
Navy experience aids alumnus as KU's emergency manager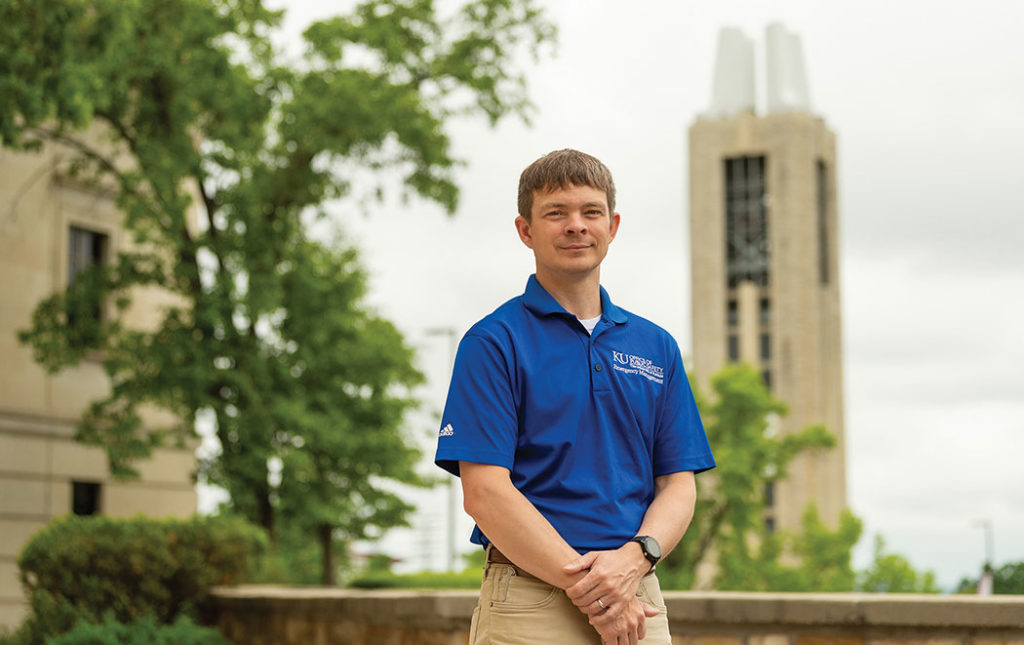 As a fire control radar technician on the Navy's advanced Aegis combat weapon system, Andrew Foster watched for potential threats far beyond the horizon. When danger loomed, he promptly delivered options and solutions up the change of command—wartime experience that perfectly suits his current mission as KU's emergency management coordinator.
"I started watching [coronavirus] reports in early January," he says, "when reporting started coming out of China about this mystery illness that was killing people off."
Foster, c'12, recalls email conversations among his national peers cranking up by mid-January; emergency preparedness officials on college campuses already were concerned about the return of international students and faculty. When the first suspected case of COVID-19 arrived in Douglas County on Jan. 28—a man who had recently traveled from Wuhan, China, the outbreak's apparent epicenter—Foster and his KU colleagues were ready to brief Chancellor Doug Girod and other leaders on the threat.
"I started active planning efforts before the end of January," Foster says, "and haven't stopped since."
Motivated by what he says is his family's deep sense of public service—"Always help people when we're able to"—Foster, a Wichita native, joined the Navy out of high school. He enlisted on Sept. 11, 2000, and intended to make the Navy his career, hoping for a pause along the way to earn a college degree. The peaceful era of his enlistment shattered exactly one year later, and in 2006 he left the military and took a job with Starbucks as regional facilities manager based in San Diego.
Managing expansion of a string of more than 200 coffee outlets proved stressful and unrewarding, leaving Foster a prime candidate for homesickness while watching KU win the 2008 NCAA men's basketball tournament and the celebrations that rocked downtown Lawrence.
"I was burning out pretty fast, so when I watched that championship game, I was, like, you know, I could have been there, been part of that community. I should have been back at KU, and I missed it because I'm working for a coffee shop. So I packed up my stuff within a week and headed home."
While studying political science on the Hill, Foster landed an internship with the governor's office; given his six years of military experience, he was placed with the Adjutant General's Department, where he joined the Kansas Division of Emergency Management's hazard mitigation team, helping turn federal grants into tornado safe rooms in vulnerable towns across the state.
Foster then joined KU's Public Safety Office to assist emergency management coordinator John Marmon, who was then battling Parkinson's disease, and in 2016 he was promoted to coordinator upon Marmon's retirement.
Amid the spread of coronavirus, a declaration of global pandemic and the shutdown of campus, Foster leads a parade of daily conference calls with leaders on the Lawrence and Kansas City campuses, and Girod chose Foster to bat leadoff on his Zoom conversations with the entire KU community.
Foster acknowledges that his presence on Girod's virtual town halls has made him "the face" of emergency management at KU, but he insists it overplays his role.
"I'm an organizational guy," he explains. "My entire job is to put people in the room together, or on the call together, so that they can make the right decisions at the right time. I'm not the decision maker. I'm not the policy maker. I just guide people in the right direction."
He affirms that, thanks to Girod's early interest and action, campus leaders are, and always have been, unwavering in their commitment to health and safety, and minor detail disagreements never distracted from the mission of keeping students, faculty, staff and visitors safe—which came at a steep price.
"Just because we have a priority of public health and safety doesn't mean there's not a concern about economic costs," Foster says. "One of the biggest concerns is students' access to education. The whole reason we exist is to do research and to educate people, and if we can't do those core missions then we're not achieving what we intend to achieve. But within the leadership group, there was never a disagreement about our priorities."
As for the anticipated return to normalcy, Foster urges patience. Specific directions are being drawn up for more than 300 Lawrence campus units and organizations, so nitty-gritty details will be ready to share once Girod approves a phased return.
"If everyone follows the line and is hardcore about social distancing, there's a real possibility we can get everything back to a low level [of operations], which will allow for us to do a heck of a lot more on campus to bring things back alive for the fall semester," Foster says. "But it will be detrimental if there's a resurgence. I don't want to see that. I don't want to see any of that."