David Mucci, Dale Seuferling receive Fred Ellsworth Medallion
Highest honor for KU service goes to two pivotal University leaders.
by Jennifer Jackson Sanner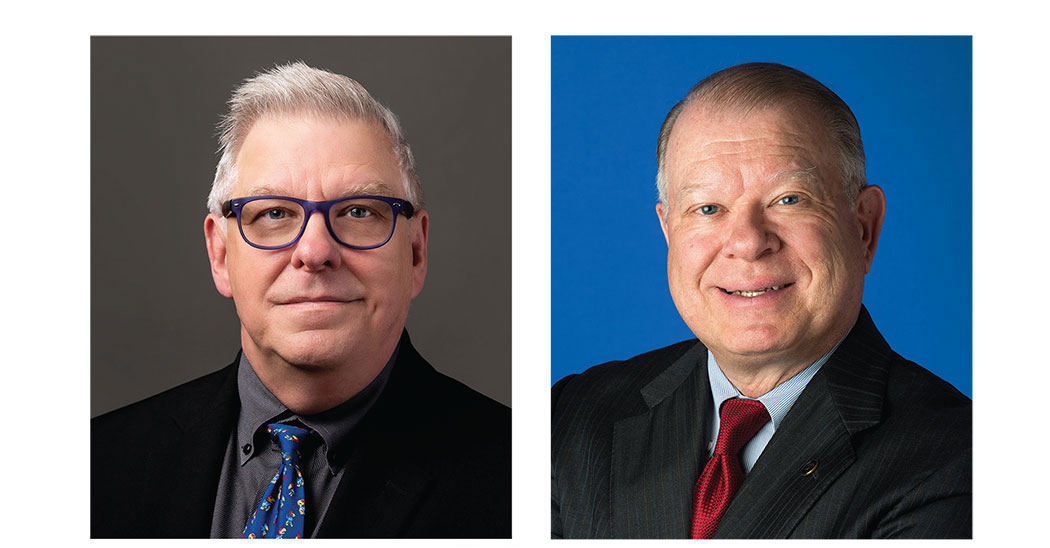 David Mucci, assoc., and Dale Seuferling, j'77, both of Lawrence, received the 2023 Fred Ellsworth Medallion, the Alumni Association's highest honor, for their dedicated service to the University. They were honored Sept. 7 at the Jayhawk Welcome Center in conjunction with the fall meeting of the Association's national Board of Directors. Both men retired in 2022.
The Association created the medallion in 1975 in tribute to Ellsworth, c1922, who became known as "Mr. KU" as he led the Association from 1929 to 1963.
Mucci directed the KU Memorial Union for 23 years, leading its programs through an era of dramatic growth and change. He is known for building strong relationships throughout the KU community, expanding facilities as well as operations and programs, and always putting the interests of students first.
Seuferling's 41-year career at KU Endowment included two decades as president. He nurtured trusted relationships with countless alumni and guided fundraising campaigns that provided unprecedented support for students and faculty, along with new buildings and major renovations that transformed and expanded KU across all campuses.
Mucci arrived at KU in 1999 after overseeing student unions at the University of Idaho, Ohio State University and his alma mater, the University of Kentucky, where he earned his bachelor's degree in English and film studies and his master's in business administration. As an undergraduate, he was elected student body president, a role that prepared him well to mentor a succession of KU students who participated in Student Union Activities, Student Senate and KJHK radio. More recently, he supported new student initiatives, including the annual community volunteer day (known as The Big Event) and KU's Esports team.
Jay Howard, b'79, served five years on the KU Memorial Union board as the Alumni Association's representative and later chaired the Alumni Association. "David was a great friend and mentor to dozens of student leaders throughout his tenure," Howard attests. "The chair of the Memorial Union board was always a student, and David must have been a very good example, because if you look at the chairs from the early 2000s, you have Keturah Harding Pohl, who later became the national chair of the Association; Kevin Yoder, who became a U.S. congressman; and Marlon Marshall, who played a key role in President Barack Obama's administration in the White House. David clearly affected a number of students in a very positive way."
Under Mucci's leadership, the Union completed ambitious renovations that modernized the Jayhawk Boulevard landmark while preserving traditions and history. Mucci's devotion to Mount Oread's proud past is evident not only in the physical spaces of the Kansas Union, the new Ascher Plaza and the Burge Union,  but also through his collaboration with the late Henry Fortunato, g'07, and a team of graduate students and staff to create the website kuhistory.com and add history display panels throughout the unions.
He also oversaw dramatic growth in programs at the new Burge Union and the DeBruce Center on the Lawrence campus, and he helped establish Union programs to serve students on the Edwards Campus in Overland Park as well as KU Medical Center campuses in Kansas City and Wichita.  Mucci also led the repurposing of the Jaybowl for students in architecture and graphic design, the transformation of the KU Bookstore and the opening of the South Dining Commons. Through the years, he provided vital employment opportunities for hundreds of students.
Mucci served on the KU Master Plan Steering Committee and the Sesquicentennial Steering Committee. He helped develop the Union Alumni Council to engage recently graduated student leaders and encourage them to continue their involvement with KU. During the pandemic, he guided the Union through tremendous challenges, continuing to connect students and the community despite severely limited budget and staff resources.
Howard says Mucci's management style helped him unite teams and find solutions to even the most vexing challenges. "I doubt this is in any business school textbook, but David embodied what I call 'management by cheerfulness,'" Howard says. "He never failed to have a sense of positivity, happiness and empowerment for everybody he met."
Seuferling launched his KU career using his journalism degree in radio, television and film to land his first job as a radio news reporter and staff member for University Relations. In 1981, he became public relations director for KU Endowment, beginning a 41-year career that quickly transitioned to a fundraising role. His responsibilities continued to expand until he became president in 2002.
During his four decades with Endowment, annual contributions grew exponentially. During his first year of fundraising, KU Endowment raised $15 million; during fiscal year 2021, donors contributed $212 million.
His KU tenure spanned seven chancellors and included three of KU's four major fundraising campaigns—Campaign Kansas, KU First and, most recently, Far Above: The Campaign for Kansas, which concluded in 2016. All three campaigns surpassed their initial fundraising goals. Far Above, which aimed to reach $1.2 billion in gifts and pledges, ultimately raised $1.66 billion to benefit KU. The campaign's many notable accomplishments included the creation of 735 new scholarships and fellowships, 53 new professorships, and 16 new buildings or major renovations.
Seuferling also helped develop new programs, including Women Philanthropists for KU (WP4KU) and the Student Endowment Board. Sue Shields Watson, d'75, who led the Alumni Association as national chair and, with her husband, Kurt, co-chaired Endowment's Far Above campaign, praises Seuferling for creating new leadership avenues through WP4KU. "Dale realized that some women hadn't had the opportunity to get to know the University," she says, "and the fact that he brought them in and gave them the opportunity to know what was going on, to become involved, to serve on KU boards and ultimately to serve on the Endowment board, was such an important touch."
Kurt Watson, d'75, former Endowment chair who continues to serve as a trustee, adds, "Dale is singular when you think about the University and all that he has given to KU over the years. He's a very special guy. His ability to bring people together and do the right thing are among his greatest strengths."
Seuferling provided essential fundraising guidance for comprehensive landmark initiatives across the University, most recently KU's successful quest to earn National Cancer Institute designation for the KU Cancer Center in 2012, followed by NCI comprehensive designation in July 2022.
Seuferling and his team collaborated often with the Alumni Association, and he strongly advocated for the Jayhawk Welcome Center construction and Adams Alumni Center renovation. In addition, he became a national leader in higher education philanthropy through his work with longtime KU Endowment consultant Grenzebach Glier and Associates and
his many years of involvement in the Council for Advancement and Support
of Education.
Jennifer Jackson Sanner, j'81, is editor of Kansas Alumni magazine.