Grand entrance: KU's new Jayhawk Welcome Center
Video wizardry and true-blue hospitality convince University of Kansas recruits that the Hill can be home.
By Jennifer Jackson Sanner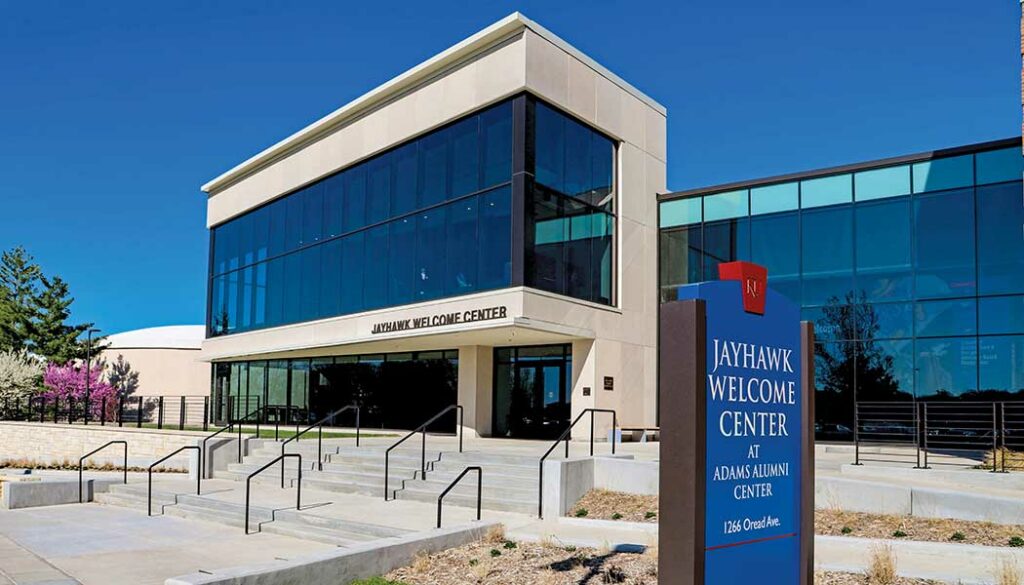 As sunshine streamed through the two-story glass facade of the Jayhawk Welcome Center on the morning of Monday, Feb. 13, Marina Fadelli, a high school senior from California, walked into the luminous lobby with her parents. Their first visit to Kansas coincided with the first day of operations for the center. The Fadellis were among the first prospective KU families greeted by the KU Admissions team in the University's new home for student recruitment.
A few steps from the front door, Marina and her mom and dad were transfixed by a greeting on a 34-foot screen:
Marina Fadelli
Thanks for making the trek from El Cerrito!
"The second we walked in, my name was on the big screen," Fadelli recalls. "It was timed perfectly. It was really cool."
After snapping a few photos, Fadelli and her folks met student ambassadors, who handed the family a schedule for the day and explained that Fadelli could use her personal QR code, which the admissions team had emailed her before the visit, to select exhibit information and stories that related to her academic interest in psychology. Walking through the new building, which flows into the renovated Adams Alumni Center, she could learn what it means to be a Jayhawk through the stories of current students and accomplished alumni and an introduction to KU's distinctive origins and traditions.
As the Fadellis awaited the admissions presentation, they rounded the corner behind the screen and encountered the Jayhawk Experience, a 360-degree video display of quintessential KU moments from academics, athletics, Hawk Week, Commencement and other occasions, all vividly captured by the creative team at KU Marketing. On a winter morning, Marina and her parents could feel the excitement and energy of campus life in all seasons. "I chose the basketball game," she says. "I'd heard a lot about Allen Field House, and it was amazing to see the students throwing the confetti. I loved the school spirit."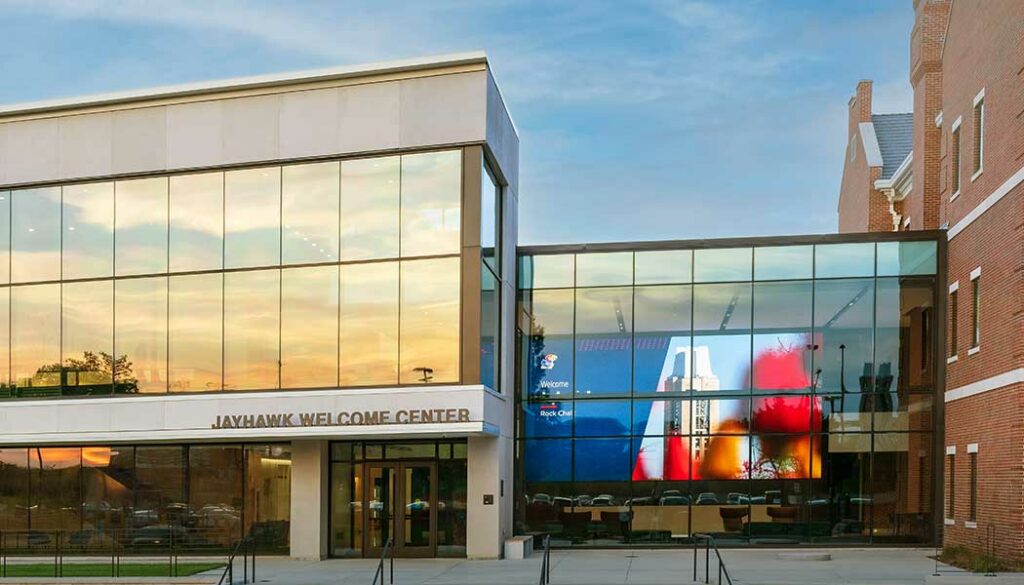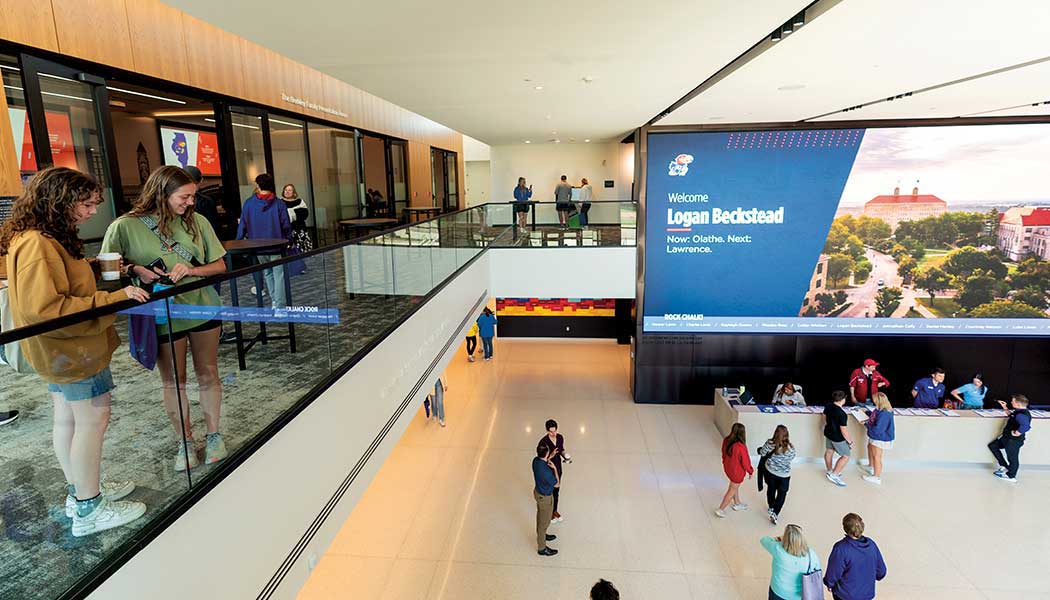 After a tour of Mount Oread, Fadelli told her parents over lunch she had found her school.
Months earlier, she had applied to KU as merely one of eight potential colleges— "almost as a joke" with family friend Lauren Fenton, a KU student from the St. Louis area who had followed her older sister, Hayley, b'22, to the Hill. Fadelli had often talked about visiting the Fentons in Lawrence but had never made the trip.
"I knew the moment after the tour," Fadelli says, praising student ambassador Lauren Spitaleri as a superb guide along Jayhawk Boulevard and throughout campus. "I hadn't heard back from all my schools, so my parents assumed I would wait. They were surprised, but they were happy. They really, really liked the tour. Everyone was super friendly.
"This was the one school where I felt welcomed. There was a community, and there was lots of school spirit."
The Fadellis returned to the Jayhawk Welcome Center and paid the enrollment and housing deposits on the spot. On Feb. 13, Marina became a Jayhawk.
Twelve days later, on Feb. 25, admissions director Lisa Pinamonti Kress recounted the Fadellis' visit and shared other rave reviews as more than 400 donors and KU leaders gathered in the sparkling complex, officially known as the Jayhawk Welcome Center at the Adams Alumni Center, to celebrate the grand opening. The mood was positively giddy as guests explored the exhibits and marveled at the new and renovated spaces.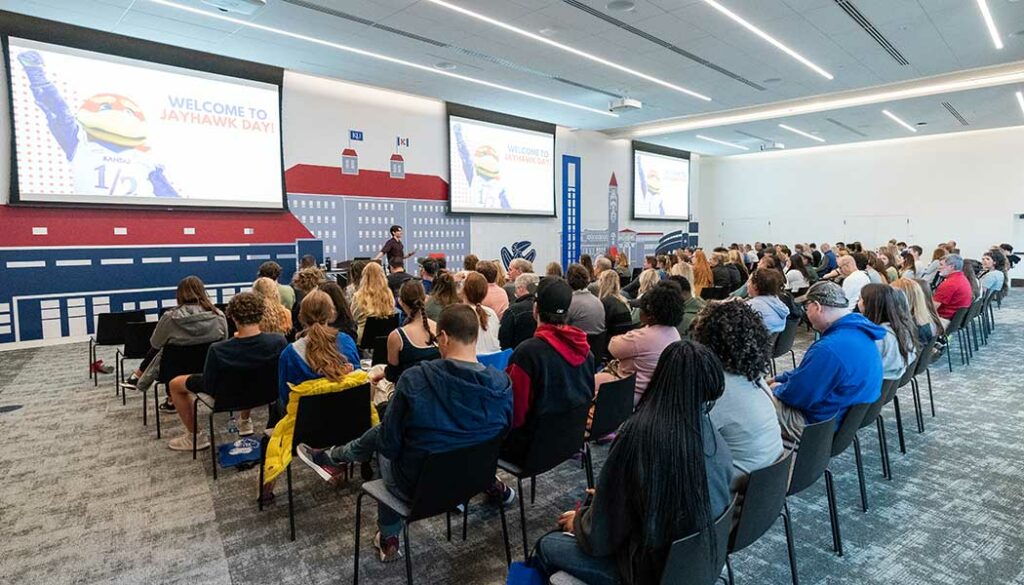 "The whole goal of this effort was to create a place where prospective students could learn what it actually means to be a Jayhawk, to really feel what it's like to be part of this community," Chancellor Doug Girod told the crowd. "We have so many exciting things going on at KU right now, the energy is just palpable, and this place is just one terrific example."
Energy radiates from the KU Admissions team. After more than 20 years of greeting recruits at the Visitor Center at 15th and Iowa, then loading them on buses to tour the campus, the change of venue is refreshing. "It's wonderful to be back on Jayhawk Boulevard," says Kress, g'98. "This is truly the best place to do a presentation, show people these amazing views and then walk directly out on campus to take tours down the boulevard."
Zion Guevara, a student ambassador for four years, agrees that the new starting point for visits far exceeds the Visitor Center or the first floor of the Kansas Union, which became the site for hosting prospective students when the pandemic rendered crowded bus rides unsafe. "I've seen three versions of how we do tours, and this is the best," says Guevara, a senior from San Antonio. "It's so seamless and nice and easy for everybody to understand."
Guevara was among the ambassadors who worked last summer and toured the building during construction. "It was cool for us to see how the planning was very intentional and how they were building this space for us," he says.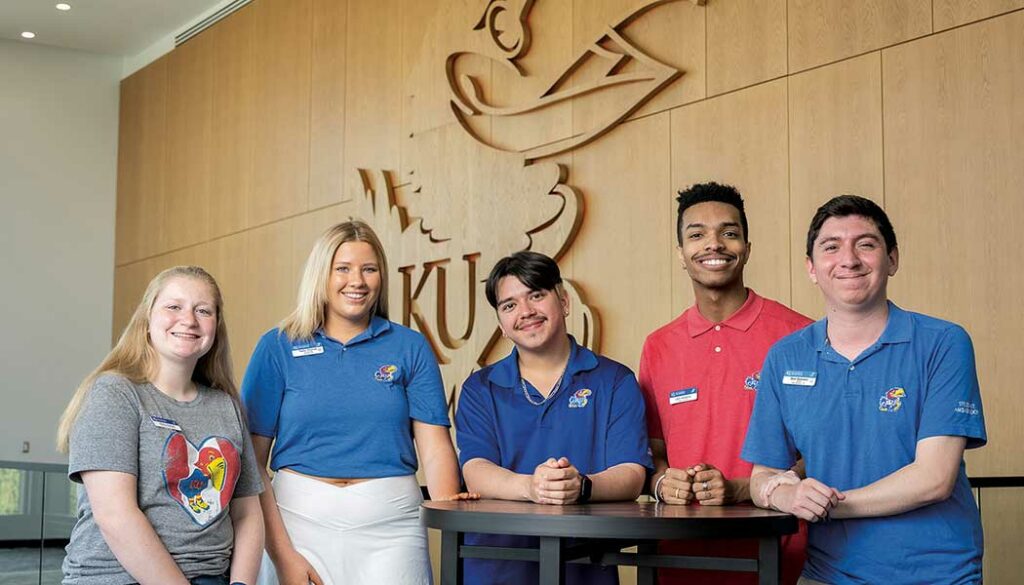 Spaces throughout the Jayhawk Welcome Center and renovated Adams Center were indeed designed and built with students in mind—a commitment that began with the first gift to fund the project in 2012, from Don, c'61, m'65, and Carolyn "Kay" Cromb Brada, c'61, longtime alumni leaders who have championed student recruitment and mentoring for many years.
The Bradas envisioned a space designated for student leaders from the Student Alumni Network and other campus groups in the Adams Center. Their dream expanded in 2015, as campus leaders began to discuss combining the reimagined alumni center with a new structure built specifically to create an unmatched campus visit to recruit future Jayhawks. Students would first glimpse their KU years from a place atop Mount Oread, with stunning views of historic Jayhawk Boulevard and the Campanile. That same place would become a haven while they were on the Hill, and it would become a home they would return to as alumni.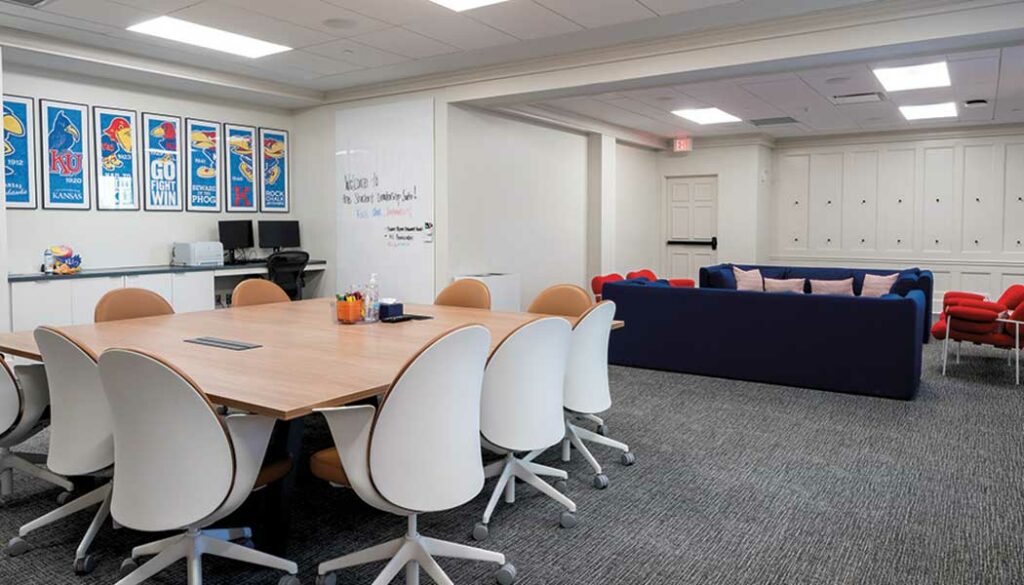 Chancellor Bernadette Gray-Little endorsed the concept, as did Girod, who succeeded her in 2017 and called the Jayhawk Welcome Center "a game-changer" for KU amid the increasingly intense competition to recruit students. Admissions experts have long known that many students choose a university based on the emotional connections—the "fit and feel" of a place they can call their own. Campus visits often seal the deal.
In 2018, a leadership gift to KU Endowment from the Sunderland Foundation of Kansas City meant the dream of a larger, more expansive project could become reality. Leaders across the University joined forces to begin planning, as Endowment and the Alumni Association continued fundraising. Meanwhile, KU architecture faculty designated the Jayhawk Welcome Center as a design project for their students, whose ideas helped convince the Association's national Board of Directors to settle on a modern design that would feature the latest technology to tell KU stories ("New Chapter," issue No. 2, 2021).
By May 2021, when construction began, donors had already pledged $21 million toward the eventual $29.4 million total cost, and project leaders had enlisted as partners several Kansas City firms with strong KU ties.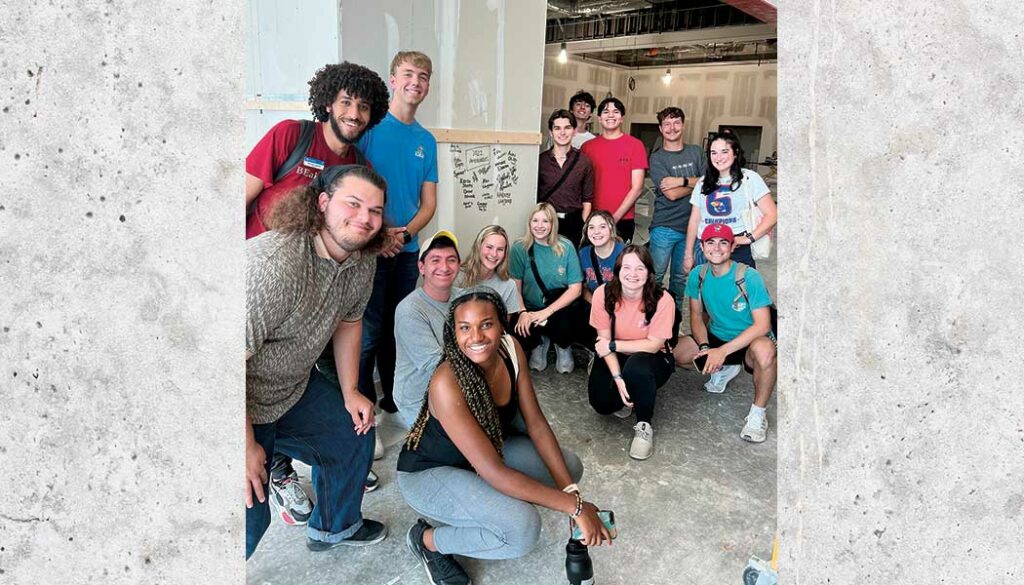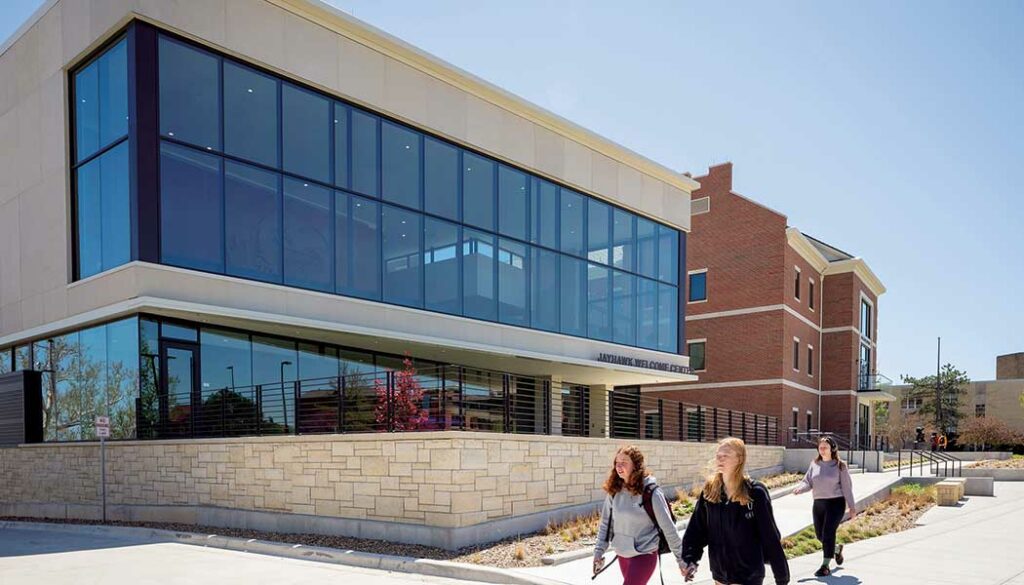 The new and new-again buildings, which are connected by Traditions Hall, combine to create an experience unrivaled in KU history and among universities nationally, says University Architect Mark Reiske, who praises the ways in which the complex appeals to KU faithful of all ages. "We've never had a facility that speaks to our alumni the way this facility can," says Reiske, a'86. "We've never had one that speaks to current Jayhawks. There's something for everyone."
Dynamic digital exhibits that highlight the student experience, the global alumni network, the achievements and success of notable Jayhawks, KU's world-class research and innovations, and Mount Oread's unique origins and traditions will impress not only prospective students but also current students, faculty and staff, Reiske adds: "The center gives you the ability, through Traditions Hall, through the experiential attributes of it, to really learn more about a place that you already love. And for our future students, no one in the country—and we do believe this, currently—no one in the country has the [campus visit] experience that we can now offer."
For students who want to share their KU visits on social media, the new space features several photo opportunities, including KU's signature greeting and a green-screen photo booth, where visitors can choose from multiple campus scenes and symbols to create custom backdrops. In the Jayhawk Network exhibit, students and parents can glimpse the career highlights of alumni mentors worldwide.
Of course, before prospective students arrive on Mount Oread, critical early steps in the recruitment process must convince them to make the trip. The admissions website, emails, texts, social media ads and posts, TV ads, snail mail, and in-person recruitment events all combine to help students forge connections and pique their curiosity about visiting Lawrence.
A recruitment event in Tulsa in early March proved pivotal for high school senior Josie Greene, who met student ambassador Taylor Thomas, a KU senior from Emporia. They found common interests: Thomas is a pre-med and psychology major; Greene wants to become a dentist, but she's also interested in business. Thomas remembers the uncertainty she felt as most of her high school classmates opted to stay in Emporia; Greene was reticent to leave Tulsa because most of her classmates are staying in Oklahoma. "It was cool to hear about Taylor's experience," Greene recalls. "I could see myself following her path."
When Greene and her mom arrived at the Jayhawk Welcome Center on March 23 for a visit, she immediately saw Thomas, who promptly rearranged her schedule for the day. "We had a little reunion," Thomas says. "I wasn't supposed to be giving tours that day, but I said, 'I've got to be with this girl. I'll quit my job if I cannot give her a tour.'"
The tour affirmed that Greene was making the right choice. "Taylor showed me things that helped her. She gave me more of an insider look," she says. "It felt more personal, and it felt right. I'm not going in blind, because Taylor provided resources. I'm enrolled, I'm excited and I cannot wait.
Top, left to right: The new All-American Room highlights KU's most recent outstanding athletes, complementing those captured in the original murals painted by John Boyd Martin, f'59. The Glorious to View space, opposite a panel wall with a custom-carved Jayhawk, offers a bird's-eye view of campus.
Bottom, left to right: In the Leadership & Legacy exhibit, stories of accomplished alumni showcase the breadth and variety of Jayhawks' achievements. The larger, reconfigured pub remains a favorite gathering spot, combining traditional details such as the doors from Old Fraser Hall with modern touches. Black & Veatch provided solar panels for the center that will annually generate electricity equivalent to the energy needed to power the field lights at David Booth Kansas Memorial Stadium for 50 football games.
Thomas says the opportunity to connect with future Jayhawks and the close-knit group of ambassadors has been the highlight of her KU years. "This is definitely my favorite job—no, it's my favorite thing I've done here," she says. "If I were to take a different route outside of medicine, it would 110% be college admissions."
The new welcome center has provided a boost for all the ambassadors, says Brandon Shaw, assistant director of campus tours and events. "They've really taken to what the building has to offer, and they enjoy showing it off, getting people excited and getting that buy-in from prospective students," says Shaw, g'21. "The building starts the conversation for them."
The building also could have much to say about KU's future. In a video describing the project's origins and the ways in which many visionaries united to take a giant leap of faith more than a decade ago, Don Brada hailed the untapped promise of the Jayhawk Welcome Center at the Adams Alumni Center. "Early on, I don't think anyone had any conception of what the final result might be," he said. "I'm not sure even at this point that we have seen or really fully understand the total impact this will have on the University."
The possibilities tower toward the blue.
Jennifer Jackson Sanner is editor of Kansas Alumni magazine.
Top photo by Dan Storey
Student ambassadors photo courtesy of KU Admissions
All other photos by Steve Puppe