Dedicated Jayhawks to receive highest honors for service to KU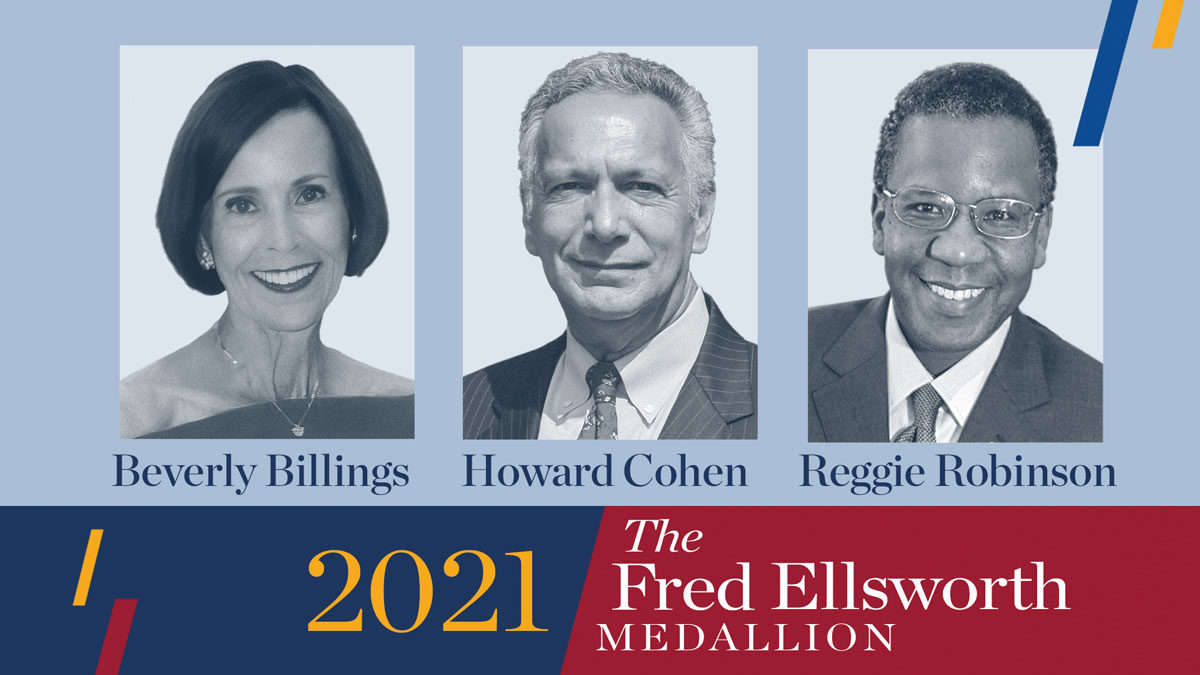 Three alumni will receive the Fred Ellsworth Medallion for their decades of extraordinary service to KU and higher education. Beverly Smith Billings, Lawrence; Howard Cohen, Leawood; and the late Reggie Robinson will be honored Sept. 17 in the Burge Union, in conjunction with the fall meeting of the Alumni Association's national Board of Directors.
The Association established the award in 1975 to commemorate Fred Ellsworth, c'22, executive director and secretary for 39 years. He retired in 1963.
Billings, c'68, g'70, is president of Alvamar Development Corp. and president and managing broker of Alvamar Realty Inc. She earned her KU bachelor's degree in French and psychology and her master's in psychology, serving as an assistant instructor and research assistant while she completed doctoral coursework.
She currently serves as a KU Endowment trustee and a member of Endowment's property management committee. She is a member of Chancellors Club and Jayhawk Faithful. She is a longtime member of the Emily Taylor Center for Women & Gender Equity, which she also led as president, and she helped found the Emily Taylor and Marilyn Stokstad Women's Leadership Lecture, continuing her service on the advisory board. She also is a member of the KU Women's Hall of Fame. She is an Alumni Association Life Member and Presidents Club donor.
Derek Kwan, executive director of the Lied Center of Kansas, met Billings in 2013. He recalls her insatiable curiosity. "She has a voracious appetite for knowledge, and it has served her well through her life and career," he said. "What makes her a true Jayhawk is that she cares not only about everything that is happening at KU … but she cares just as much about Lawrence and Douglas County."
Billings helps guide the Lied Center's Performance Fund as a member of its board of governors; she also served on the 25th anniversary advisory committee and the executive director search committee.
For the School of Business, she volunteers as a member of the Center for Ethics in Business advisory board. She led the Hall Center for the Humanities Friends Council as president and was a founding advisory board member of KU Endowment's Women Philanthropists for KU. She continues to volunteer for and support numerous programs across the University, including the Dole Institute of Politics, School of Music, Spencer Museum of Art, University Theatre and KU Libraries. For Kansas Athletics, she is a longtime Williams Education Fund member and a season ticket-holder for several men's and women's teams.
For Lawrence and Douglas County, she helps guide the LMH Health Foundation, for which she co-chaired a pivotal capital campaign and served as president. Her other volunteer activities include the United Way, for which she also led the campaign; Lawrence Rotary Club; Bert Nash Community Mental Health Center; and the Lawrence Public Library Foundation. For her longtime efforts as a business and civic leader, she received the Athena Award from the Lawrence Chamber of Commerce and Crown Toyota.
Cohen, b'79, retired in May 2020 as a partner in Deloitte Touche, where he spent his entire career and led many national initiatives, most recently strategic organization planning for U.S. audit practice. After joining the firm in 1979, he rose steadily through the ranks to become audit partner in charge of both the Kansas City and St. Louis offices.
He often combined his dedication to both Deloitte and his alma mater, mentoring numerous accounting students and leading Deloitte's recruitment at KU. He also guided School of Business students to a second-place finish in a national case-study competition hosted by Deloitte, and he leads the school's biannual Audit Symposium, which includes faculty from leading universities and leaders of global accounting firms.
"Howard always stands up and stands out for the School of Business," said Dean L. Paige Fields, who cited the symposium among many examples of Cohen's dedication. "He really grasps the research mission as well as the teaching mission. The symposium helps attract faculty as well as students. You get very high-quality faculty, good faculty research, higher rankings, and that's going to translate into getting more and better students. Howard gets that."
For the school, Cohen led the capital campaign that raised more than $60 million to build Capitol Federal Hall. He continues to serve on the school's advisory board and the Accounting and Information Systems Advisory Council after chairing both groups. In 2005 the school honored him with the Distinguished Alumni Award. He has served as president of KU Hillel, and he founded KU's chapter of Alpha Epsilon Pi fraternity.
Cohen also served five years on the Alumni Association's national Board of Directors and chaired the Audit Committee, which he continues to serve as a member. He and his wife, Debra, assoc., have attended every Alumni Association Rock Chalk Ball since the Kansas City tradition began in 1996; they co-chaired the event in 2013. They are Alumni Association Life Members and Presidents Club donors.
As a KU Endowment trustee, Cohen serves on the executive commitee and the campaign steering committee. The Cohens also belong to Endowment's Chancellors Club and Jayhawk Faithful; they are longtime donors to the Williams Education Fund for Kansas Athletics.
Robinson, c'80, l'87, devoted his career to public service, higher education and philanthropy, most recently as CEO of the Kansas Health Foundation. He died Sept. 19, 2020, at age 63.
He served in numerous leadership roles, beginning as a student at KU, where he was student body vice president and editor of the Kansas Law Review for the School of Law. Between his undergraduate and law-school years, he served four years as a field artillery officer in the U.S. Army, honorably discharged as a captain.
He began his teaching career as a faculty member in the School of Law before earning distinction as a White House Fellow in the U.S. Department of Justice, where he served as deputy associate attorney general and special assistant to Attorney General Janet Reno. After returning to Kansas, he served as chief of staff to KU Chancellor Robert E. Hemenway, CEO of the Kansas Board of Regents, faculty member at the Washburn University law school, director of the KU School of Public Affairs and Administration and KU vice chancellor for public affairs. The KU Black Alumni Network named him a Mike and Joyce Shinn Leader and Innovator in 2017.
Gov. Laura Kelly appointed Robinson as facilitator for the Kansas Criminal Justice Reform Commission, and he served on several state juvenile justice advisory groups. He was a member of the Kansas Children's Cabinet for nine years.
Kelly, who first met Robinson when she was a senator and he chaired the Regents, described him as "wicked smart" and a thoughtful listener who could bring people together to forge solutions. "Both Reggie's heart and mind were aligned with Kansas and KU in particular. He had many opportunities and he chose to come back to Kansas … and really invest and engage with the entire state," she said. "He was willing to offer his particular expertise and skill set to make it better. … Reggie should be revered by all Kansans."
His volunteer roles included service on the Alumni Association's national Board of Directors, the KU Endowment board of trustees and boards for the Friends of the Spencer Museum of Art, Hall Center for the Humanities, Kansas Leadership Center, Douglas County Community Foundation, Bert Nash Community Mental Health Center, National Academy of Public Administration and National Organization for Victims Assistance.
With his wife, Jane McGarey Robinson, g'10, DNP'17, he was a Life Member of the Alumni Association, a Presidents Club donor and a member of KU Endowment's Chancellors Club and the Williams Education Fund for Kansas Athletics.