Sweet Baby Jay skips into her golden years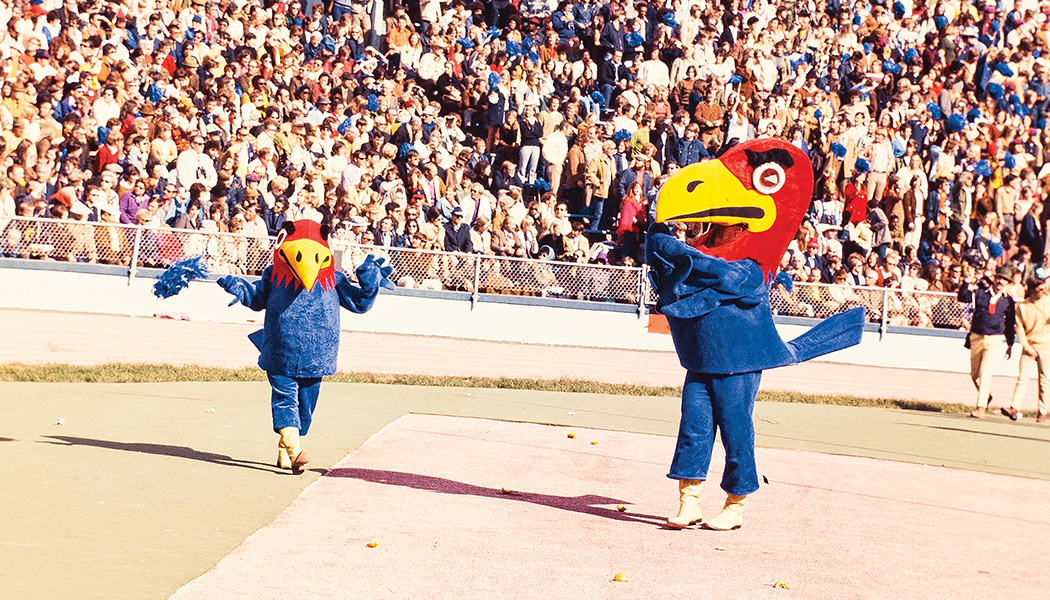 She wears her five decades well, bounding up and down the field, waving at the crowd, always eager to hug fans of all ages. You'd never guess that she first appeared on Oct. 9, 1971, when she emerged from a giant papier-maché egg to the oohs and ahs of the surprised crowd in Memorial Stadium.  
Months earlier, freshman Amy Hurst had shared her scheme—to create a younger sibling for Big Jay—with Dick Wintermote, j'51, Alumni Association executive director. "I'm sure he thought he'd never see me again," Hurst, c'74, recalled in 2011, when she returned to the Hill for Baby Jay's 40th (see video, rockcha.lk/BabyJayBirthday). But, with her parents' help, Hurst brought her vision to life over the summer and fastened the fledgling to the family station wagon for the trip back to Lawrence. When she informed Wintermote she intended to hatch at halftime of the Homecoming game, he was all in.  
Since that fateful day, life's been mostly good to Baby Jay, who has cheerfully rebounded from any setback—even her kidnapping in 1978, when evil-doers spirited her away for a tense few weeks in the fall. Thankfully, the culprits saw the error of their ways and sent a note to the University Daily Kansan, leading rescuers to find Baby Jay perched atop the observation tower at Wells Overlook, 5 miles south of town. She and Big Jay reunited in time for Homecoming. 
Birds of a feather, pals forever.