Pianist recognized by Latin academy for classical collaboration recorded at KU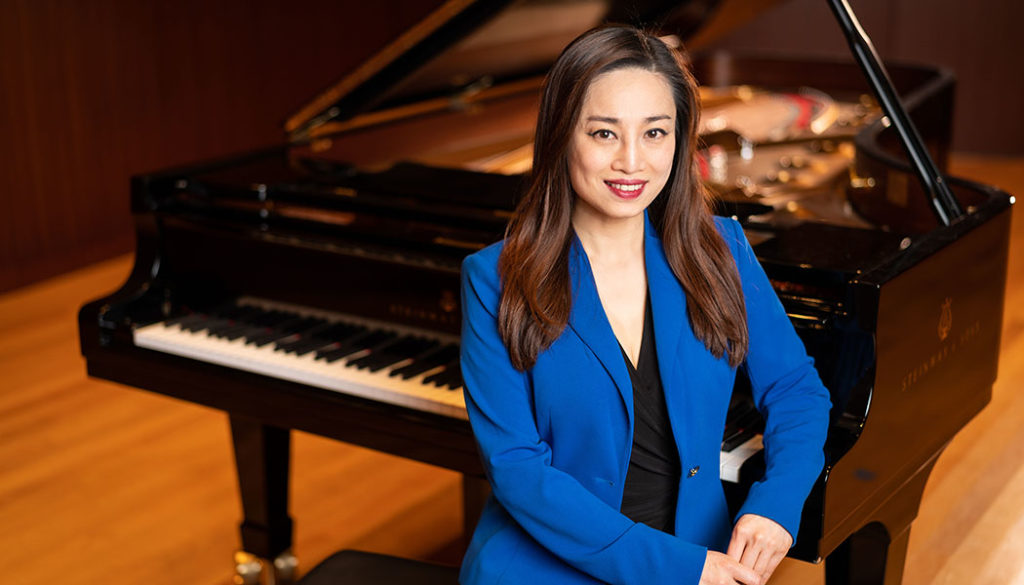 The road to Paulina Leisring's Grammy Award started in Taiwan, but the story of how the recording came to fruition is a tale that spans continents.
Leisring, DMA'06, in November won a Latin Grammy in the category of Best Classical Album for her piano performance on South American trombonist Domingo Pagliuca's album "Eternal Gratitude." The album was produced by Pagliuca's mentor, the noted classical performer and producer Sam Pilafian, and recorded in KU's Swarthout Recital Hall. The Grammy was awarded by the Latin Recording Academy.
Leisring and Pagliuca met in 2017, when the Venezuelan trombonist performed at KU's Lied Center with Boston Brass. Known for combining lively classical compositions and hot jazz standards, the band uses humor, a boisterous stage performance and a wide range of musical styles and distinctive arrangements to engage audiences. 
Pagliuca praised the beautiful sound quality in Swarthout, which underwent a $2.5 million renovation starting in 2014 that transformed the Murphy Hall space and improved its acoustics ["Ode to Joy," issue No. 3, 2015], and he wondered if it would be possible to record there. He was impressed by Leisring's abilities as well.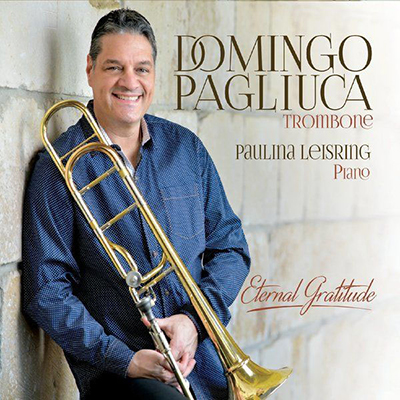 Leisring's husband, Steve Leisring, professor of trumpet, made arrangements for the session and suggested to Pagliuca that Paulina could play piano on the album. School of Music sound engineer Brock Babcock engineered the recording.
"When I am asked about the experience of recording my CD and how it was recording and playing with Paulina, two words come to my mind immediately: It was a spectacular and unforgettable experience," Pagliuca says. "Her musicianship and artistry are exceptional as her delicate musical approach—when required—and powerful sound blended perfectly with what I played on the stage. Swarthout Recital Hall at the University of Kansas is just an amazing hall to record."
After graduating from the National Taiwan University of Arts at age 20, Leisring attended Ohio University, where she completed another bachelor's degree and a master's degree in piano performance. Her piano professor at Ohio, Sylvia Reynolds Eckes, DMA'79, suggested she audition for a 1998 KU piano festival celebrating the 70th birthday of acclaimed pianist Leon Fleisher (who died in August 2020 at age 92). 
"I was accepted for the festival and chosen to play in the opening recital, as well as for a master class with Leon Fleisher," Leisring recalls. "I will never forget it, because Maestro Fleisher came up to me afterwards to compliment my performances. Having seen the beautiful campus during that festival, and with Dr. Eckes' connections at KU, it was an obvious choice to do my doctoral studies here."
Leisring credits Roberta Schwartz as one of her most influential professors at the School of Music. She came to appreciate the roles history and art play in music through her studies with Schwartz in musicology. "This was especially helpful with the challenge of playing in multiple styles from Bach to Stravinsky on the 'Eternal Gratitude' CD," she says.
The album pairs compositions inspired by Claude Debussy, Johannes Brahms, Robert Schumann and other classical composers with more contemporary and popular pieces such as "Trombonology" by Tommy Dorsey. 
The title, "Eternal Gratitude," is a nod to Pilafian, who was battling advanced cancer when he traveled to Lawrence for four days in January 2019 to complete the album. The group only had one rehearsal, in which Pilafian—producer of recordings by members of the New York Philharmonic and a performer with Leonard Bernstein and many brass groups as a tuba player—was impressed by Leisring's abilities.
"Sam said very little, which shocked us," Leisring recalls. "He just smiled a lot. At one point he asked me if I had done a lot of recordings, and I said, 'no' and he said, 'Well, you will.' He also called me 'the secret weapon,' which was a huge compliment. Somehow, we all connected and Sam's approval just kept giving us the ability to take musical chances and create something great.
"Sadly, Sam passed away just over two months later and never heard the finished CD. We were his last project. The name of the CD, 'Eternal Gratitude,' was given because of his mentorship to Domingo and the effort he made to come to Lawrence, in spite of his illness, to make this project happen."
Leisring says she hopes the recording will help more people enjoy classical music.
"Music connects people despite their background, economic status, culture and race, not only the performers, but listeners as well. Music communicates emotion, including joy, sadness, fear, security. It transcends everything that people use to separate us and connects us all. That is what we tried to do: create beauty together that others can be inspired by."