Local butcher lands on national list, downtown pizza joint gets new digs, business owners do good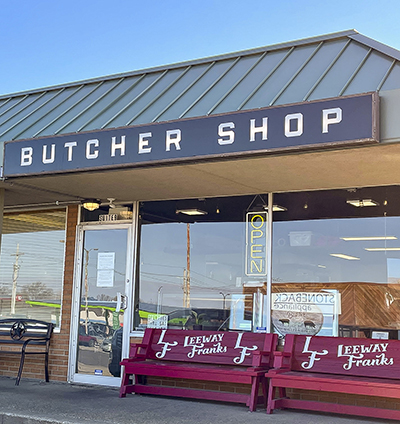 In a year of small pleasures, a piece of really good meat can be everything, says Food and Wine Magazine, which in November released its list of top 100 essential independent butcher shops in the nation. One of Lawrence's own, Leeway Butcher, made the cut.
The full-service shop, which opened in 2018, is owned by Lee and Kristin "K" Ashby Meisel, b'10, and offers a variety of high-quality, humanely raised meats and hand-crafted sausages. The Meisels opened the adjacent restaurant, Leeway Franks, in 2015.
Food and Wine lauded Leeway for its "sustainability-minded, whole-animal operation that sources its meat from small, local farms." 
National recognition for a local treasure? We'll take it.
Photograph by Susan Younger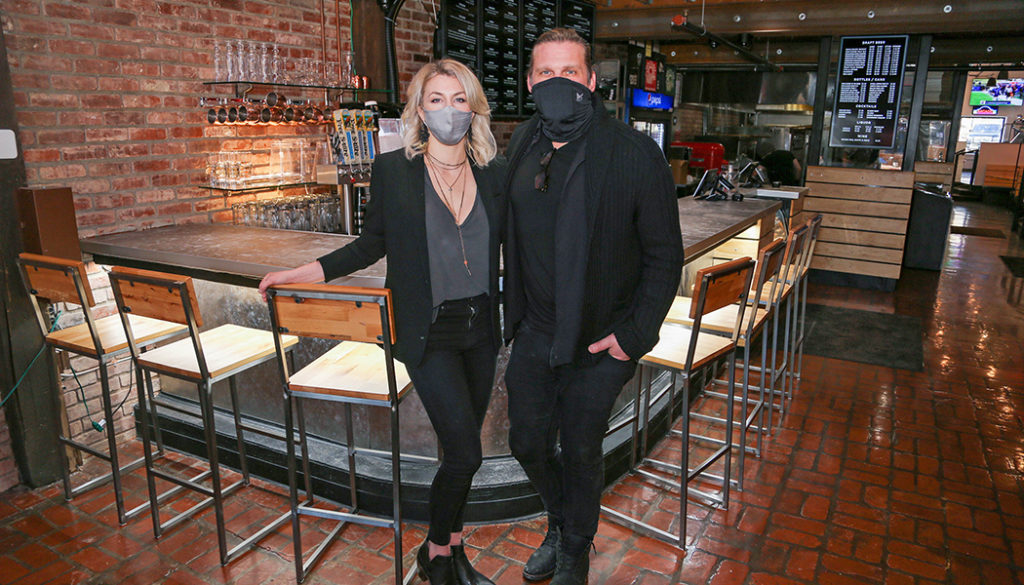 Papa Keno's, for three decades an icon of the Lawrence pizza scene and since 2017 the Student Alumni Network Restaurant Partner Program's exclusive pizza restaurant, recently moved to swank new digs at 837 Mass St., formerly home to Jock's Nitch and Royal College Shop shoe store.
Owners David, f'09, and Nora Nemchock Hawley, f'06, incorporated materials from their architectural titanium business into the reimagined interior—be sure to take notice of the rare "crystal titanium" bar top, as well as a wall of autographs by KU athletes from the site's athletic apparel days—and they're eager to welcome returning alumni with a high-tech ordering system for dining outside and safe distancing inside for savoring a "slice as big as your face!"
Watch a video by the Association's Dan Storey below, and read a full blog post about the new Papa Keno's.
Photographs by Susan Younger (l) and Dan Storey (r)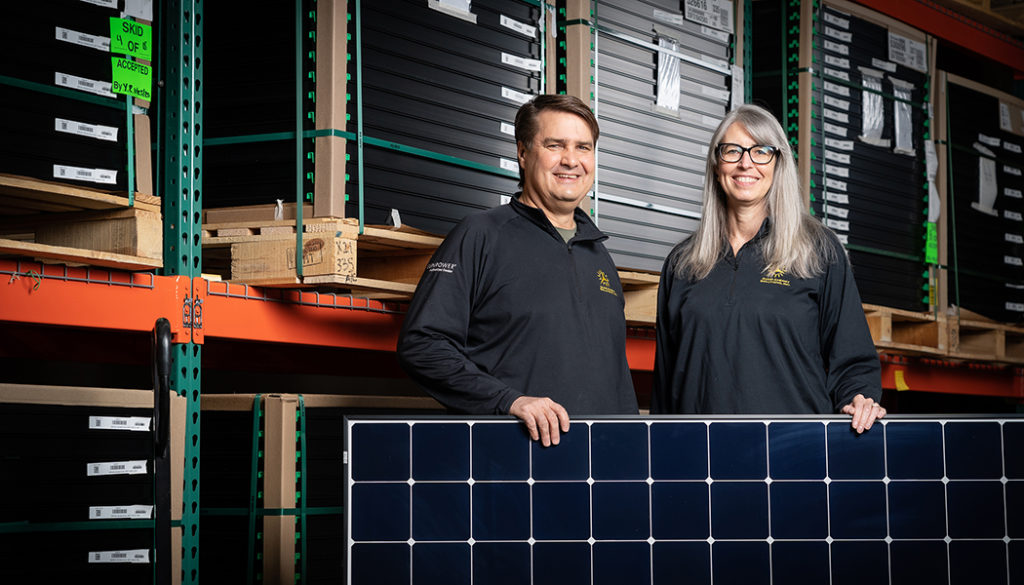 Ten years after Kevin Good founded Good Energy Solutions in Lawrence, business was booming. "It kept expanding," says Good, e'91, who opened the solar and renewable energy company in 2007 with his wife, Shana Tillman Good, j'90, "so we thought we should be doing something for the community. We wanted to give back."
The Goods started the Solar Giveaway Program and asked community members to nominate local non-profit organizations that could benefit from a free solar energy system. In 2017, the company donated its first energy system to Van Go Inc., an arts-based social service and job-training agency for teenagers, and followed it up with an installation in 2020 at the Sunrise Project, which provides sustainable gardening and cooking programs. Later that year, anonymous donors contributed funds for a system to be installed at local food pantry Just Food. The Goods plan to announce the next nonprofit recipient in the coming months.
Good explains that the energy savings are substantial and allow these organizations to put less money toward utility bills and more money into community programs and services. "It's the kind of gift that should last 25 to 40 years," he says.