Jalen Wilson powers 'Hawks toward postseason
The forward led the Big 12 in scoring, rebounding and double-doubles at the midseason mark.
Winners of 10 consecutive games, including five in the rugged Big 12, the men's basketball team on Jan. 17 rolled into Manhattan ranked No. 2 in the country. But the 13th-ranked Wildcats handed KU a one-point loss in overtime, which was followed by a 23-point loss at home to TCU and a six-point loss at Baylor.
The 'Hawks entered the Jan. 28 SEC/Big 12 Challenge game at Kentucky ranked No. 9 and in the rare position of desperately needing a win against a nonconference opponent. Powered by junior forward Jalen Wilson's 22 points—along with their best rebounding performance of the season, limiting consensus National Player of the Year Oscar Tshiebwe to nine boards—KU left Lexington with a 77-68 victory and an injection of fresh energy. The Jayhawks matched that performance three days later with a 90-78 victory in the home rematch against K-State.
In the five-game stretch heading into the Feb. 4 game at Iowa State, Wilson had scored 133 points, the most a KU player had tallied in five games since the inception of the Big 12.
Coach Bill Self, however, refused to describe Wilson's remarkable midseason burst as extra effort to get the 'Hawks out of an unexpected hole.
"When you say this is the point where he takes his game to the next level, well, his game has been on the next level," Self said Feb. 2. "So we just want him to keep doing what he's been doing. We're thrilled with how he's been competing. When you have a best player, you look to that best player to lead you, and he's certainly been doing that all year long. But I don't think you'd go into it thinking he's got to get 30 for us to win. I've never looked at it that way.
"He just needs to play well, and playing well is a lot more than scoring points."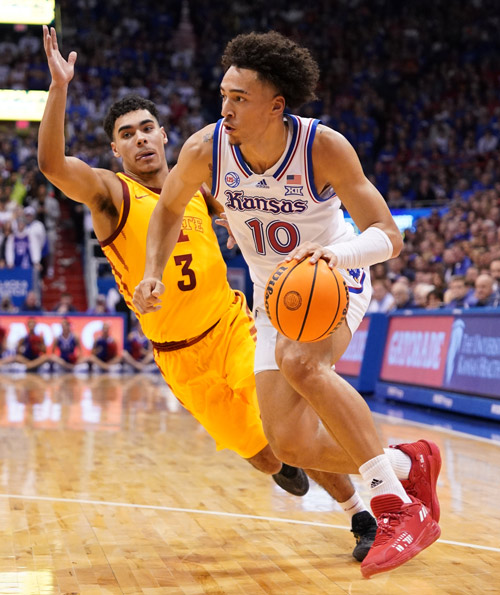 Wilson added 26 at Iowa State, running his six-game streak to 26.5 points per game, and he was leading the Big 12 in scoring (21.3), rebounding (8.5) and double-doubles (eight).
"That's an impressive dude," said sophomore forward Zach Clemence. "He's just doing his thing, a great basketball player just being who he is."
Despite yet another heroic effort by their unquestioned leader, however, the No. 8-ranked Jayhawks lost that game to the 13th-ranked Cyclones, 68-53, in one of their flattest performances of the season, reinforcing Self's earlier estimation that the country's toughest league might be won by whichever team avoids losing three conference games in a row.
As Kansas Alumni went to press, the defending national champions were moving into the second half of league play with a crucial Feb. 6 home game against Texas, the league's unlikely leader, to be followed by road games at Oklahoma and Oklahoma State, a home rematch with Baylor, a road trip to TCU, home games with West Virginia and Texas Tech, and the March 4 regular-season finale at Texas.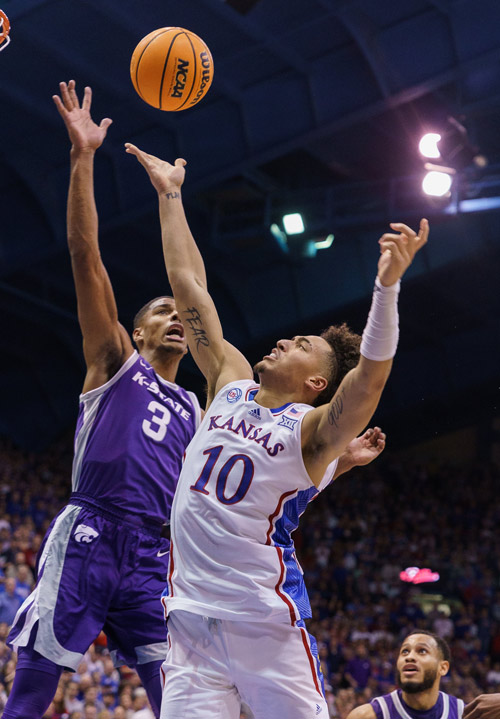 Asked whether he was amazed at having played ranked opponents in six of seven games heading into the rematch at Ames—the lone exception being perennial powerhouse Kentucky—Self replied, "I can't remember ever going through a stretch like this since I've been here at Kansas. But it's good. I mean, it's good for our league, it's good for fans, all those things, but I can never remember going through a stretch like this."
For his part, Wilson, ever the steady, mature presence this season, remains focused not on his own offensive production, but rather his squad's performance, especially on defense.
"This is when we all come together as a team and show how unified we are and how determined we are to turn things around," Wilson said after the Kentucky game. "It's just coming together to figure out what it's going to take, and I think it's pretty evident that teams have scored on us pretty easily, certainly more than usual. I think making teams play bad, getting back to that, is what it's going to take to get these wins piling back up.
"It's not that we don't know what it is, it's just that we've got to execute."
Chris Lazzarino, j'86, is associate editor of Kansas Alumni magazine.