Jayhawk Buddy System urges students to be smart about alcohol
Buddy up while on break. Good teams always stick together. Practice moderation. #CelebrateLikeAJayhawk.
These are just a few of the catchy tag lines KU students see on campus, in Lawrence and on social media, thanks to the Jayhawk Buddy System, a campaign that encourages students to make smart decisions about alcohol consumption and look out for their peers. In fall 2020, the program celebrated 10 years on campus. 
Following the tragic, alcohol-related deaths of two KU students in 2009, the University set out to improve alcohol education and develop a plan to promote responsible student behavior. Under the direction of Frank DeSalvo, then associate vice provost for student success, and Associate Professor Robert Basow, j'67, a group of journalism students in Basow's Strategic Campaigns class visited several colleges to research successful programs and create an effective strategy for KU. The students came up with the concept for the Jayhawk Buddy System (JBS) and enlisted the help of local marketing firm Callahan Creek (now known as Callahan), which donated its services to develop the campaign logo.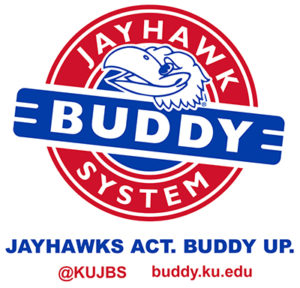 "It's a student-born program," says Heidi Miles Garcia, d'96, g'04, associate director at KU's Watkins Health Services. "That's one of the things we're really proud of."
The JBS, now led by Garcia and Jenny McKee, d'04, g'06, program manager at Watkins' Health Education Resource Office, provides students a variety of tips and tools to make safe, responsible decisions about drinking, including abstaining from alcohol use and obeying the law. The campaign emphasizes social norms—standards of acceptable behavior—to ensure students have accurate information about their peers.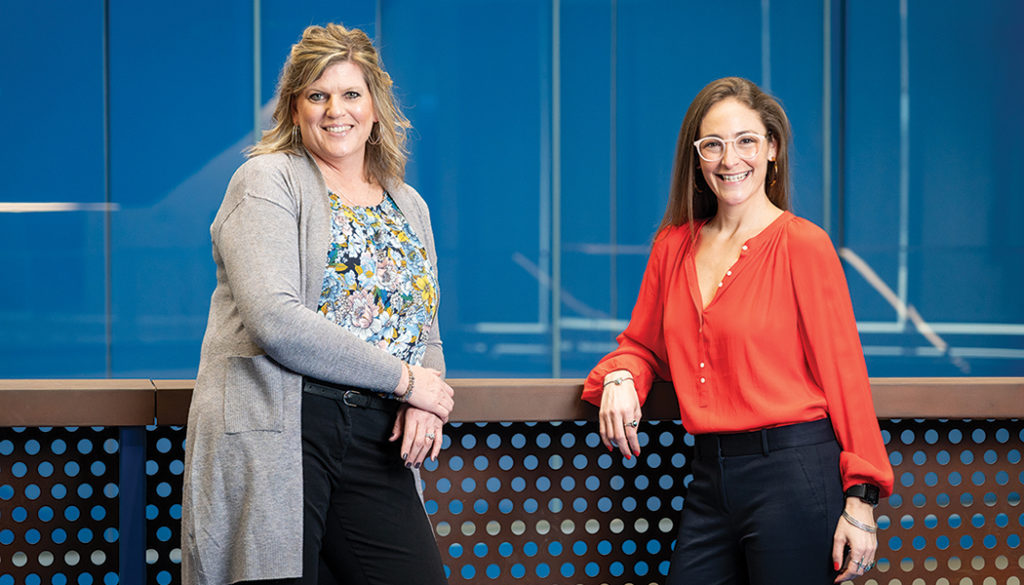 "We're essentially trying to get people to understand that the majority of their friends, their peers, their classmates, are using alcohol in a really responsible way," McKee says. "The Jayhawk Buddy System is not at all about getting people to stop drinking. It's about reducing risk, so people can use alcohol more responsibly."
Since 2003 KU has collected data on student health behavior through the National College Health Assessment and has seen significant improvements in reported alcohol-related habits. In addition, a 2019 U Celebrate! survey conducted by the National Social Norms Center at Michigan State University, which provides funding and resources for KU and nine other universities to support health-focused campaigns, found that the JBS has improved student behavior at KU: In a sample of about 800 Jayhawks, 88% reported staying with the same group of friends while drinking, 85% used a designated driver and 80% ate before or during drinking. 
"The Jayhawk Buddy System is not at all about getting people to stop drinking. It's about reducing risk, so people can use alcohol more responsibly."
—Jenny McKee
McKee explains that the JBS relies heavily on social media to deliver practical, timely messages to students about protective behaviors before and during planned activities, including reminders to charge their cell phones before going out, plan a safe ride home, alternate non-alcoholic and alcoholic beverages, and identify a buddy for the night.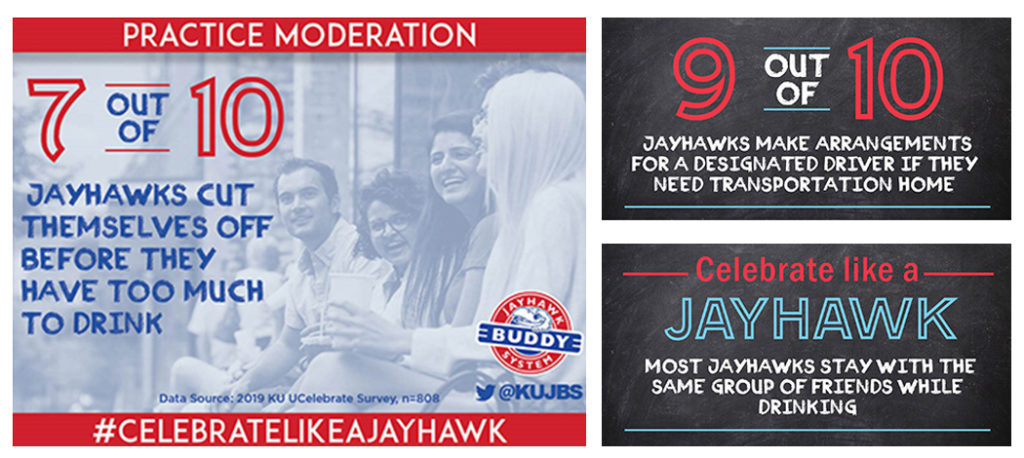 "During the hours when students are partying, they get messages through Twitter and Snapchat on their phone," she says. "That way we can literally be in students' pockets while they're doing their partying, to make sure that they're getting those messages when they actually need them."
Students who follow the JBS on social media platforms receive T-shirts, water bottles, hats, koozies—and during the COVID-19 pandemic, masks and hand sanitizer. The campaign also delivers critical information to students through posters and advertisements at sporting events, movie theatres, liquor stores, local restaurants and bars, and in buildings across campus. 
The JBS's "Toilet Talk" series features new messages each month in restrooms. "We have a captive audience of one," McKee says with a smile. "Literally our job, our hope, our desire is that everywhere students go on campus, whether it's the bathroom, the lobby of the Union, Memorial Stadium or Allen Field House, they are seeing the Jayhawk Buddy System."
Now that Garcia and McKee have marked a 10-year milestone with JBS, they look forward to continuing the momentum. "It's really exciting to see the data, to see how it's changed behavior," Garcia says. "You know, I have two college-aged girls, and at the end of the day you just want them safe. And that's really what this is all about. We want everyone to be safe, get home safe and watch out for their friends."