Police officer's service leads to fellowship at White House
White House Fellow Jonathon Westbrook thought he had his career path all mapped out. The Kansas City, Kansas, native, who idolized his father growing up, planned to follow in his footsteps by joining the Air Force and dedicating his life to serving in the military. But a chance sighting of police officers, who were simply patrolling Westbrook's neighborhood, changed all that.
"I'd never thought about law enforcement, but I saw those police officers, and was like, man, that looks like kind of a cool job," says Westbrook, who at 20 had just earned his associate's degree from Donnelly College and was stuck doing unfulfilling work at a local bank. "They're out in the community; no day's ever the same. I just didn't want to sit behind a desk all day."
Westbrook joined the Kansas City, Kansas, Police Department in 2007, when he was just 21 years old, and immediately extended his services to the public, participating in the Black Police Officers Association, which hosted community fundraisers and donated backpacks and other necessities to area children, and volunteering as a mentor at the Leavenworth federal penitentiary through the Life Connections program. He also served as a youth director at Bread of Life Outreach Ministries and led the local OK program, a mentoring initiative that pairs at-risk Black youths with area police officers, educators and other members of the community to encourage academic achievement and success in all areas of life.
His contributions in his hometown didn't go unnoticed. In 2017, he was appointed by Gov. Sam Brownback, l'82, to serve a two-year term on the Kansas Human Rights Commission and was invited to join the Kansas African American Affairs Commission, a position he still holds today. He also caught the attention of the KCKPD police chief, who asked Westbrook to serve on the department's Professional Standards Unit.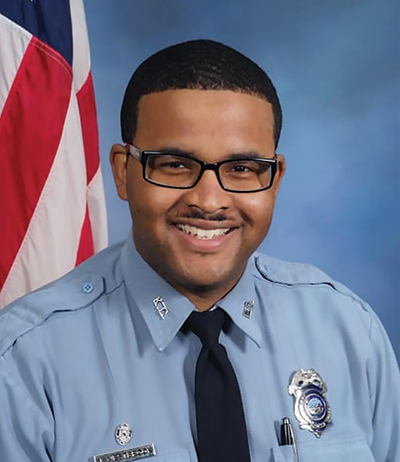 Through the years, as his career flourished, Westbrook aspired to further his education. He returned to Donnelly College in 2013 to earn his bachelor's degree in organizational leadership and enrolled at KU a year later to pursue a master's degree in public administration, a grueling three-year undertaking he managed while juggling the midnight shift as a police officer and a wife and newborn child at home.
But it wasn't just the pursuit of higher education that drove Westbrook to succeed: His father, who passed away in 2010, also had earned a master's degree. "He was my role model,'" Westbrook, g'18, says. "I didn't join the Air Force, but I wanted to get my master's, just like he did."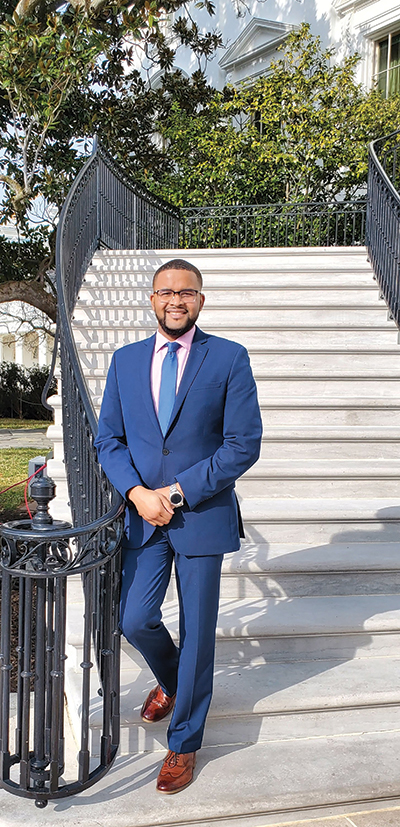 At KU, Westbrook met the late Reggie Robinson, c'80, l'87, who at the time directed the School of Public Affairs and Administration. Decades earlier, Robinson had received a White House Fellowship and he encouraged Westbrook to apply for the prestigious program, which provides ambitious young men and women opportunities to work for top-ranking officials and senior government staff. In 2020, after a few attempts, Westbrook was one of 14 individuals selected from hundreds of applicants to serve a one-year term as a White House Fellow.
Though he joined an elite group of proven leaders in the program, he explains that the experience has been much more about learning than leading. "This is an opportunity to sit back and see leadership in action, to take in as much as possible," says Westbrook, who was assigned to the Office of American Innovation and also has worked for the Domestic Policy Council, the Office of Public Engagement and the Small Business Administration. "I've had the opportunity to sit in on top-level meetings with executives across the federal government and be able to advise on certain policies from a law enforcement perspective. D.C. is full of a lot of educated folks, but they haven't actually had that on-the-street experience as a police officer."
When his term ends in August, Westbrook will return to the KCKPD, where he recently was promoted to sergeant. He resolves to bring a fresh perspective to his work and apply the critical problem-solving and resource-management skills he acquired during his fellowship, an experience that will undoubtedly open doors for him professionally. And whether he continues his career in law enforcement or pursues other opportunities, he's confident that community service will always remain a top priority.
"I don't really have a select path right now, but my desire is to be used in the community," he says, "and to bring other people up and out and push them forward, as was done for me."
Top photograph courtesy Kansas City, Kansas, Police Department; bottom photograph courtesy Jonathon Westbrook.