Peters takes aim at rare soccer records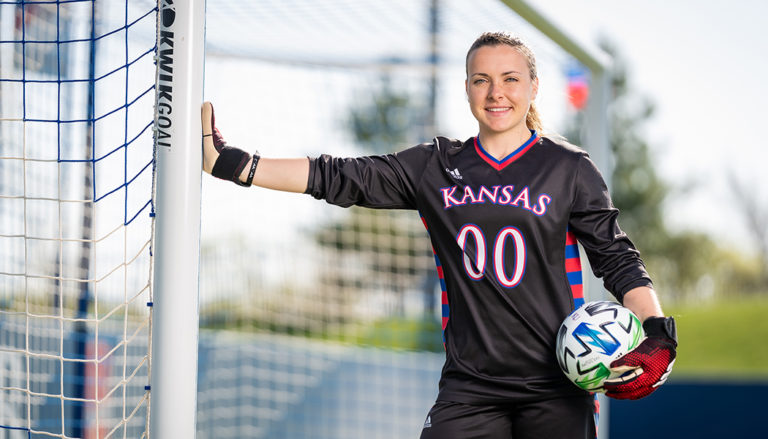 Nobody around the KU soccer program breezily throws around comparisons with the program's best players, so it's no small matter that goalkeeper Sarah Peters is mentioned alongside All-American Meghan Miller, who from 2001 to 2004 recorded 28 shutouts.
Even with her junior year mangled by COVID's schedule disruptions, Peters recorded six shutouts to bring her three-season total to 26, along with a career goals-against average of 0.88, compared with Miller's 0.98.
"I think the girls are confident in me, and that shows on the field, how strong we are defensively," Peters says. "That's been a great comfort, knowing a team has your back."
Peters finds herself in Miller's rare company for two primary reasons: She's that good, and she's been the starter since her first game as a freshman—which happened to be a shutout—and both 22nd-year head coach Mark Francis and associate head coach Kelly Miller, who has coached KU goalkeepers during the entirety of Francis' long tenure, are loath to start freshmen in goal.
"We've only had that happen one other time, and that was Meghan Miller," Francis says. "Freshmen make mistakes, and as a goalkeeper, when you make a mistake, usually it means the other team scores."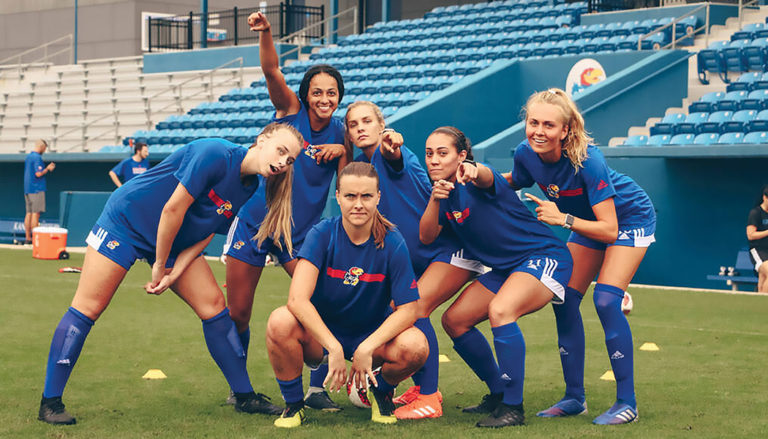 Peters, of Lee's Summit, Missouri, won and kept the job as a freshman, helping the defense to nine shutouts and four 200-minute shutout streaks—most of which was attributable, her coaches say, to her natural ability.
Kelly Miller explains that he prefers to spend time coaching incoming goalkeepers on intricacies of the position, including both technique and tactical decision-making. He adds that when Peters won the job as a freshman, he decided that rather than bogging her down with changes to her game that would dampen her instincts and slow her reactions, he opted to step back and allow her to rely on what he describes as "explosive" athletic ability.
At the conclusion of the season, Miller says, he told Peters that she was "probably one of the worst goalkeepers I've ever put on the field as a starter," but he quickly adds that was only because she was so inexperienced that asking her to start every game of the season "was not fair to her."
Peters took the frank conversation to heart, honing the position's demanding skill set along with a dedication to fitness that has impressed even Francis, for whom fitness is a constant talking point.
"She's really committed to her fitness," Francis says, "which has made a massive difference in terms of her ability to train at a high level, consistently."
Her maturation as the team's on-field leader this year reached beyond the pitch, as coaches scrambled to adjust team-building concepts that had to be put aside for COVID restrictions. Freshmen could not be matched with upperclassmen for room assignments on the road, for instance, because players had to keep the same roommates as at home, and even the simple notion of dispersing table assignments at team meals evaporated as players were forced to eat in their rooms.
"All those situations where your team is bonding, we didn't have those," Francis says. "Having people to guide the group, players like Sarah, was really important."
Consistently honored as Academic All-Big 12 First Team as an exercise science major—"I always put my head in the books and work hard"—Peters says she is aiming for graduate school to become a physical therapist. That could be put on hold if she decides to test her fortunes at the professional level, but she adds that enduring academic and athletic disruptions over the past year has prepared her for whatever might be next.
"I think it's really taught us a lot of lessons," Peters says. "We have to be accountable for all the work we have to do outside of soccer. It's a balancing act. It's been a good challenge for us to have."