Exhibition shares rare images from Stauffer-Flint Hall
One of the most remarkable campus history exhibitions in recent memory lines Stauffer-Flint Hall's second-floor hallway, telling the long story of a building that evolved over more than 120 years from Fowler Shops into today's high-tech, thoroughly modern William Allen White School of Journalism and Mass Communications.
Thanks to choked campus access, few have seen it or even know it's there.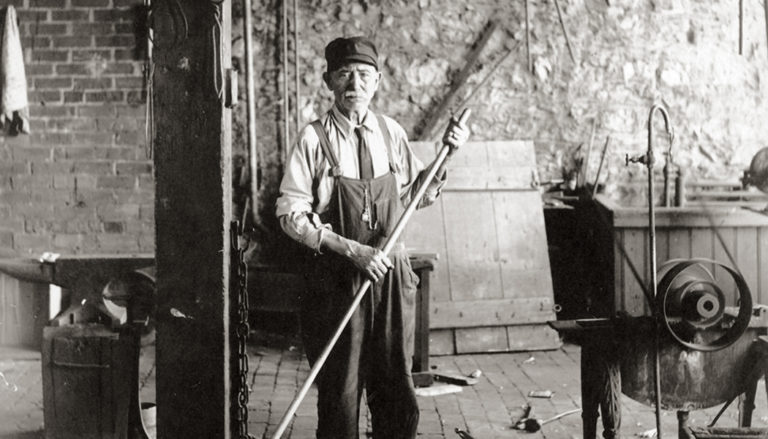 Culled by Communications Director Julie Adam, j'89, from a variety of campus archives, the beautifully printed and framed images feature the building, faculty, staff and students. It was intended as part of the celebration surrounding Stauffer-Flint's January 2020 reopening following a $5 million renovation, but six weeks after the building came back online it was emptied again, except for limited numbers of students working in the new Media Crossroads broadcasting studio.
"It was actually twofold," Ann Brill, journalism dean since 2004, says of the exhibition's genesis. "One was for people who would be coming to see the changes in the remodeled building, but it was also for current students and faculty, to give them a sense of perspective. It's fun to see all the people, some familiar faces and some who have been gone for a while."
As one of the contractors from B.A. Green Construction told Brill, Stauffer-Flint Hall retains a unique personality, with a "pride of ownership" that reflects its status as one of the relatively few buildings on Jayhawk Boulevard's historic heart that houses only one school.
"The word that comes to mind is responsibility—the responsibility that we have still, to all those people who literally and figuratively built the building and making sure that legacy is always honored," Brill says. "When you walk into the building, you don't see pieces of paper on the floor. You don't see things not taken care of. Everybody who works there and learns there really does take responsibility for the way the building looks."
Brill anticipates that the exhibition will remain until campus reopens to visitors, so alumni will have a chance to see it in person. Or, watch a KU journalism history video, compiled by Associate Professor Emeritus David Guth, below.