Football follows Texas Tech upset with agony of K-State clunker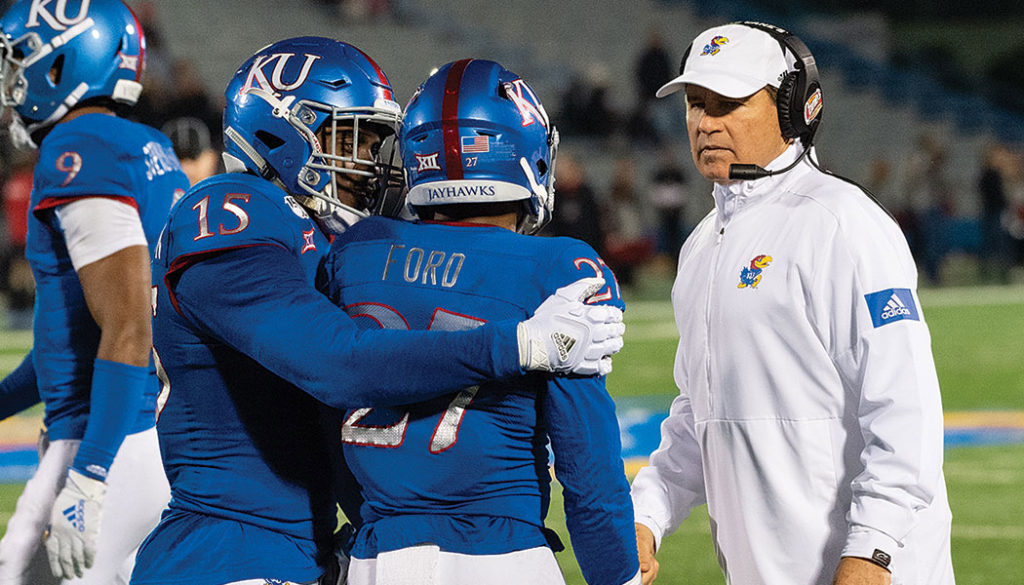 Should a football turnaround under coach Les Miles gain momentum in the not so distant future, we might look back on an unlikely hero who, in the eighth game of Miles' debut season, made it all possible.
"He's a top-tier athlete," junior kicker Liam Jones said of junior long-snapper Logan Klusman, who, with mere seconds remaining in regulation of a tie game with Texas Tech, sifted through a chaotic scrum to fall on a live ball and give Jones another attempt at a game-winning field goal. "Just kidding."
Countered Klusman, with a grin, "Just another day in the life of a long snapper."
Context here is critical: One day after KU's 45-20 loss to Oklahoma, Miles dismissed offensive coordinator Les Koenning and replaced him with senior offensive consultant Brent Dearmon, a 34-year-old newcomer who, after two years as an analyst at Auburn, had been coaching small-college football.
In three seasons as coordinator at Arkansas Tech, Dearmon's offenses tallied gaudy numbers, including 40 points per game in 2017 and 458.8 yards per game the previous season. Last year, in his lone stint as head coach at Bethel University, Dearmon's alma mater, BU scored 55 points a game, tops in all of college football.
Dearmon chose to join his Auburn mentor, Chip Lindsey, when Lindsey accepted Miles' offer to be KU's offensive coordinator; when Lindsey abruptly left to take the top job at Troy University, Dearmon made good on his word to hire on with Miles as an offensive analyst.
"Brent is one of the brightest individuals I have encountered in all of my years coaching," Miles said Oct. 6.
With a bye week to teach Dearmon's run-pass option (RPO) scheme and terminology, the Jayhawks on Oct. 5 sauntered into Austin and nearly beat the Texas Longhorns, who needed a 60-yard drive and 33-yard field goal as time expired to hold off the Jayhawks, 50-48.
The Jayhawks weren't able to stop the final drive, but the offense went big-time boom with 569 total yards: Senior Carter Stanley threw for 310 yards and four touchdowns and sophomore Pooka Williams Jr. ran for 196 yards and two TDs.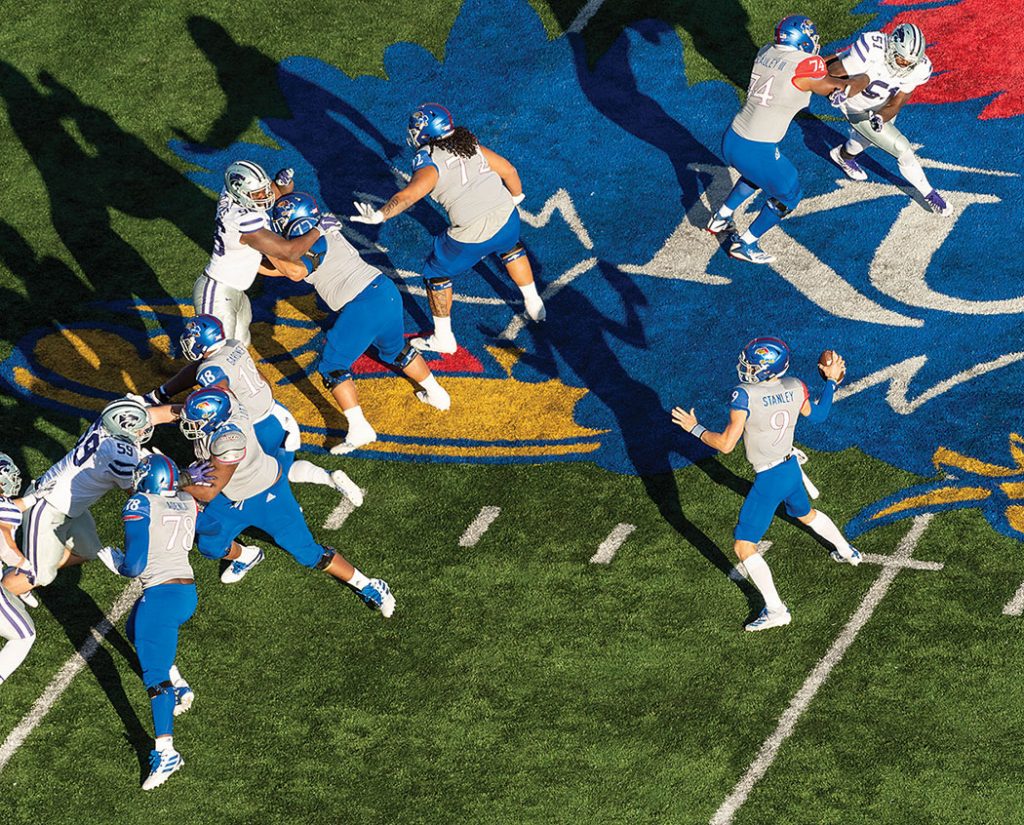 One week later, against Texas Tech, the Jayhawks racked up 527 yards of total offense, giving them 1,096 yards—the nation's third-best offensive total over that span—in Dearmon's two games as offensive coordinator. Despite the glitzy numbers, however, the game still came down to a make-or-break final series.
After KU tied the game, 34-34, with a 32-yard TD run by freshman Velton Gardner with 5:12 remaining, the defense stepped up on the ensuing Tech possession and forced the Red Raiders to punt. Stanley then engineered an 11-play drive by completing six of seven passes, setting Jones up with a 40-yard attempt for a game winner—which Tech blocked.
"It's a pretty loud sound, and I heard it get tipped," Klusman explained. "So once I heard it I looked straight up and we chased it."
Texas Tech recovered the blocked kick, and could have fallen on the ball and forced the game into overtime. Instead, the defender began running with the ball, and, as he was about to be swarmed, looked to lateral the hot potato.
"I guess he was trying to make some superhero toss-back play," Klusman said, "and he ended up giving it to us."
Klusman fell on the live ball, Miles called time out with two seconds remaining, and both Klusman and Jones took deep breaths to squash their adrenalin surges and get back to the business of attempting another game winner. This time, Jones drilled it from 32 yards, giving KU a 37-34 victory and the first Big 12 triumph of the Miles era.
When he hit the kick, Jones turned and sprinted the length of the field, madly chased, and eventually swarmed, by delirious teammates; Jones never even knew, until later asked to comment by reporters, that it was his long snapper who recovered the blocked kick to set up his shot at redemption.
"I didn't even realize the field got stormed [by fans]," Jones said, "because all the players were around me. I don't know if I was running in celebration or running for my life."
And then … thump.
From jubilation to tribulation, the Jayhawks turned around the following week and, playing in front of their first home sellout since 2009, got rolled, 38-10, by Kansas State, which was still flying high after upsetting Oklahoma. The Wildcats led 17-3 at halftime, and KU didn't score a touchdown until senior Manny Miles, subbing for injured Stanley, ran it in from the 1 with 35 seconds remaining.
The up-down pattern was achingly familiar: After beating Indiana State in the season opener, KU inexplicably lost to Coastal Carolina; after scoring a thrilling, 48-24 road victory at Boston College, the Jayhawks lost by five to West Virginia and by 37 at TCU. And, of course, they followed up the last-second win over Texas Tech with a drubbing by their in-state rival.
With another bye week to regroup, Miles vowed to fix whatever is causing KU's slow starts.
"It was a loud stadium, and it was a Jayhawk loud," Miles said after the Sunflower Showdown. "I truly appreciated it, and I know our players did, too. They're sick right now. They wanted to come and play a great game for you. Another time."