Azubuike's presence heralds return to Self's high-low. Maybe.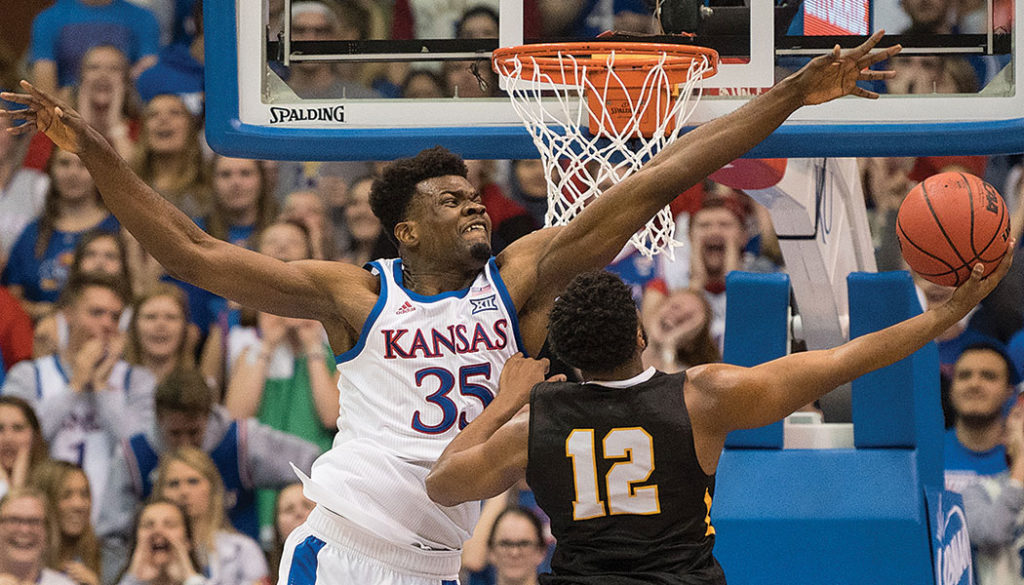 As men's basketball takes it first steps on the uncertain and complicated journey toward its goals of reclaiming the Big 12 crown and playing deep into the NCAA Tournament, immediate perspective might be gained by focusing on two stark numbers: 28 and 261.
The first—as fans are well aware—references KU turnovers in the season opener, a 68-66 Champions Classic loss to Duke Nov. 5 in Madison Square Garden.
"We'll take better care of the ball moving forward," Self said afterward, "but certainly that's inexcusable to turn the ball over like that."
As for 261: That's 7-foot senior center Udoka Azubuike's self-proclaimed weight, as of the team's Oct. 9 media day, down 40 pounds from the heft he lugged around while sitting out all but nine games of his junior year with his second season-ending wrist injury.
"I didn't have the opportunity to play, so I'm just sitting down," Azubuike says. "But when I got back, I have that determination that I'm going to lose that weight and I'm going to keep getting back in shape. I really did a good job."
Azubuike, named Preseason Big 12 Player of the Year by conference coaches, headlines a loaded frontcourt: 6-9 junior forward Silvio De Sousa returns after his NCAA-mandated exile in 2019, and 6-10 sophomore forward David McCormack pulled down 13 rebounds in 28 minutes against Duke.
"I have great expectations for what we can do," McCormack says. "The sky is not even the limit. There are so many things we can do with our frontcourt."
Although a frontcourt rotation with three athletic big men hints at Self finally returning to his traditional high-low offense after three years of playing long-armed guards on the wing—for two years with Josh Jackson, '20, and Svi Mykhailiuk, c'18, and, last season, another guard-heavy lineup forced upon Self by Azubuike's injury.
Not so fast, Self cautions. The 17th-year coach says the past three seasons taught him the virtues of playing with smaller, faster lineups, and he still needs to see how Azubuike's running mate in a two-big lineup—McCormack or De Sousa—can guard a perimeter shooter.
"This year, to put our best players on the floor we're going to go back to playing big," Self says. "I don't think it's necessarily my favorite way to play. It's not my favorite way to play. We just try to adjust and tweak to do whatever gives us the best chance, and what gives us the best chance is getting our best players and our best athletes out there."
As for the athletic De Sousa's potential as a perimeter defender, Self said, "That'll be the big question, on how much we can [play two bigs]. If you're playing a team that basically plays four guards and the fourth guard is 6-8 and can shoot, that's a different assignment than he's ever had."
With sophomores Devon Dotson and Ochai Agbaji locks in the lineup, the third guard spot remains the other uncertainty for Self to test: How might junior Marcus Garrett perform with starter's minutes, and can senior transfer Isaiah Moss, who shot 42.1 percent from beyond the arc last season for Iowa, prove himself to be this team's much-needed sharpshooter?
"We're big, we're fairly athletic, we can make plays you can't coach, athletically, in some areas, and then, of course, we have some speed on the perimeter," Self says. "I think the pieces are there for us to have a big year and play well. I'm not sure that our skill set has quite caught up to our athletic abilities, because we do need to shoot the ball more consistently in order to take advantage of some bigs who can operate inside and do some damage."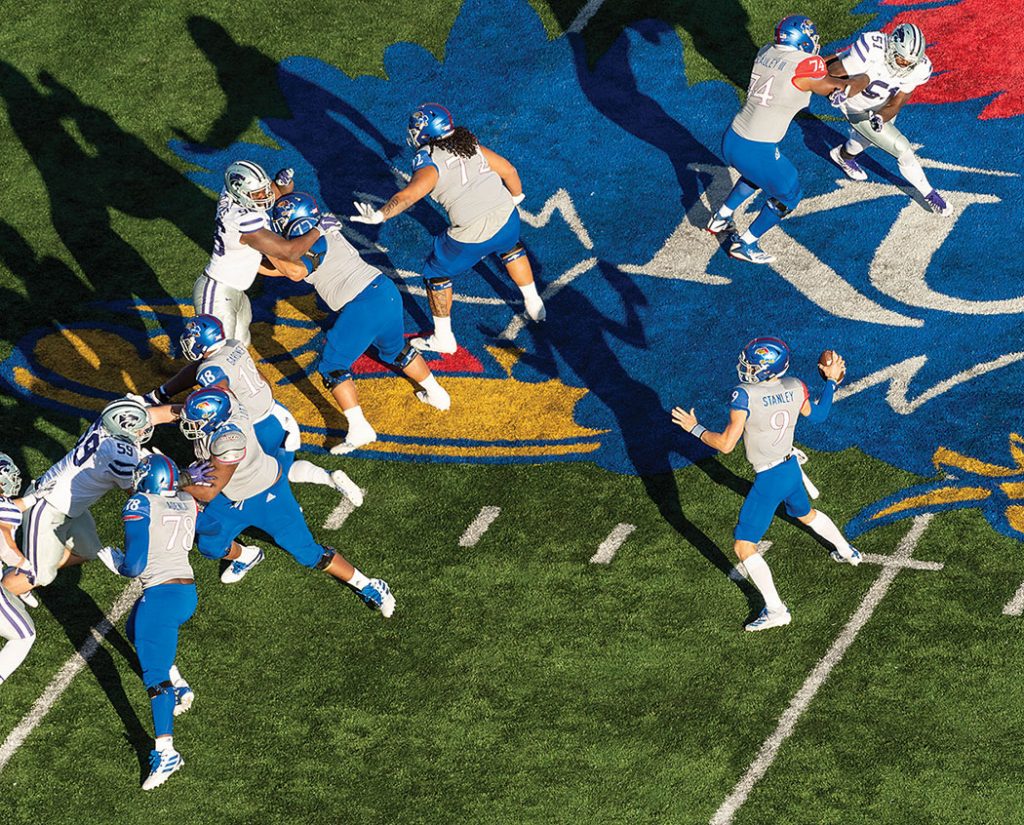 One week later, against Texas Tech, the Jayhawks racked up 527 yards of total offense, giving them 1,096 yards—the nation's third-best offensive total over that span—in Dearmon's two games as offensive coordinator. Despite the glitzy numbers, however, the game still came down to a make-or-break final series.
After KU tied the game, 34-34, with a 32-yard TD run by freshman Velton Gardner with 5:12 remaining, the defense stepped up on the ensuing Tech possession and forced the Red Raiders to punt. Stanley then engineered an 11-play drive by completing six of seven passes, setting Jones up with a 40-yard attempt for a game winner—which Tech blocked.
"It's a pretty loud sound, and I heard it get tipped," Klusman explained. "So once I heard it I looked straight up and we chased it."
Texas Tech recovered the blocked kick, and could have fallen on the ball and forced the game into overtime. Instead, the defender began running with the ball, and, as he was about to be swarmed, looked to lateral the hot potato.
"I guess he was trying to make some superhero toss-back play," Klusman said, "and he ended up giving it to us."
Klusman fell on the live ball, Miles called time out with two seconds remaining, and both Klusman and Jones took deep breaths to squash their adrenalin surges and get back to the business of attempting another game winner. This time, Jones drilled it from 32 yards, giving KU a 37-34 victory and the first Big 12 triumph of the Miles era.
When he hit the kick, Jones turned and sprinted the length of the field, madly chased, and eventually swarmed, by delirious teammates; Jones never even knew, until later asked to comment by reporters, that it was his long snapper who recovered the blocked kick to set up his shot at redemption.
"I didn't even realize the field got stormed [by fans]," Jones said, "because all the players were around me. I don't know if I was running in celebration or running for my life."
And then … thump.
From jubilation to tribulation, the Jayhawks turned around the following week and, playing in front of their first home sellout since 2009, got rolled, 38-10, by Kansas State, which was still flying high after upsetting Oklahoma. The Wildcats led 17-3 at halftime, and KU didn't score a touchdown until senior Manny Miles, subbing for injured Stanley, ran it in from the 1 with 35 seconds remaining.
The up-down pattern was achingly familiar: After beating Indiana State in the season opener, KU inexplicably lost to Coastal Carolina; after scoring a thrilling, 48-24 road victory at Boston College, the Jayhawks lost by five to West Virginia and by 37 at TCU. And, of course, they followed up the last-second win over Texas Tech with a drubbing by their in-state rival.
With another bye week to regroup, Miles vowed to fix whatever is causing KU's slow starts.
"It was a loud stadium, and it was a Jayhawk loud," Miles said after the Sunflower Showdown. "I truly appreciated it, and I know our players did, too. They're sick right now. They wanted to come and play a great game for you. Another time."