CEO engineers new technology
Katie Kollhoff tackles water decontamination with innovative sorbent material
During the summer before her junior year at KU, Katie Kollhoff accepted a fairly unconventional job for a college student: She became a lab pack chemist at the Lawrence/Douglas County Hazardous Waste Facility, where she unpacked and classified carloads of common household waste products, including pesticides, paints and other chemicals, and prepared them for shipment to an appropriate disposal site. 
The experience made a lasting impact on the Beloit native.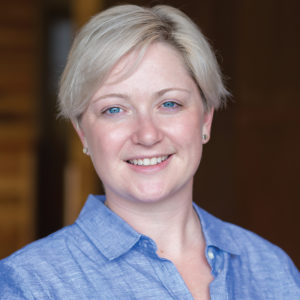 "I had no idea that's what I would go into, but I just found it so interesting, and that hands-on training really informed what I would go on to do," says Kollhoff, c'07, e'07, CEO and co-founder of NUMiX Materials, a Chicago-based company that manufactures sorbents that remove toxic and precious metals from water. 
Kollhoff always knew her career would focus on the environment. She followed the lead of her brother David, e'01, m'06, who studied chemical engineering at KU and encouraged his younger sister to consider the same path. She agreed and spoke with the department chair during a KU visit day. "I was telling him what I wanted to do," she recalls, "and he said, 'Well, that's noble; that'd be a great thing to clean up environmental challenges. But what we do as chemical engineers is prevent them from happening in the first place.' That process piece really spoke to me." 
"The challenges ahead of us are so huge," says Katie Kollhoff, whose company NUMiX materials creates water purification technology. "Anyone who has the background and skills to tackle them just has to."
After earning her degrees in chemical engineering and Spanish, Kollhoff worked for 10 years as a consultant, advising clients in a variety of industries, including chemical and food processing. The position required extensive travel, though, and she grew eager to plant roots in her community. 
She decided to further her studies at Northwestern University in Evanston, Illinois, pursuing a master's degree in engineering management while working in research and development as a safety engineer at the university. An entrepreneurship course, which required students to develop a business plan for a product or service in sustainable energy or clean-tech industry, led to the creation of NUMiX Materials in 2018.
"I met one of my co-founders, who had been on the equipment side," Kollhoff says. "He had been doing equipment design, manufacturing and startup, where I had been doing work with process stuff. We put our heads together and started thinking about areas that we've seen challenges."
They turned their attention to contaminated water and designed a highly efficient sorbent material, which resembles the beads found in desiccant packets and reacts with various dissolved metals in water, allowing it to be filtered and purified more easily. "One example where this is a problem is Flint, Michigan," explains Kollhoff, citing the public health crisis that began in 2014 when lead was discovered in the city's drinking water. "If it were not dissolved, you could just put it through a Brita filter and that would be fine. But the metal being dissolved means that it can't be filtered using conventional techniques."
In addition to decontaminating water, NUMiX's technology also enables the safe and efficient collection of metals found in water, including silver and copper, which can be extracted to produce household goods such as electronics and batteries. "We go to a lot of trouble today to dig those out of the ground," Kollhoff says. "Our vision is to be able to more quickly, easily and with better environmental consequences pull those materials out of water where they already exist."
Kollhoff and her NUMiX team of four are currently benefiting from her participation in Chain Reaction Innovations, an entrepreneurship program at the U.S. Department of Energy's Argonne National Laboratory. She was one of five participants selected in April 2019 from an elite field of more than 120 innovators. During the two-year program, NUMiX engineers have access to Argonne's laboratory facilities and its scientists, who act as mentors and share their extensive knowledge and experience, which in Kollhoff's mind is one of the best perks of the program.
"I love finding solutions to problems, especially not an obvious solution, and I love working with really smart people to identify opportunities and to execute plans," she says. "So the combination of those two things, I think, has just been really cool."