Army general prepares next generation of elite armor warriors
Brig. Gen. Kevin D. Admiral, the 52nd commandant of the U.S. Army's Armor School, grew up in an Army family, attending high school in Leavenworth while his father worked at Fort Leavenworth's Directorate of Information Management. A high-achiever with an inclination toward science, his interest in military service was perhaps to be expected.
But, the Navy?
"I saw 'Top Gun,'" Admiral, c'94, recalls with a chuckle from his base office at Fort Benning, Georgia, "and I said, 'I want to do that.'"
After learning he would not receive a pilot-training waiver for bad eyesight, Admiral sidestepped his goal of attending the U.S. Naval Academy and instead turned toward KU: He was already enamored of Mount Oread, thanks to attending Boys State and science camps, so when KU Army ROTC offered him a scholarship, Admiral seized the opportunity.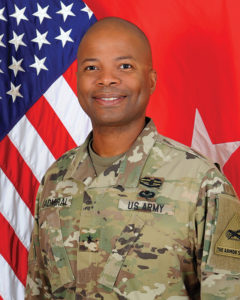 Yet even after he discovered a passion for fast-moving tanks decked out with really big guns—sort of a terrestrial counterpart to the F-14 Tomcat's visceral appeal—thanks to encouragement from his military science professor, himself a career armor officer, and a close-quarters introduction to the dazzling weapon systems during summer leadership training at Fort Lewis, Washington, Admiral still had yet to fully embrace his destiny as an Army officer.
It wasn't until his 17th year in the Army, at a change-of-command ceremony when he took charge of an 800-soldier battalion at Fort Bliss, Texas, that Admiral finally quashed his mother's hopes: "That's when she said, 'So, I guess you're not going to go to medical school now?'"
Reminiscing about his introduction to the U.S. Army's armor capabilities is, for the brigadier general now in charge of armor training, more than mere nostalgia: What appealed to Kevin Admiral three decades ago still captures the imagination of young officers and enlisted soldiers.
"It's for those who like tough challenges, if you like to work with technology, if you like problem-solving, and if you like a fast pace, because you have to make decisions on the move," Admiral says. "Unlike our infantry brothers and sisters, in a tank, we're moving at about 45 mph. You have to be able to maneuver your formation, make decisions and fire at a potential enemy, all while traveling at 45 mph."
On his first post-9/11 deployment to Iraq, from 2005 to 2006, Admiral commanded M1 Abrams tanks and Bradley Infantry Fighting Vehicles in combat in Baghdad; as tanks were removed from the battlefield when the war shifted to a counterinsurgency, armor still played critical combat roles.
Beyond the big, bruising stars of the show, U.S. Army armor is active in every facet of combat operations, including reconnaissance patrols and engineers who can travel in armored Bradleys, nimble M109 Paladin howitzers, even armor formations within the medium-weight Stryker brigades and armor soldiers detailed to airborne and light-infantry units.
"For the armor brigade, which is about 4,250 soldiers, it's all mounted, with about 1,200 vehicles," Admiral explains. "It is a fast-paced organization that can be moved around the battlefield very quickly to a decisive point that the commander wants."
Along with two combat tours in Iraq and three in Afghanistan, Admiral's rich military career has also taken him twice to South Korea—most recently as chief of staff for Gen. Vincent Brooks, the since-retired commander of 20,000 U.S. troops on the peninsula, the combined U.S.-South Korea forces, and the 17-nation United Nations alliance—and a nine-month assignment as commander of a seven-province region in southeastern Afghanistan.
"I feel privileged to be able to continue to serve in the Army, and I never thought when I started at KU that I would make it a career," Admiral says. "I lived at McCollum Hall—which doesn't exist anymore—and the nice thing about McCollum was, I got a chance to meet with people from all over the world. I was comfortable with that, so by the time I came into the Army and moved around the world and deployed to different places, I appreciated the different inputs from people I met.
"That started from my experience at the University of Kansas."
Editor's note: Due to a reporter's misunderstanding, an earlier version of this profile incorrectly described Brig. Gen. Admiral's father as a student at the Command and General Staff College. We regret the error.