KU campus gateway underway
KU football stadium expansion and more planned for 11th & Mississippi streets.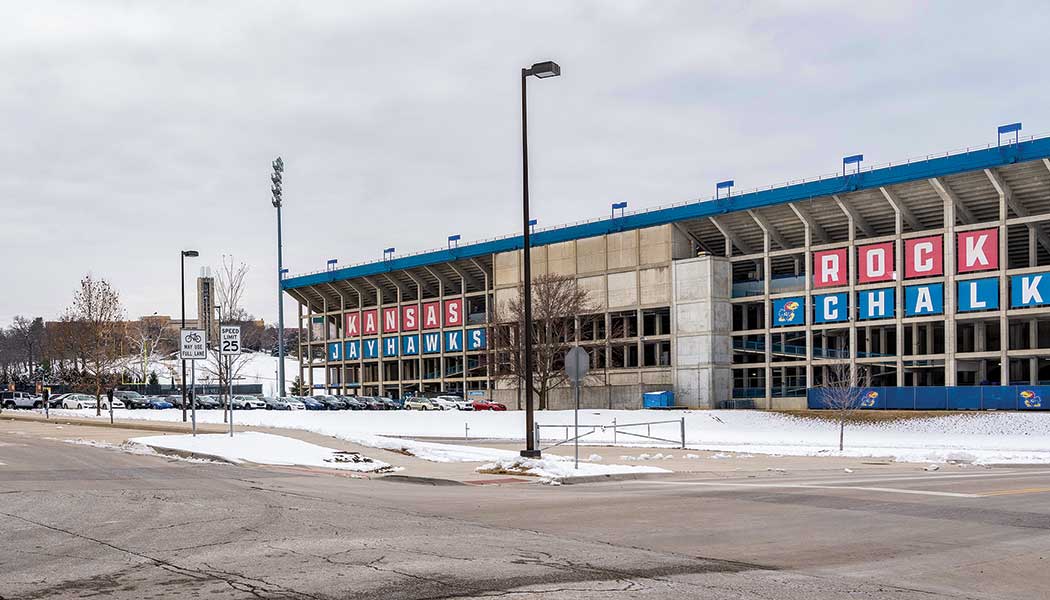 Few years in modern KU history proved as eventful as 2022: a men's basketball championship, a shocking run by the football team that landed ESPN College GameDay on the Hill and the
Jayhawks in the Liberty Bowl—both of which helped drive upticks in enrollment interest in an era of declining numbers nationwide—and, of course, the soon-to-be-unveiled Jayhawk Welcome Center at the Adams Alumni Center. A joint project between the University and Alumni Association, the welcome center will host stellar campus visits for prospective students and their families.
Those elements of Mount Oread momentum, a precious commodity never to be ignored, are helping propel what University and Kansas Athletics leaders describe as a "transformational development project" at 11th and Mississippi streets. A critical component of the University's five-year financial plan, the "campus gateway" project will include a definitive overhaul of David Booth Kansas Memorial Stadium and expansion of the Anderson Family Football Complex—plus potential conference, hotel, entertainment and retail space to drive economic growth for the region and generate revenue to fund academic programs.
"I love this phrase 'gateway,'" says Athletics Director Travis Goff, c'03, j'03. "I think it resonates as both a tangible statement but also an indicator of that incredibly important north entry point into our campus from the broader Lawrence community. With the proximity up the Hill to Jayhawk Boulevard, and the new Jayhawk Welcome Center, it all makes so much sense."
Work is already underway to expand and modernize the Anderson Family Football Complex, adjacent to the stadium, to address, among other priorities, the addition of new space for coach Lance Leipold's larger recruiting staff and dining areas for players, who can often be seen toting their post-practice meals in to-go containers.
The University pledged in the contract extension signed by Leipold in November to make "meaningful and substantial" progress toward renovation and expansion of the football headquarters by July 1 and the stadium by Dec. 15; failure to meet either objective would grant Leipold the right to terminate his obligation to KU and depart without financial penalty.
In an interview with the Lawrence Journal-World, Chancellor Doug Girod confirmed the contract language was included, at least in part, as incentive for the University to finally make long-discussed stadium renovations a reality. He says the proposed "multiuse" environment for development on Mississippi Street will tie in directly with the Jayhawk Welcome Center's role in introducing prospective students and their families to Mount Oread.
"That will be the first contact point for every family and students visiting our campus, which we know is so important for their decision on where to go to school," Girod says. "The volume of people that's going to be flowing through there, and how to capture that, is really exciting to think about. I think it will be game-changing on so many different levels."
KU has selected key partners to help develop specific plans, timelines and cost estimates for the project. HNTB is the lead architect, in partnership with Lawrence-based Multistudio. KU also has retained Nations Group, a firm specializing in university athletics venues and mixed-use facilities. Girod told the Journal-World that the University needs to raise at least $150 million from private donors, which would qualify for $50 million in state economic development funds through a 3-for-1 match program approved in 2022 by the Kansas Legislature and Gov. Laura Kelly.
Although the project's scope and funding have not yet been announced in detail, vast changes in and around the stadium already appear to be supporting the future of KU football.
"I want everything to improve around our program," Leipold says. "The game day environment here is night-and-day different than it was a year ago. We appreciate that, and we hope that is reflected in [fans'] belief in this program, and our players, moving forward. Hopefully we'll see the uptick in season tickets and all the other things that we'd like to see happen for this place to be as full as possible on every game day."
Andy Kotelnicki, associate head coach and offensive coordinator, confirmed at the end of the regular season that he had been offered head coaching opportunities elsewhere but chose to remain at KU, in part thanks to what Leipold has termed KU's "complete investment" in football's physical environs.
"When you have the opportunity to say that you can reach all of your goals right where you're at, in an awesome place, why would you leave?" Kotelnicki says. "I think that's true for any of our students who go to school here, and any of our student-athletes, and those of us on the staff. You can achieve any goal you have, right here at this University, so let's go."
Chris Lazzarino is associate editor of Kansas Alumni magazine.