Jayhawks' 5-0 streak reignites faithful fans' dormant passion for football on the Hill
Who saw this coming? We sure didn't. Plenty of fans didn't, either, considering the 13,000 empty seats (to be generous) at the Sept. 2 season opener—admittedly, a Friday night game against Tennessee Tech. Even men's basketball coach Bill Self, always an enthusiastic supporter of the football program, confesses that he, too, was blindsided by a 5-0 start in coach Lance Leipold's second season.
"Their staff deserves a ton of credit for getting this thing moving in a very positive direction," Self said Oct. 13, shortly before his own squad hauled in NCAA Tournament championship rings at the Oct. 14 Late Night in the Phog celebration. "I don't know if anybody anticipated it would be this soon. They're creating a buzz that's made it more fun to be around here."
Well, to be fair, we can't say nobody saw it coming. Defensive lineman Sam Burt apparently did, if not in specifics then certainly in reading the trend line of Leipold's joltingly quick rebuild of a moribund program.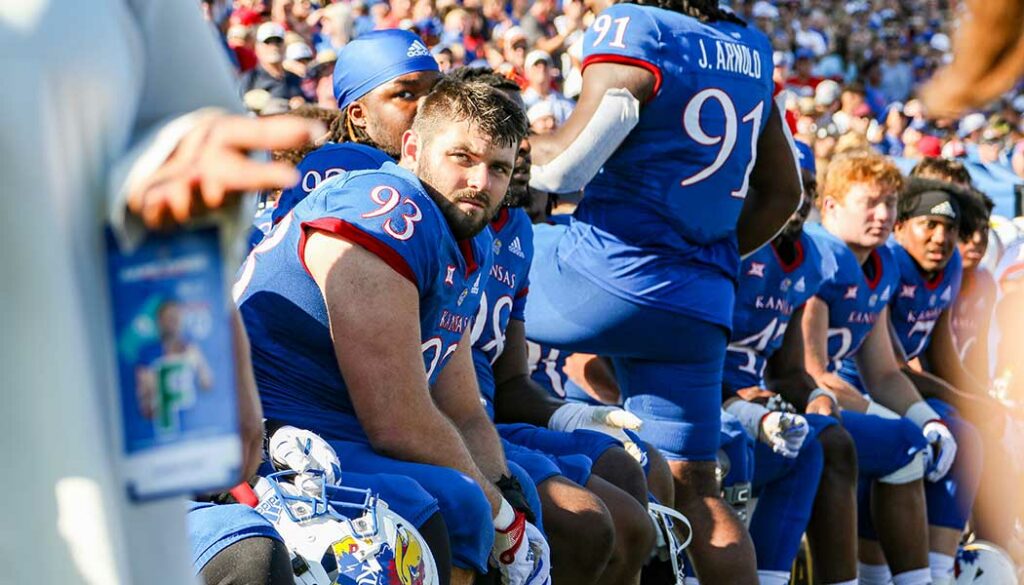 A two-time Academic All-Big 12 First Team honoree (and National Honor Roll inductee and four-time letter winner in both band and jazz band at Abilene High School), Burt began last year's COVID-bonus senior season—playing for his third KU coach—by fracturing his forearm in the season opener. He fought his way back to face rival Kansas State, but, told he could still take a redshirt season due to injury, Burt kept his options open by making only brief appearances at Texas and on Senior Day against West Virginia. By keeping his game participation limited, he could return for a super-senior season—if he wanted to.
After discussing his options with coaches and his wife—Burt, c'21, g'22, married his KU sweetheart, rower Reese Arnold Burt, d'20, in January 2021—and trusting in frequent prayer, Burt chose to return for year No. 6.
"The whole reason why I came back is because I saw a change," he says, "and I wanted to be a part of it."
It should be noted for the record that Burt said this Aug. 30, when KU was still 0-0, and nearly a month before the crazed sellout for the Sept. 24 Duke game, when the Jayhawks returned from a two-game road trip at 3-0.
"When I see us doing the right things and progressing and changing the culture," Burt says, "it just makes me so happy."
He cites inspiration from a memoir he recently read by Hall of Fame coach Bill Walsh, who wrote that when players and coaches focus their energy on details and consistency, "the score will take care of itself." Burt saw that mindset from Leipold and his staff, and felt certain that this year's Jayhawks were already in position to finally alter football's long-term fortunes.
"That would bring me a peace of mind, I think. I've been searching for that. Whether our goals for the season are met or not, as long as I know there's a foundation being built and they will succeed in the future, then that's all I can do. I'll be at peace with that."

Lacking Sam Burt's insights and prayerful confidence, not only did we not see this coming, we just as surely don't know what's next. After a five-game stretch that changed everything, the Jayhawks lost to vaunted Big 12 rivals TCU, Oklahoma and Baylor. As of Kansas Alumni's press deadline, the Jayhawks were 5-3, with four chances remaining to become bowl eligible with a sixth victory.
This improbable season cannot, however, be judged harshly should November prove less bountiful than September and October. Those first five games were too magical, filled with far too much excitement, to be dimmed by a young football team—forced to play without injured superstar quarterback Jalon Daniels, along with serious injuries to running back Daniel Hishaw Jr. and cornerback Cobee Bryant—perhaps struggling in the teeth of the Big 12's rigorous homestretch.
OK, we're covering our bases. By the time this magazine reaches mailboxes, the Jayhawks might have already secured that sixth win, and they'll have that opportunity regardless Nov. 26 at Kansas State. The Little Apple will be hoppin'.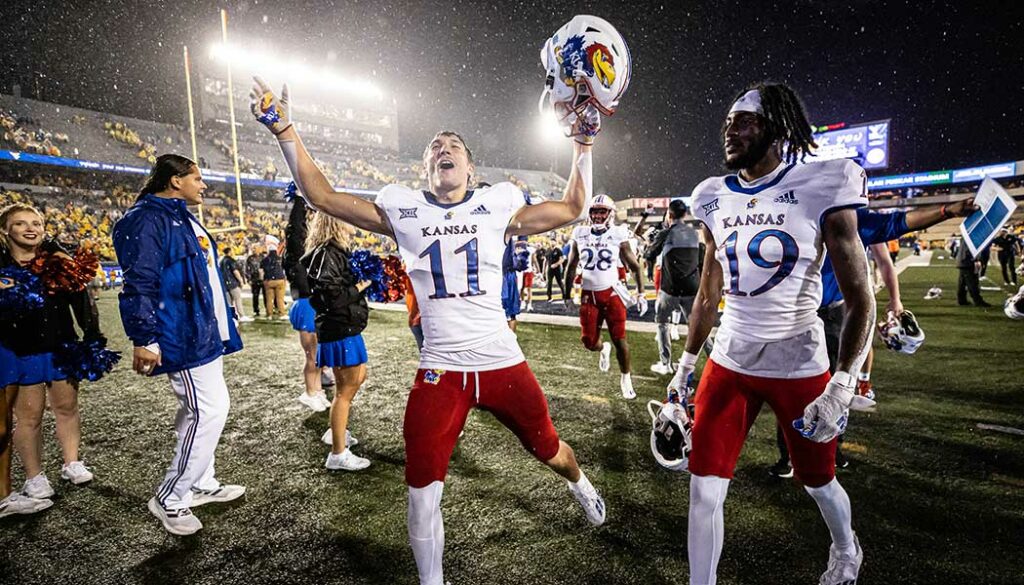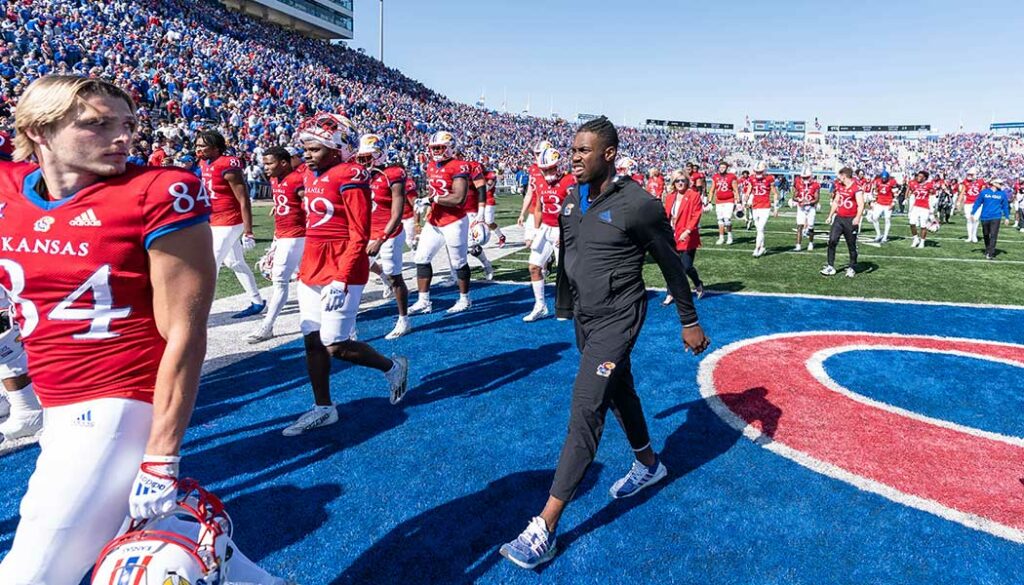 "We've still got everything we want," says senior defensive lineman Caleb
Sampson, "within our reach."
The first hint of magic in the air came Sept. 10 in Morgantown, where the Jayhawks overcame a 14-point first-half deficit on their way to a dramatic 55-42 overtime victory over stout Big 12 rival West Virginia. KU again climbed out of a two-touchdown hole Sept. 17 at Houston, running its record to 3-0 for the first time since 2009 with a 48-30 victory over the Cougars.
What would have been a blueblood matchup had it happened on hardwood, the game against Duke instead featured two undefeated football teams—noted for the record: Kentucky and North Carolina also sported spotless 3-0 records that weekend—and football fever boiled over on campus and across town.
T-shirts emblazoned "Football School" were the hot-selling item for sporty young Jayhawks, and the Goodyear blimp was spotted in Lawrence's sunny skies all week. ("When @KU_Football starts the season 3-0, we send the blimp to Lawrence," was the explanation from @GoodyearBlimp. "Those are just the rules. #RockChalk.") A lovely, hazy game day morning inspired countless "Beware the Phog!" social media posts; the Wheel Pizza Co. rolled out its breakfast slices for the 11 a.m. kickoff; and traffic was backed up from east Lawrence, according to a Lawrence police scanner group, "clear to K7 Highway."
As Jayhawks everywhere now know, David Booth Kansas Memorial Stadium thrummed to life with its first sellout since 2019—when K-State fans accounted for far too much of the attendance—and harked back to the glory days of 2007 and 2008, when sellouts of the crimson and blue variety were expected.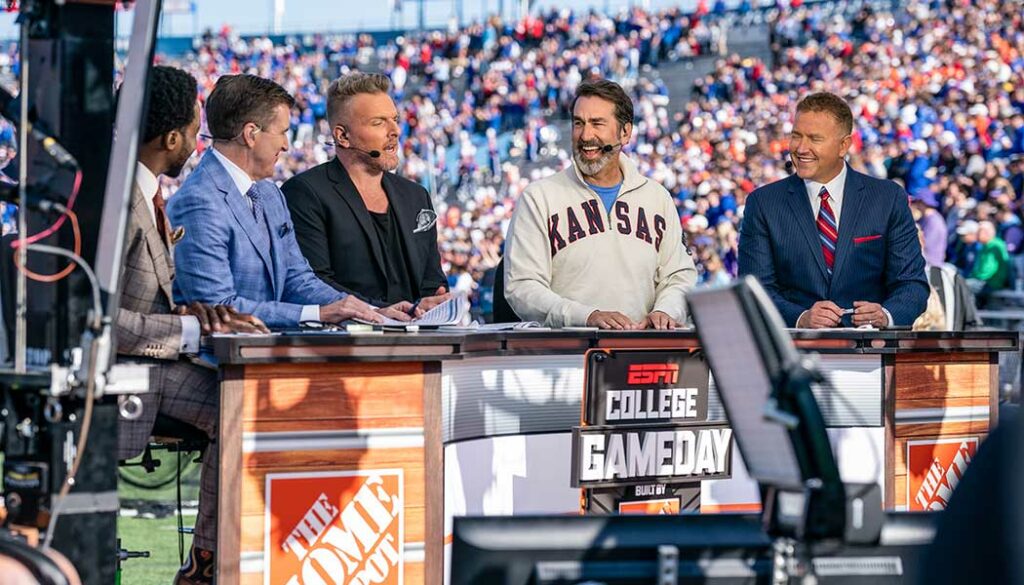 "We've played in some pretty packed games," says junior receiver Luke Grimm, "but it's always been for the other teams."
A 35-27 victory followed by a 14-11 Homecoming win Oct. 1 over Iowa State landed KU at 5-0 and ranked No. 19 in the country, and ESPN's wildly popular College GameDay made its first football appearance on Mount Oread for the
Oct. 8 showdown with TCU.
KU lost a dazzling 38-31 shootout—and quarterback Daniels to an apparent shoulder injury—but spirits remained high. ESPN reported GameDay's best viewership of the season, peaking at 3.5 million viewers in the final hour of its morning program, and Kansas Athletics capitalized on the week's high energy to announce an ambitious plan to renovate the Anderson Family Football Complex, beginning in early 2023, to be followed by a stadium "transformation" and development of a multiuse "campus gateway" complex at 11th and Mississippi streets.
A critical component of the University's five-year financial plan, the project could include conference, hotel, entertainment and retail space to drive economic growth for the region and generate revenue to fund academic programs.
"I don't think a lot of people thought we would be able to do what we've been doing," says senior linebacker Eriq Gilyard, "but we knew all along. And I think we know we're capable of doing more."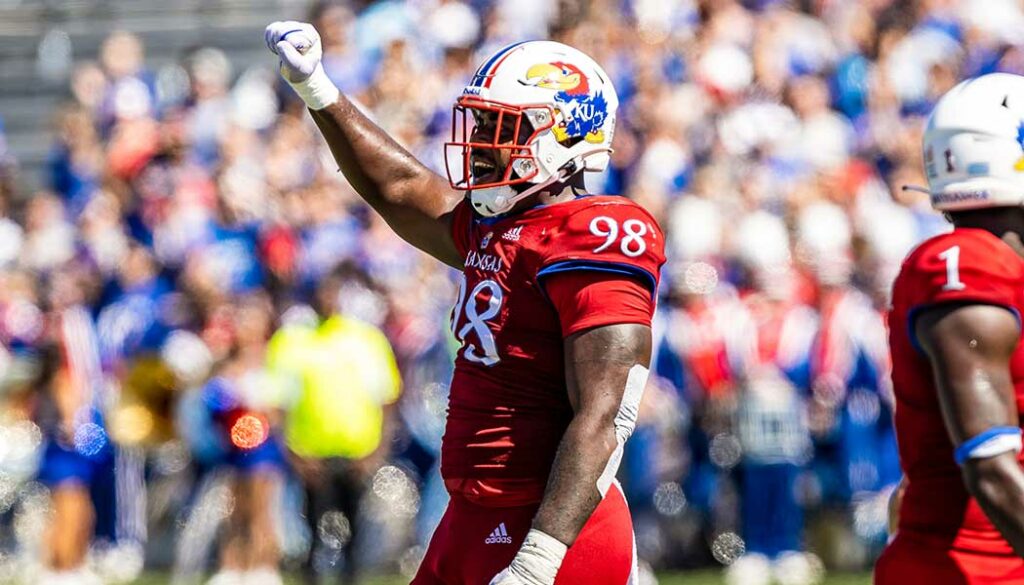 The mantra around KU football is simple: "1% better every day." It's coachspeak, of course, but players repeat it so often and so sincerely that it's evident they see in the snappy words enough wisdom to take them to heart. Funny thing is, while intended to emphasize the necessity of slow, patient progress, "1% better" has instead ignited a football turnaround that, for a time at least, had the country gasping.
"We try to make those things more than words on a wall," explains defensive coordinator Brian Borland, who has been on Leipold's staff since ending a three-year stint as an assistant at Baker University in 1994 to join Leipold at Wisconsin Whitewater. "Our mindset, our approach, is to be better today than you were yesterday and be better tomorrow than you were today. Never be satisfied, complacent, feeling like you've got it all figured out, problem solved. Never taking anything for granted, being hungry all the time.
"That's what the guys hear, but I also think it's sunk in, because that's what's happening."
Says sophomore running back sensation Devin Neal, a Lawrencian particularly motivated to push his hometown team back toward its former glory, "It's just what our program is about."
Past coaching staffs have festooned the team's meeting room, Mrkonic Auditorium, with all manner of punchy, pithy sound bites, some of which frankly felt farcical. Now, rather than the rah-rah, there's only a glossy visual display of helmet logos of each of the season's opponents. The guys bring their own energy, their own intentions to get ever closer to becoming a dangerous football team by being 1% better, day after day.
"We're gonna be in a lot of big-time competitive games this year," says junior center Mike Novitsky, "and when it gets to late in the fourth quarter, we've got to be able to execute. Have that mentality of, refuse to lose."
Reflecting on the energy that roared across the Hill after lighting a short fuse of three, four, five victories, Caleb Sampson says he, like his linemate Sam Burt, saw it coming: "I could tell that fans were just waiting for that breakthrough to happen. But for this to be happening in my last season, that's a blessing. It's gonna be something that I'll always brag about: My senior class was the class that turned this program around.
"And you know I'll be telling my kids, grandkids, everybody that story."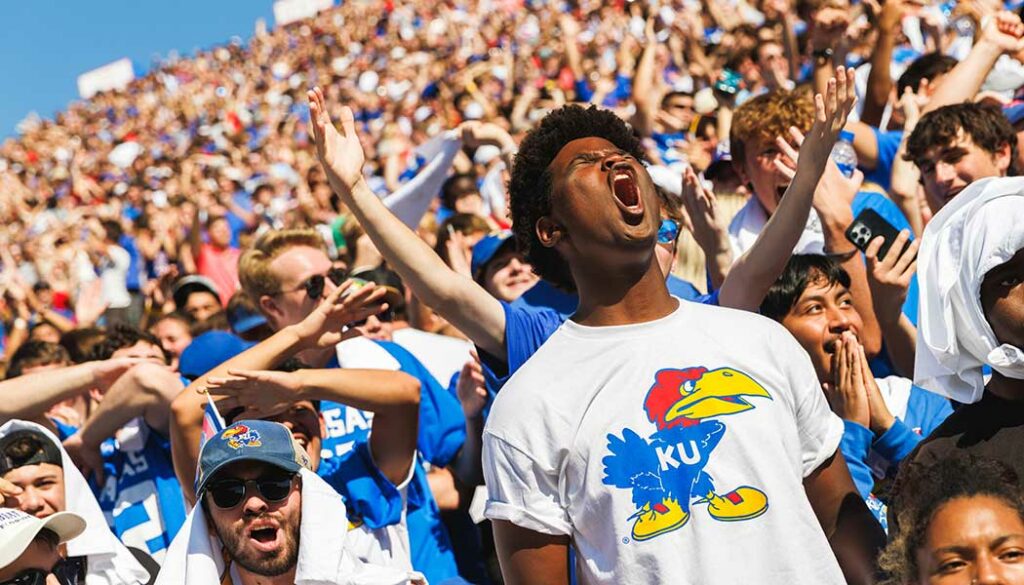 Photographs by Steve Puppe, Dan Storey, Kansas Athletics and Andy White.