Feel real yet? KU football caps season at Liberty Bowl
KU football's season of surprises writes its final unlikely chapter at the Liberty Bowl.
Long before KU's triple-overtime, 55-53 loss to Arkansas Dec. 28 in the AutoZone Liberty Bowl—a memorable, thrilling game despite the outcome—and even before the Jayhawks on Dec. 4 accepted the invitation to participate in one of the country's oldest bowl traditions, coach Lance Leipold and his staff preached the value of bowl games. Postseason play means not only an extra game, on national TV, but also vital extra practices in December.
The bonus sessions lay the foundation for productive spring practices, which in turn means fall camp can focus more on preparation to face opponents instead of player evaluation and playbook instruction—a cycle that associate head coach and offensive coordinator Andy Kotelnicki describes as "the compounding effect."
And, Kotelnicki notes, when players "see themselves grow" and experience success, along with the festive team-building of a weeklong bowl trip, a program's culture strengthens.
"It's been a long time since we've been to a bowl game, so we're pumped about this," said All-Big 12 sophomore cornerback Cobee Bryant. "It feels good just to be in the bowl game and not go home for Christmas."
As the Jayhawks wound down their three weeks of postseason practices, with the thrills of a 2022 season that included five consecutive victories and a campus broadcast of ESPN's College GameDay still fresh in their memories, did the looming game even seem real?
"Honestly, no. I don't think it's going to hit me until we get on a plane headed for Memphis," super-senior defensive lineman Caleb Sampson said Dec. 18, a week before the Jayhawks' Christmas Day departure for Tennessee. "I don't think it's hit me that we're in a bowl game. Yet."
The reality of their new status began to sink in shortly after, when the Jayhawks unwrapped boxed gifts placed in each of their lockers: swank white backpacks and jackets. Christmas came early at the Anderson Family Football Complex, and, as evidenced by video on the team's social media feeds, the joy was real.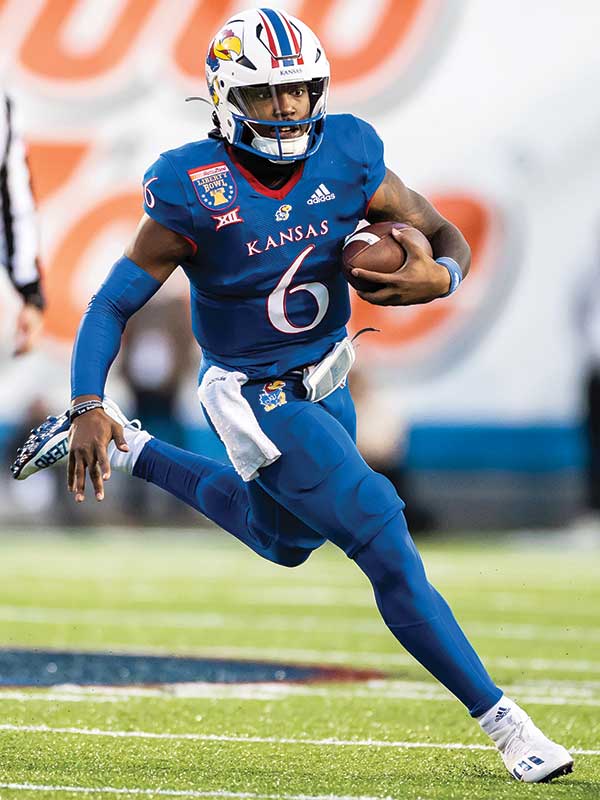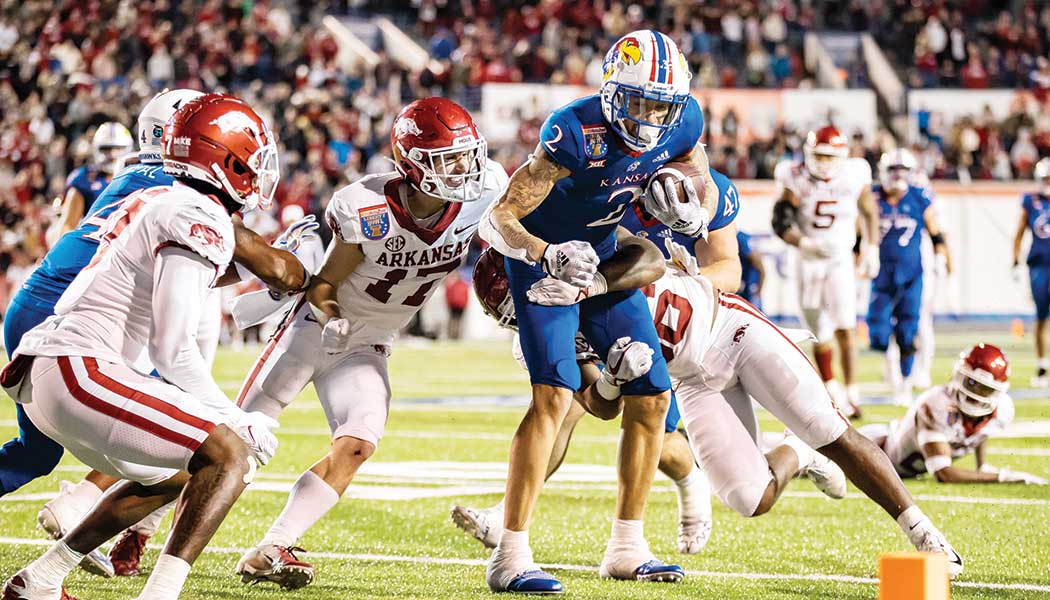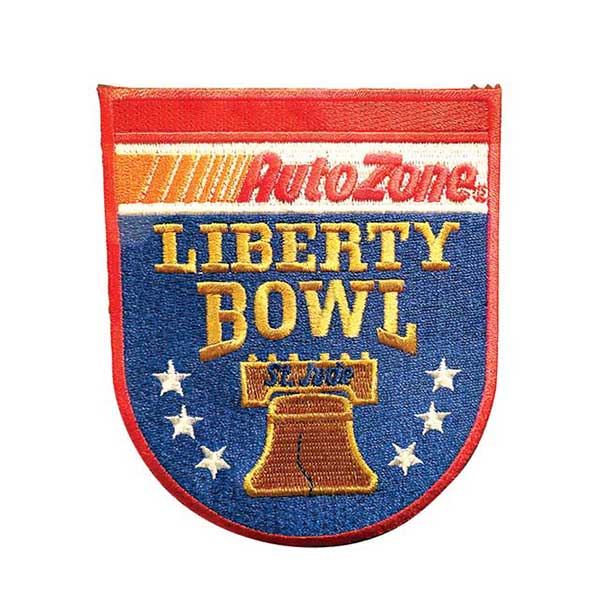 Top left: Quarterback Jalon Daniels (6) on his way to 565 yards of total offense. Top right: Defensive end Lonnie Phelps (47), safety Marvin Grant (4) and linebacker Lorenzo McCaskill (7) teaming up for one of their 13 combined total tackles. Bottom: Wide receiver Lawrence Arnold (2) making one of his eight receptions for 119 yards.

"Trust me," senior linebacker Rich Miller said in Memphis, "it's more fun than you think. It's always great to get new things, and we're grateful. We understand nothing comes easy, and we feel that even with stuff like that, it's what we worked for."
For super-senior defensive lineman Sam Burt, the reality of making it to a bowl game, after so many frustrating seasons playing for so many coaches, began to register the first time he pulled on his No. 93 jersey with a patriotic-themed Liberty Bowl patch sewn onto the shoulder. The complementary color schemes—red, white and blue patch against KU blue fabric—legit looked good, and Burt beamed with pride.
"Being here has definitely made it real," Burt said. "Like I've been telling people, it's just a dream come true for me. And, yeah, the patches, we just got those today. They look really sharp, don't they? This is all something I'm going to remember for a long time."
Perhaps Burt, who is already organizing years of game-prep notebooks for a possible career in coaching, was just then grasping the significance of the moment because until then, he'd hoped to avoid "getting myself overhyped" and leaving too much energy on the practice field. As the showdown with Arkansas neared, however, he allowed himself to ponder a personal odyssey nearing its conclusion as well as the adventure that is just beginning for those who will follow.
"A lot of coaches have cycled through here, so there's been a lot of different cultures brought in, and it takes a while for the players to adapt," Burt reflected. "This time, with this full offseason with coach Leipold, I think we had a lot of buying in with the culture. We've really taken it upon ourselves to spend more time together.
"I've been here a long time, and this is the best team I've ever seen, talent-wise, but also in terms of being friends. Liking each other. And that pays dividends during the season."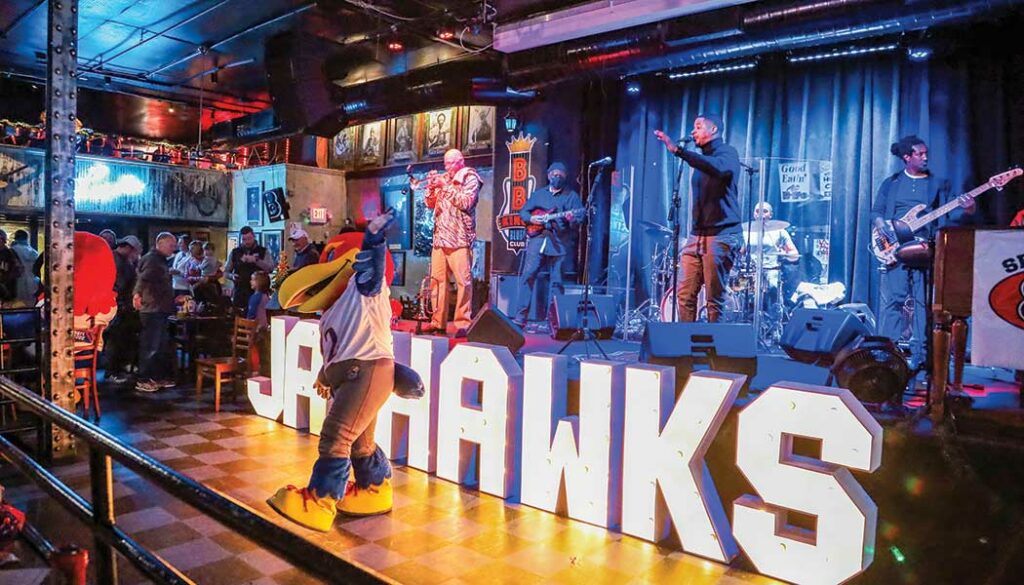 Although Memphis was hobbled by extreme cold weather that froze water mains and closed some hotels, bars and restaurants, KU faithful still flocked to the old river city. Outside the Peabody Hotel, home of a famous duck parade that plays far better in the imagination than reality, a sidewalk poster lured chilly pedestrians with "Come for the ducks, stay for the biscuits!" Shrimp and grits, French onion soup, and, of course, barbecue and world-class coleslaw were highlights of downtown fare on Christmas Day, and as fans began arriving in earnest Dec. 26—perhaps the worst day of the water crisis that gripped the city for more than a week—attention began turning toward the next day's parade on Beale Street.
After the stress and uncertainty of canceled flights, revoked hotel reservations and boil-water orders, it felt good to see the festive KU flock flanking Beale ahead of the 2 p.m. parade on Dec. 27. Asked which school's fans were buying more souvenir T-shirts, a vendor replied, "So far Kansas, because Arkansas people, they either ain't woke up yet or ain't come over the bridge yet."
Crimson-and-blue revelers cheered wildly for the Marching Jayhawks and Spirit Squad, Chancellor Doug Girod and his wife, Susan, waved from inside a baffling fairy tale carriage-type-contraption, and fans made their way to a rally for both teams at Handy Park before flooding into B.B. King's Blues Club for the official KU pep party, hosted by the Alumni Association and Kansas Athletics.
Many fans visited the National Civil Rights Museum the morning of Dec. 28—a solemn excursion the team had made earlier as one of its private group outings. Early that afternoon, all attention turned toward Simmons Bank Liberty Bowl Stadium, under a stream of inbound FedEx cargo planes.
"I know our guys want to be here," Leipold said, "especially our upperclassmen, guys who've been through a lot, guys who've had three head coaches and five to eight position coaches. Crazy stuff like that, stuff that no young man ever thought he signed up for when he went to college."
A crowd of 52,847 nearly filled the oddly elegant old stadium's 58,325 capacity, thanks to strong turnout from fans of both teams. For KU players who had long dreamed of seeing themselves on the field for a big bowl event, the new day of Kansas football had finally arrived.
Players relaxed during their downtime and on a team visit to the National Civil Rights Museum at the Lorraine Motel, a memorable highlight of the Jayhawks' four-day Memphis stay.

The Liberty Bowl trophy went, of course, to the Razorbacks. (When asked to drape his arm across the Liberty Bell trophy during his pregame photo-op, Leipold declined and said, "I'll touch it if we win it.") Regardless, no Jayhawk fan, player or coach left the stadium feeling anything but pride.
Junior quarterback Jalon Daniels set KU and Liberty Bowl records with 544 passing yards and 565 total yards of offense, leading KU on a 25-point comeback that sent the game into what turned into a heart-stopping triple overtime.
The Jayhawks fell one conversion short, yet still soared.
"I actually told Lance after the game, 'You know, you should be proud,'" men's basketball coach Bill Self said two days later. "And I know he is, because Jayhawk Nation is proud. There were a lot of positives that happened this year, including the ending, because what the ending showed is that there's fight in our program, and, hey, no matter what, we'll compete. I think those things definitely provide a foundation for momentum moving forward as much as anything else.
"I don't know that anybody's talking about the actual outcome as much as they're talking about how good the game was. And I think that's a pretty good way to go into the offseason. The players and coaches deserve a lot of credit for a job well done, without question."
Exceedingly well done. And next time—and there most certainly will be a next time, sooner rather than later—the 'Hawks will once again be old hands at the business of bowl-game football.
That's as real as it gets.
Chris Lazzarino, j'86, is associate editor of Kansas Alumni magazine.
Photos by Kansas Athletics and Dan Storey