Ambitious plan will create new campus entrance, renovate KU football stadium.
by Jennifer Jackson Sanner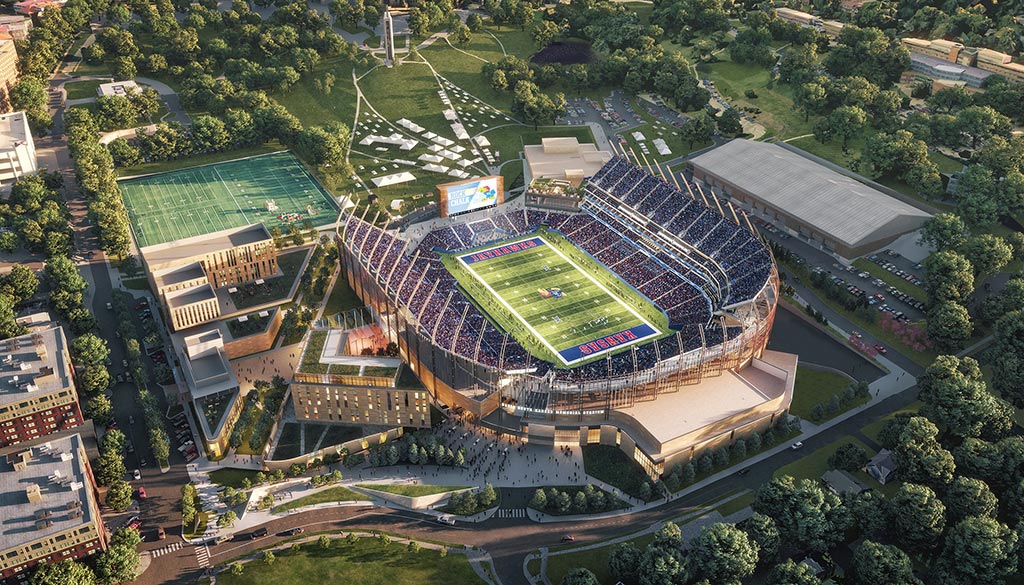 As the Fraser Hall flags appeared through the mist on video screens, and the unmistakable sports-broadcasting baritone of Jayhawk Kevin Harlan declared "an audacious new era," the faithful who had packed into the Jayhawk Welcome Center knew Aug. 15 was a high holy day for the University.
On that afternoon, KU leaders and Gov. Laura Kelly unveiled the first architectural renderings for the new Gateway District and the renovated David Booth Kansas Memorial Stadium at 11th and Mississippi streets. They outlined plans to complete the colossal project, which will create a new entry point to the Lawrence campus; a modern stadium for Kansas football student-athletes, coaches and fans; and a destination for conferences, entertainment and other commerce to drive economic growth for Lawrence and the entire state.
For the historic occasion, Athletics Director Travis Goff, c'03, j'03, invoked the state motto, Ad Astra per Aspera, "to the stars through difficulties," as he described an ambitious venture to create "an unrivaled home-field advantage" for KU's resurgent team and coach Lance Leipold, who in only his second season led the 2022 Jayhawks to KU's first bowl game in 14 years.
The stadium will be among the finest in the nation, Goff said, and a new conference center "will drive year-round traffic to Lawrence, to our campus and to our region, and will attract new meetings and groups who are eager to tap into all that this wonderful community and institution have to offer."
With the first phase of renovations to the Anderson Family Football Complex already complete, including the team's new locker room and weight-training space, construction on the first phase of the stadium renovation will begin immediately after the 2023 season, with the goal of completing the stadium and conference center by August 2025.
Through a combination of private gifts and a state economic development challenge grant, plus federal pandemic recovery dollars allocated by Kelly and the Kansas Legislature, KU has secured $165 million toward the $300 million goal, which includes $50 million for the Allen Field House renovation already underway.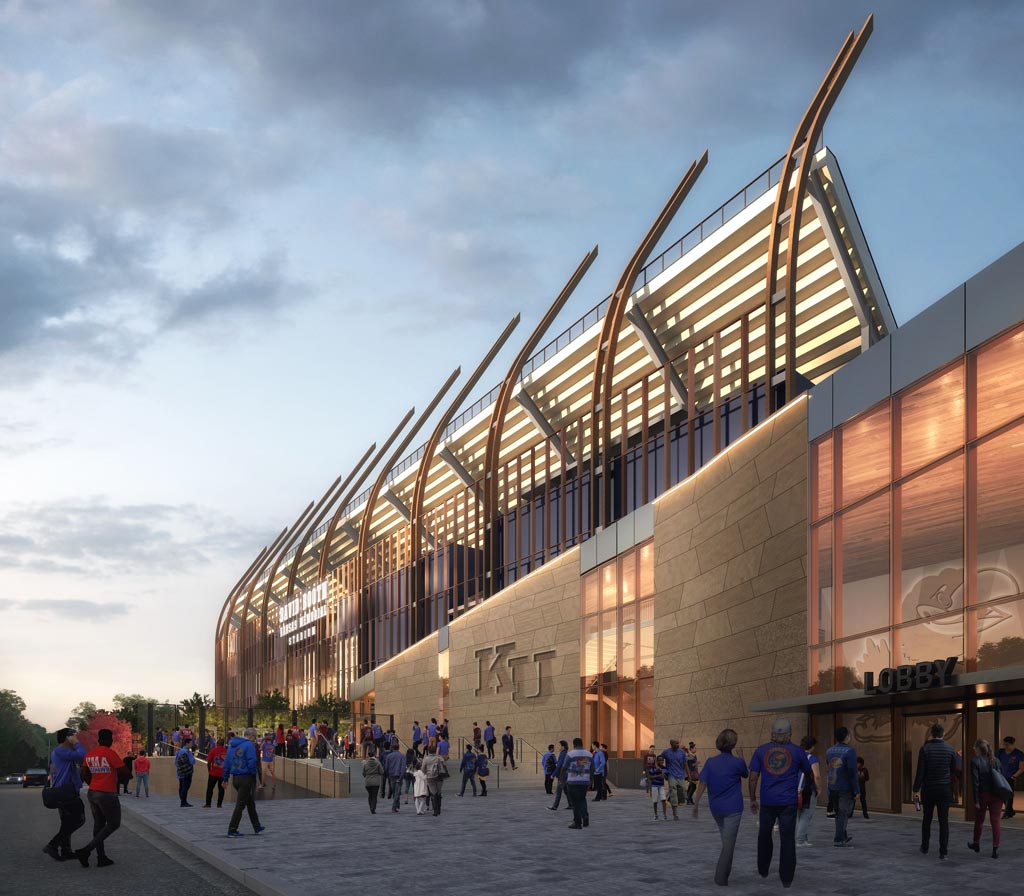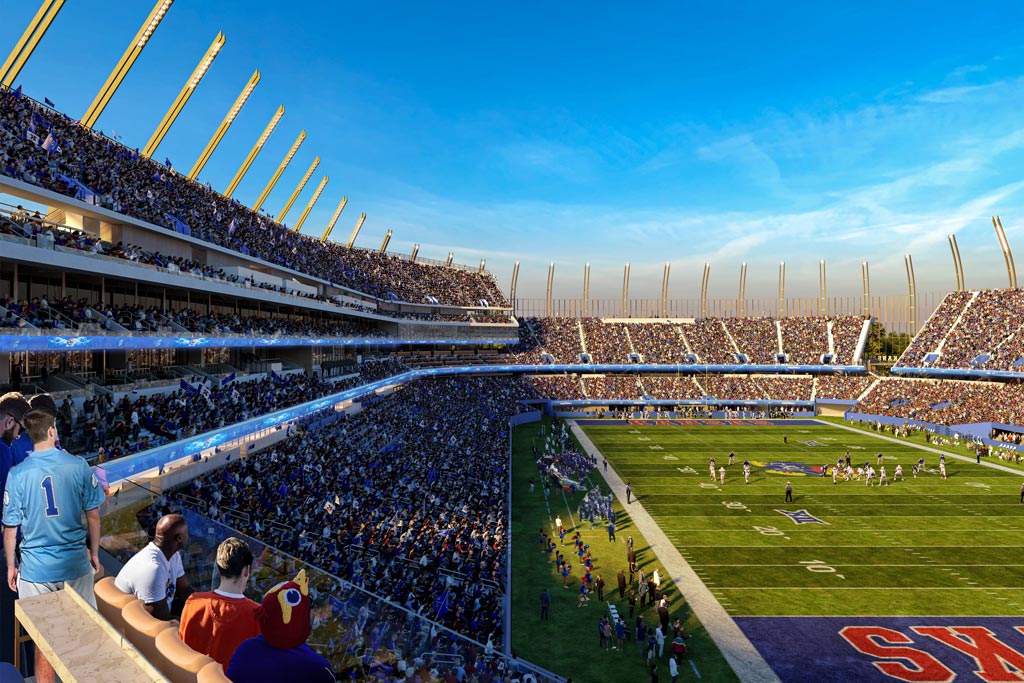 Much of the money has been raised in the 10 months since Oct. 8, 2022, when, as Chancellor Doug Girod recalled, "We announced this project … in a very subtle way, which was to invite ESPN and College GameDay to come to campus and let us tell the world." On that sparkling fall day, as the sold-out stadium crowd spilled onto the Hill, KU released a teaser video, calling on Harlan, j'82, to give voice to KU's commitment: re-create the stadium and reimagine the corner of 11th and Mississippi to rev up both Kansas football and the state's economy.
The venture will build on KU's already formidable power as an economic engine, Girod said, citing the $400 million in KU research dollars that flow into Kansas each year, along with the fact that, combined with The University of Kansas Health System, KU is among the state's largest employers.
Kelly, who credited Girod's persistent lobbying ("nagging," she joked) for state investment in the project, said the venture would build on Kansas' economic momentum by making it "a premier spot to host state and national conventions and myriad other events. Development of this mixed-use facility alone is projected to support 720 permanent jobs, once constructed, and 670 jobs during the building phase.
"Likewise, the David Booth Kansas Memorial Stadium is projected to support 2,600 temporary jobs while underway and 240 permanent jobs. Once all is complete, the new complex will generate millions of dollars through sales and income taxes that will go toward making Kansas a better place for everyone, in every corner of the state, for generations to come."
Kelly also credited David Toland, c'99, g'01, lieutenant governor and secretary of commerce, for urging the Legislature to approve the University Economic Development Challenge Grant program. KU received a $50 million grant, to be matched 3-to-1 by private dollars, for the Gateway District.
To make the case for the continued philanthropy that will be essential to complete the entire project, David Booth, c'68, g'69, urged fellow Jayhawks to seize the historic opportunity. "It's time to participate now and step up and do your part," said Booth, whose commitments to Kansas Athletics have included funding the Booth Family Hall of Athletics; purchasing James Naismith's "Rules of Basket Ball," now displayed in the DeBruce Center, adjacent to Allen Field House; and, in 2017, providing $50 million for the football stadium.
KU embarks on the Gateway District and stadium venture with design partners HNTB and Multistudio. HNTB, headquartered in Kansas City, specializes in sports architecture and has been the lead designer for Allegiant Stadium in Las Vegas and other high-profile projects. Multistudio, a Lawrence firm, emphasizes community improvement and immersion.
Turner Construction Co. will manage the project. The firm has been touted by Engineering News-Record as the nation's No. 1 construction manager and the No. 3 sports venue builder.
In addition, Kansas Athletics in May began a long-term partnership with Legends, a global premium experiences company, to revamp the fan experience and increase revenue.
Stadium improvements will include a new north seating bowl to bring fans closer to game action; first-row seats in the west stands that are 4 feet higher off the ground; larger seats that offer more leg room; better sight lines overall, or as Goff put it, "There won't be a bad seat in the house"; and a new videoboard, more than twice the current size and 60 feet closer to the field. Fans also can expect about 2,300 club seats in three different spaces, along with suites 80 feet closer to the field. Concourses will feature more food and beverage choices along with more restrooms.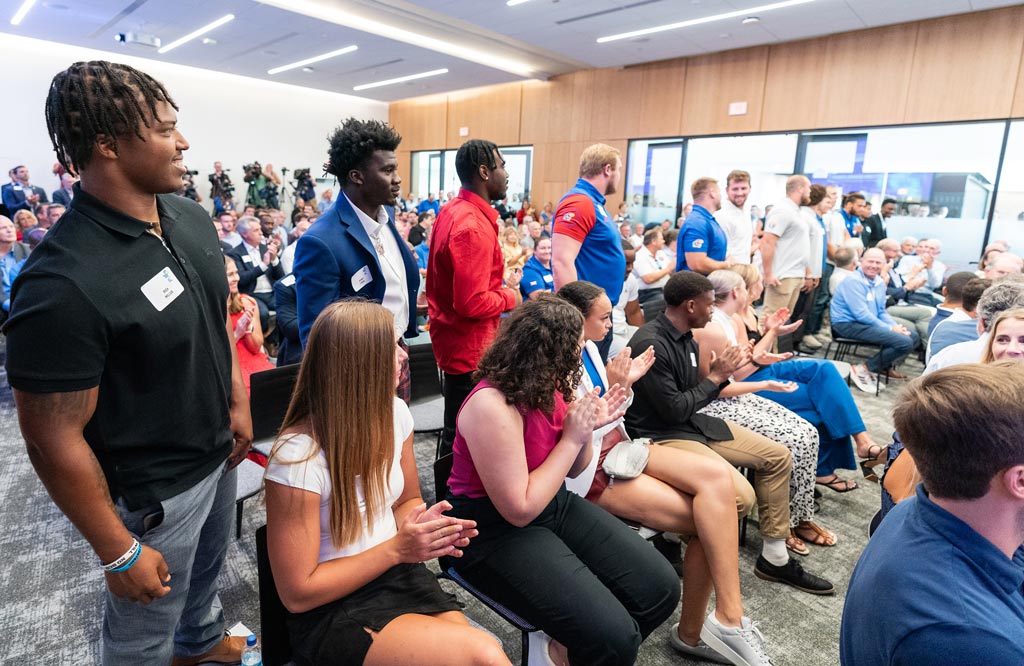 The stadium's capacity is still a moving target, Goff said in a press conference after the formal announcement. "We're roughly 47,000 today," he said, adding that the larger seats and more premium options will reduce the overall capacity, but "what we have absolutely locked in from the jump is that this stadium will absolutely be greater than 40,000.
"We haven't committed to what the east or the south is going to be in that future phase, and so in a lot of ways, it's up to our fans. Are we going to fill this thing up every game? If we do, I'm really confident we're going to design an east stands or a south that will accommodate a greater capacity. But that will be for a different day."
Girod also answered the question he hears most often: KU's iconic Commencement tradition will continue. "That's what every student remembers on graduation—that walk through the Campanile, down the Hill, into that epic environment," he said. "Absolutely everyone on the team knew that we not only had to keep that, but we had to improve on it."
Leaders also remain mindful of the stadium's historic origins, Girod noted. "We're actually working right now with the World War I national museum in Kansas City to think about how we can elevate that so people are immediately aware that it's a memorial to 129 Jayhawks who were lost in the first World War," he said. "Right now, it's sort of a hidden secret. We have an opportunity to make that front and center as we redesign this."
Already front and center is the new culture of Kansas football. "In our program, we talk about culture being action," Leipold said, "and what we see in the people here, the governor, from everyone, we're seeing action." Leipold recalled discussing with Goff the improvements that could benefit the current players, "and he went to work. He understood. And to see their faces a week ago, walking into their new environment. … It's their work. It's their hours they put in, and it's gonna be the future."
Lawrence native and junior running back Devin Neal spoke for his teammates. "The momentum is already real, but today it went to another level," he said. "From the very top of the state and University, everyone is aligned in trying to provide the very best for my hometown. That means so much to me. I knew when I committed to KU that I was making the right choice, because I wanted to help be the change."
Jennifer Jackson Sanner, j'81, is editor of Kansas Alumni magazine.
Renderings by HNTB
Photo by Steve Puppe