KU Homecoming 2022: Festive rites of fall
Homecoming revelry resurges along with KU football fervor.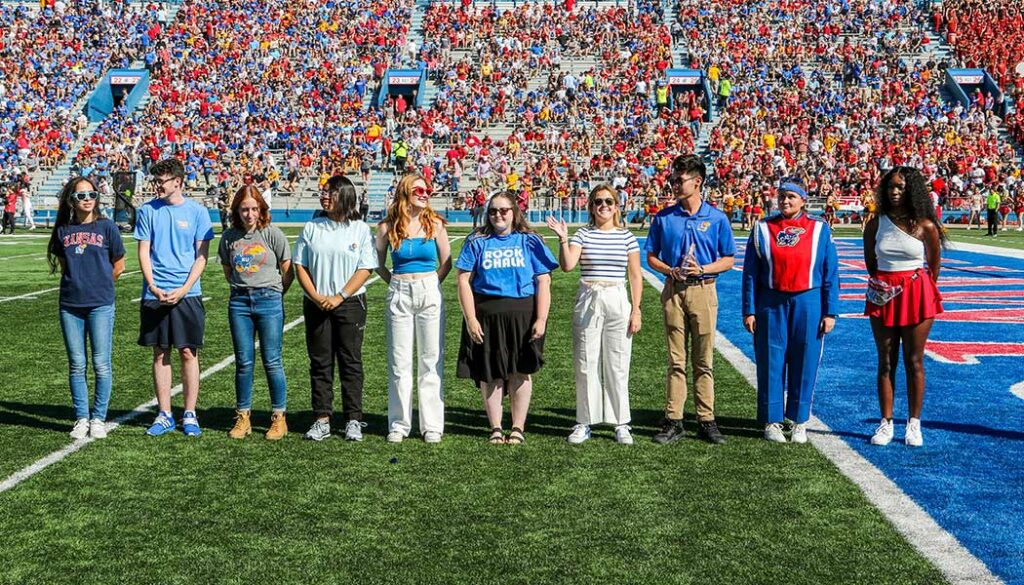 With the theme "Home on the Hill," the University celebrated its 110th Homecoming—its first since the onset of COVID to feature a full slate of on-campus events—by welcoming returning alumni and stoking student spirit Sept. 26-Oct. 1. Capped by a thrilling 14-11 victory over Iowa State at David Booth Kansas Memorial Stadium, the weeklong festivities were marked by a resurgence of enthusiasm and participation, according to Paige Freeman, the Association's director of student programs.
"We had a lot of buy-in from the campus community and the Lawrence community, simply because everyone was excited to be back with a full schedule of in-person events," Freeman says. "Everyone is wanting to celebrate what it means to be a Jayhawk right now, and we saw that not only from students, but from alumni as well. The vibe was energetic and full of that Jayhawk spirit. The full in-person schedule fueled that—and it's no secret that our football team winning made all the difference."
Student events mixed traditional favorites and new activities designed to engage a broader range of Jayhawks in the fun. Popular activities included the return of the traditional Homecoming Kickoff rally and the introduction of two signature events: a Silent Disco Party and a Rock the Mic karaoke night. Traditional competitions like Chalk 'n' Rock and Jayhawk Jingles expanded entry categories to encourage more participation.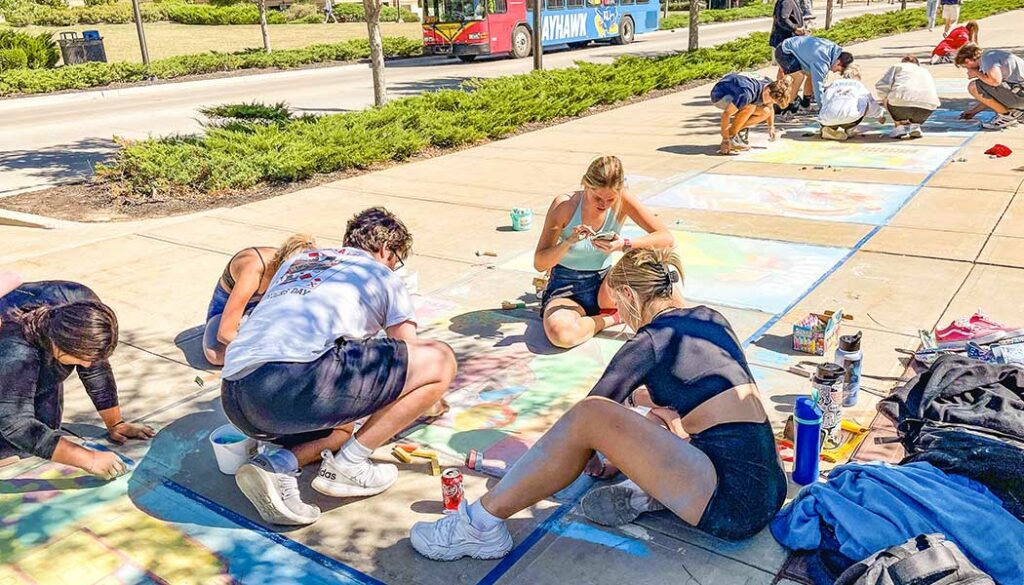 For alumni, the Association hosted socials in Lawrence and Kansas City and moved Kyou Networking Week—a series of virtual and in-person career events for professionals in a wide range of fields—to coincide with Homecoming week.
"We saw that there was a gap in our offerings, for students and alumni, and we created some new, signature events that—paired with some old favorites—helped create additional space for alumni and students to have fun and be in community," Freeman says.
Enlisting more KU and city leaders in the Homecoming planning process, and continuing the effort begun last year to include more student organizations and a more diverse student population, also helped raise the energy level. Enthusiasm carried into Friday night, as the Rock Chalk Block Party on Mass Street, another new event, co-hosted with Kansas Athletics, brought the week to a rollicking close and set the stage for the Jayhawks' sold-out game against Iowa State.
Homecoming 2022 was sponsored by Best Western Plus-West Lawrence, Central Bank of the Midwest, Konica Minolta, the KU Bookstore and Pepsi Zero Sugar.