Regional research surge: KU Medical Center receives NIH grant
National Institutes of Health grant worth nearly $27 million boosts clinical and translational research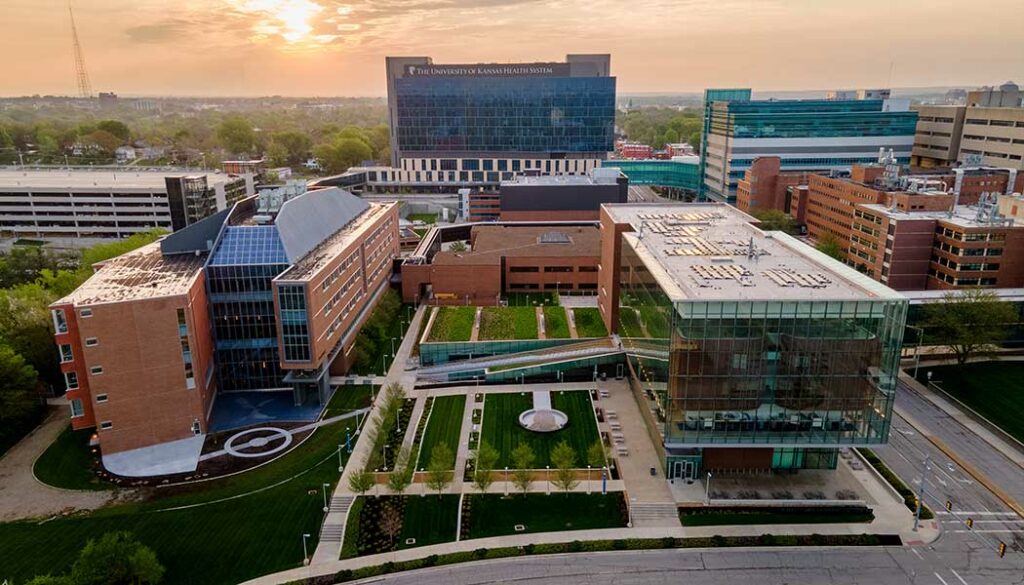 KU Medical Center in September announced a five-year, nearly $27 million grant from the National Institutes of Health that will fund Frontiers Clinical and Translational Science Institute at the University of Kansas.
While this grant is awarded to the University and administered through KU Medical Center, it represents a far-reaching regional initiative with principal investigators at both KU Medical Center and Children's Mercy Kansas City.
"The University of Kansas is proud to celebrate this accomplishment," said Chancellor Doug Girod. "The impact of this grant goes far beyond its direct funding, impacting the entire region with the power of its partnerships, collaborations and innovations. This work helps ensure KU is ahead of the curve nationally."
The institute is part of a network of 62 such hubs nationwide that are funded with grants from the National Center for Advancing Translational Sciences (NCATS), part of the National Institutes of Health. Frontiers accelerates research by:
Connecting scientists to resources
Facilitating collaboration among researchers, communities and institutions, and
Offering training.
Girod also noted the Clinical and Translational Science award propelled KU into an elite class: "KU is one of only 28 U.S. universities with a cancer center, Alzheimer's disease research center and a clinical translational science institute, all recognized with a national designation by appropriate agencies within the National Institutes of Health."
Robert Simari, m'86, executive vice chancellor at KU Medical Center, noted that the work of Frontiers has become even more collaborative with this latest grant renewal, providing researchers from many different institutions with additional opportunities to collaborate, connect and solve complex problems.
"One of our primary missions is to encourage discovery and collaboration to find treatments and cures to benefit the health of Kansans and beyond," Simari said. "This NCATS award will ensure continued growth and acceleration of our research efforts by embracing partners throughout the region."
Mario Castro, co-principal investigator on the Frontiers grant and vice chair for clinical and translational research in the department of internal medicine at the KU School of Medicine, noted that Frontiers is well positioned to begin its next chapter.
"We are excited to launch the next phase of our Frontiers Clinical and Translational Science Institute, where we have expanded our partnerships to address the clinical and translational research needs of those living in Kansas and western Missouri," said Castro, L.E. Phillips and Lenora Carr Phillips Professor. "Frontiers fosters research that is innovative and cutting-edge. We strive to improve health care and to achieve health equity for our patients, especially the underserved and historically excluded, including those in rural locations."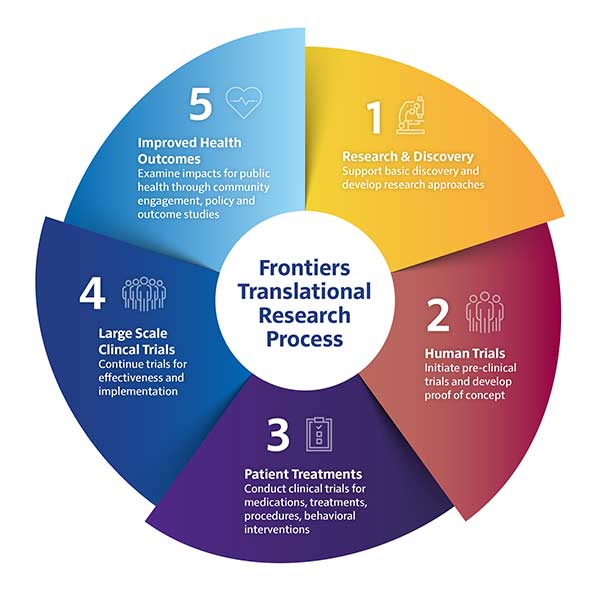 For the first time in Frontiers' history, its work will be jointly led.
"I am excited to work with Dr. Castro and all members of the broad Frontiers community to achieve our goal of accelerating the development of research discoveries into improved diagnostic and treatment options for the patients, families and communities that we serve," said J. Steven Leeder, co-principal investigator on the Frontiers grant and deputy director of the Children's Mercy Research Institute. "It is our intent for Frontiers to become the academic home for investigators engaged in all forms of clinical and translational research at our partner institutions to identify and break down barriers and improve better health outcomes for all."
While the principal investigators are at KU Medical Center and Children's Mercy, other partners include:
Kansas City University
Kansas State University
University of Missouri-Kansas City
Saint Luke's Health System, and
The University of Kansas Health System.
Additional funding of up to $12 million will be provided by the partners as they support the work of Frontiers at their own institutions.
Kay Hawes, c'89, g'94, is associate director of news and media relations at KU Medical Center.
Photograph by Tim Seley, KU Marketing; graphics courtesy of Frontiers Clinical and Translational Science Institute