Colossal investment boosts KU Cancer Center project
Philanthropic gift from the Sunderland Foundation is the largest in the history of KU, state of Kansas.
by Jennifer Jackson Sanner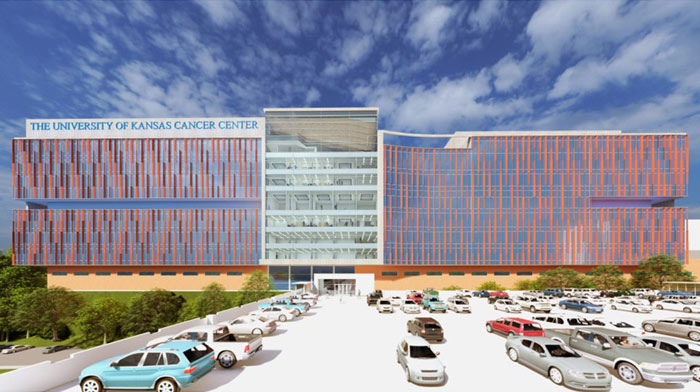 A historic gift of $100 million, plus $43 million in federal research funding, will help The University of Kansas Cancer Center take a giant step toward building a new Kansas City headquarters—and achieving its goal to unite all of the center's research and clinical outposts across the metro area under one roof on the KU campus at 39th and Rainbow.
The Sunderland Foundation, which has helped fund several new KU buildings in Kansas City and Lawrence, contributed the eye-popping $100 million, the largest philanthropic gift in the history of KU and the state of Kansas.
During the formal announcement June 27, Charlie Sunderland told a jubilant crowd that the gift signified the foundation's commitment to assuring that KU's advanced cancer research and treatment will "benefit a large, diverse population for many decades to come. We have a long history with KU, and we have great trust in this team. We look forward to making more strides in the future."
U.S. Sen. Jerry Moran, who in July 2022 heralded the news that the KU Cancer Center had achieved National Cancer Institute (NCI) comprehensive designation, once again had the honor of reporting good news: Congress and President Joe Biden have allocated $43 million in National Institutes of Health funding to support construction of the new KU Cancer Center headquarters. Over the past three years, the NIH has invested $243 million in KU research, said Moran, c'76, l'82, and the latest infusion for the new building will make KU a world-class center for cancer research and treatment.
Moran's guest for the special occasion was Dr. Lawrence Tabak, acting NIH director, who commended KU for uniting teams of great people who are passionate about their mission. As one of only 54 NCI comprehensive cancer centers in the nation, KU already has demonstrated "depth and breadth of knowledge across many scientific disciplines," he said, noting that the NCI last year acknowledged that having labs and clinics scattered across the Kansas City area was not the most ideal approach, "so we very much look forward to this new facility."
Tabak also hailed KU's most recent advances, including five anti-cancer agents, now in clinical trials, to treat bladder cancer, and promising new early detection of ovarian cancer. He praised KU's work across Kansas and Missouri to promote education and awareness of breast cancer prevention and the dangers of tobacco use and obesity. And he put the decades-long challenge to treat cancer in personal terms familiar to countless families: "The cancers that took my mother, my aunt and an uncle would have been cured today," he said. "But we have to keep going, because the cancer that took my grandfather is still a challenge. We have much work to do."
Tabak's words echoed the tireless, inspiring crusade of Dr. Roy Jensen, Cancer Center director, who since 2004 has led KU's quest to reach the pinnacle of research and treatment and one day eliminate cancer. In July 2012, when KU first achieved NCI designation; in July 2022, when KU rose to comprehensive status; and this summer, with the announcement of $143 million toward the construction of a new headquarters, Jensen set his sights on the heights still to climb.
Cancer is not one disease but hundreds, he said, and only continued collaboration among dedicated, passionate scientists and clinicians can vanquish the scourge. By building a new hub for all of its research and treatment programs, "The University of Kansas Cancer Center will become a global destination and a blue beacon of hope on the hill for all cancer patients."
Jennifer Jackson Sanner, j'81, is editor of Kansas Alumni magazine.
Image courtesy of KU Medical Center