Scholarly enterprise grows
Four new projects aim to improve health, security, biodiversity and inclusion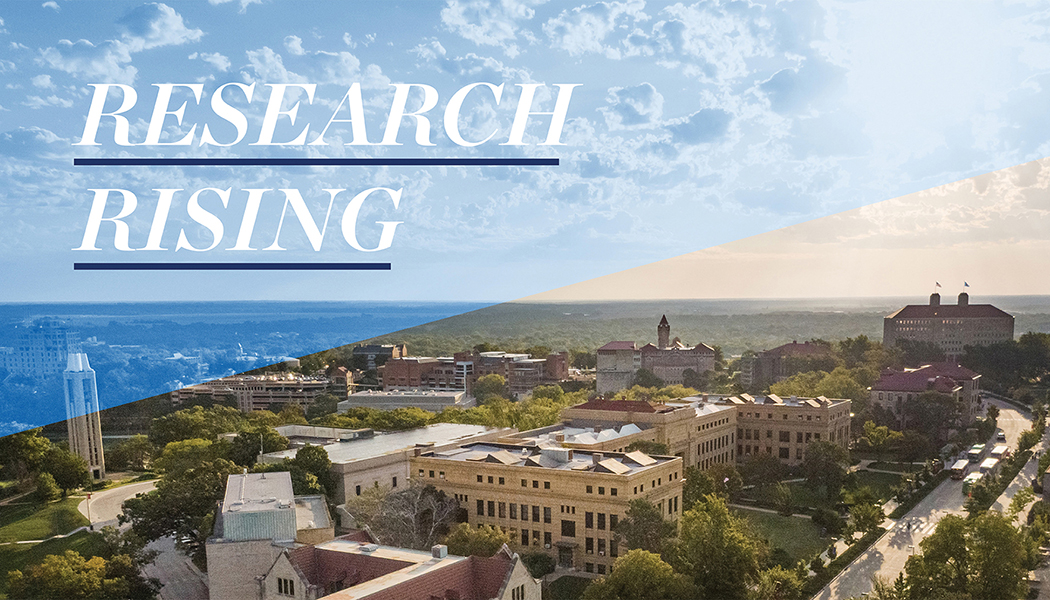 Michael Wolfe knows what it's like to watch a loved one suffer from a devastating illness and wish fiercely that a medication could save their life.
"I felt helpless as my father withered and died from Alzheimer's disease," says Wolfe, the Mathias P. Mertes Professor of Medicinal Chemistry. "He's been gone over 10 years, and there are still no effective agents for this terrible illness."
Such challenging and complex problems in human health require a new way of thinking about drug discovery, Wolfe says, and he and his collaborators are launching a KU research center focused on just such an approach. Through the multidisciplinary Center for Systems Pharmacology & Translational Science, researchers on the Lawrence and KU Medical Center campuses will harvest large amounts of biomedical data, using artificial intelligence to enhance our understanding of diseases at a holistic level and accelerate the discovery of medications to treat them effectively.
The team is one of four selected to receive support through Research Rising, one of the University's most significant investments in its research enterprise to date. Each team will receive $3 million over five years to support projects that rose to the top of a strong pool of finalists after rigorous review by nationally and internationally recognized experts. Research Rising is part of the overall effort to grow research, a key goal of KU's Jayhawks Rising strategic plan.
"These exciting projects bring together KU researchers from across disciplines to address critical challenges facing humanity. The knowledge, ideas, approaches and solutions generated by these teams will benefit people in Kansas and beyond," says Simon Atkinson, vice chancellor for research on the Lawrence campus. "What's more, these teams will be highly competitive for federal research funding, so we anticipate a steady influx of external dollars in the future that will outpace KU Endowment's initial $12 million investment to help establish these initiatives at KU."
Research Rising differs from other internal funding competitions at KU in that it prioritizes tenure-track faculty recruitment as a central feature of the projects—building lively intellectual communities that are attractive for top researchers and scholars. The funded projects will bring 14 new faculty members to KU in a range of disciplines, as well as several postdoctoral fellows and staff positions. The projects also support KU's commitment to diversity, equity, inclusion and belonging by incorporating robust plans to increase representation and participation by members of historically marginalized groups, train new and existing researchers in DEIB best practices, and conduct public outreach to make science accessible and understandable for a wide audience.
Each of the four ventures aligns with one or more of KU's five strategic research themes:
• Development Across the Life Span
• Earth, Energy & Environment
• Human Experience in the Digital Age
• Molecules & Medicines
• Safety & Security
These themes correspond to major global challenges and represent opportunities for KU to build upon its historic and emerging strengths. Along with the Center for Systems Pharmacology & Translational Science, Research Rising will fund three additional projects to address important global needs:
Cybersecurity
There's a famous New Yorker cartoon in which a dog sitting at a computer tells another canine nearby, "On the internet, nobody knows you're a dog." That's the essence of the cybersecurity problem, says Perry Alexander, AT&T Distinguished Professor of Electrical Engineering and Computer Science and director of the Institute for Information Sciences. We don't always have a good grasp of what's happening online, we often can't control the information, and the battlefield is all around us.
"We have counted on in the United States forever that we have oceans on either side, and we've counted on in Kansas that we're right in the middle of the United States," Alexander says. "In cybersecurity, that makes no difference at all. Everything is right next to everything else. We can move information across the globe instantaneously, so our physical location is not going to help us."
If someone figures out a way to introduce malware to interrupt U.S. supply chains, for example, they can copy and automate that "weapon" for free and unleash long-lasting havoc in an instant. And we have not yet established adequate scientific principles or social policies to manage cybersecurity, Alexander says.
As antidote, he and his colleagues are building and sustaining "an interdisciplinary, multicenter institute focused on holistic solutions for securing our physical, digital and social worlds." The institute will organize KU's existing expertise and hire additional faculty into three research centers, weaving them "into an interdisciplinary unit that can attack all aspects of the cybersecurity problem."
Genomics
"Our understanding of the fundamental rules of life has been transformed by the ability to map and study the entire genome, or all the genes present in an organism," says Jennifer Raff, associate professor of anthropology. "Genomics research profoundly affects the lives of most people."
Indeed, KU genomics researchers are tracking the evolution of coronavirus variants, enhancing agricultural productivity, identifying genetic variants associated with disease risk, and expanding understanding of how climate change and human activity impact biodiversity. Their work intersects at the KU Center for Genomics, established in 2021 to bring together biomedical investigators and those using genomics to study fundamental biological questions of development, behavior, evolution and ecology.
Research Rising funding will allow the center to build on its collaborative mission by hiring new faculty and staff, expanding training and outreach, and bolstering computing infrastructure. The research team that includes Raff and others will be led by Rob Unckless, associate professor of molecular biosciences and director of the KU Center for Genomics, and Lena Hileman, professor and chair of ecology and evolutionary biology.
Disabilities research
Two videos documenting a KU Life Span Institute research outcome illustrate the power of targeted interventions for people with intellectual and developmental disabilities. In the first video, a young boy with autism plays alongside a neurotypical boy in a classroom. They don't interact at all. The child with autism then receives instruction and assistance via a small tablet developed as part of a research study led by an institute investigator. In the second video, the two children are now interacting as they share work together.
"These improvements will contribute to better learning and social engagement for this child and, if maintained, will serve this child well throughout his lifetime," says John Colombo, professor of psychology and director of the Life Span Institute.
But not all interventions work for every individual. Colombo's Research Rising team will enhance the institute's 66-year prominence as a national hub for intellectual and developmental disabilities research by hiring genomics and data science experts who can help KU researchers better understand the tremendous variations among people with similar conditions and develop more personalized supports. "Our project is centered around the goal of cultivating the multidisciplinary research environment needed to develop these more personalized approaches for supporting neurodiverse populations," Colombo says. "Ensuring inclusion, participation and contribution to society by neurodivergent individuals is important to all of us."
Paget, c'99, g'01, is assistant vice chancellor of diversity, equity, inclusion and belonging and director of external affairs in the KU Office of Research.