When controlled chaos seems to be the new normal, the simplest, everyday tasks and symbols can steady us and offer solace.
As fall 2020 classes began, a 58-second video of Bill Novotny, custodial supervisor and staff fellow, climbing the stairwell inside Fraser Hall did the trick. 
Novotny, a six-year KU veteran, did what he has done many times before: He hoisted the KU banner up the flagpole to its rightful place atop Fraser, where it waves, alongside the Stars and Stripes, greeting and comforting Jayhawks near and far.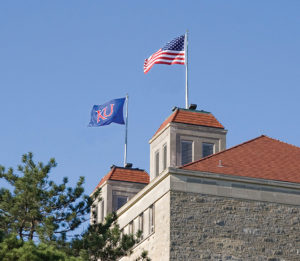 "Welcome home, Jayhawks," intoned the video so elegantly crafted by the creative wizards of KU Marketing Communications, assuring us all that, no matter what, "We'll show up, and we will resound." Amid pandemic and uncertainty, we raise our flag—and our chant. 
So began the first week of classes.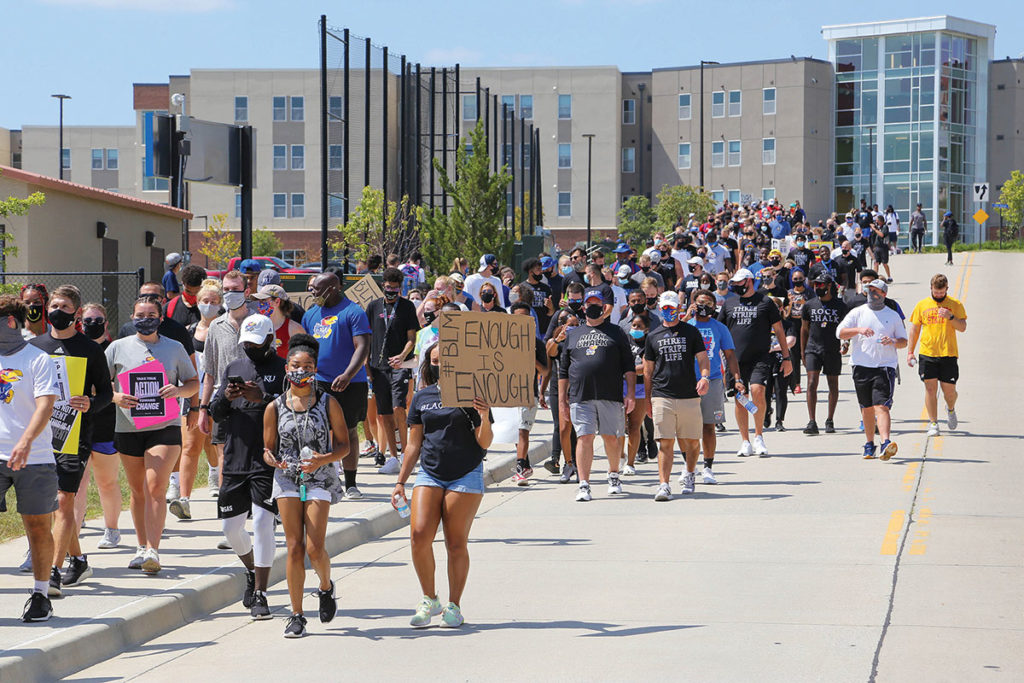 The week ended with another heartening, hopeful sight: hundreds of Jayhawks marching across campus to proclaim their commitment to the Black Lives Matter movement and their determination to eradicate the persistent plague of racism and injustice. 
A few days earlier, as members of the women's basketball team shared their anguish during a team meeting, they yearned to take action, to make a public statement. They sought help from their coaches and other Kansas Athletics leaders, and together they made it happen. At 1 p.m. on Friday, Aug. 28, the march began at Stouffer Place Apartments on 18th Street and headed up the Hill, along Jayhawk Boulevard and down to David Booth Kansas Memorial Stadium. The throng increased as students, faculty and staff, including Chancellor Doug Girod and Provost Barbara Bichelmeyer, joined the march. Nearly 1,000 people processed peacefully, carrying signs and shouting their solidarity. 
Jayhawks showed up. They resounded.
When Emma Merriweather, a junior from Buena Park, California, urged her teammates and others to march, she did not realize that Aug. 28 was the anniversary of the March on Washington in 1963 and Emmett Till's murder in 1955. Some might venture to say that KU's march was meant to be. 
Of course, only time will tell whether the collective efforts of the Jayhawk family, including many new initiatives that aim to increase unity and inclusion, will truly make an impact. 
But those who marched—and many of us who wish we had—hope that change is gonna come. 
As Wayne Simien, c'05, two-time All-American who now mentors KU players as a volunteer chaplain, told the marchers assembled in the stadium: "To be able to come and gather together here, in this moment, to promote peace, unity, equality, diversity … is extremely, extremely important. So let's not allow it … to be just one moment, one afternoon that we participated in. Let's allow it to mark our lives in being committed to a lifetime of promoting peace and unity and equity and diversity."
Amen.
Photo credits
Top: Steve Puppe
Middle: Kansas Athletics
Bottom: Dan Storey