KU Health System's COVID-19 broadcasts explore return to school
The University of Kansas Health System's daily COVID-19 briefing, launched at the outset of the coronavirus pandemic as a resource ...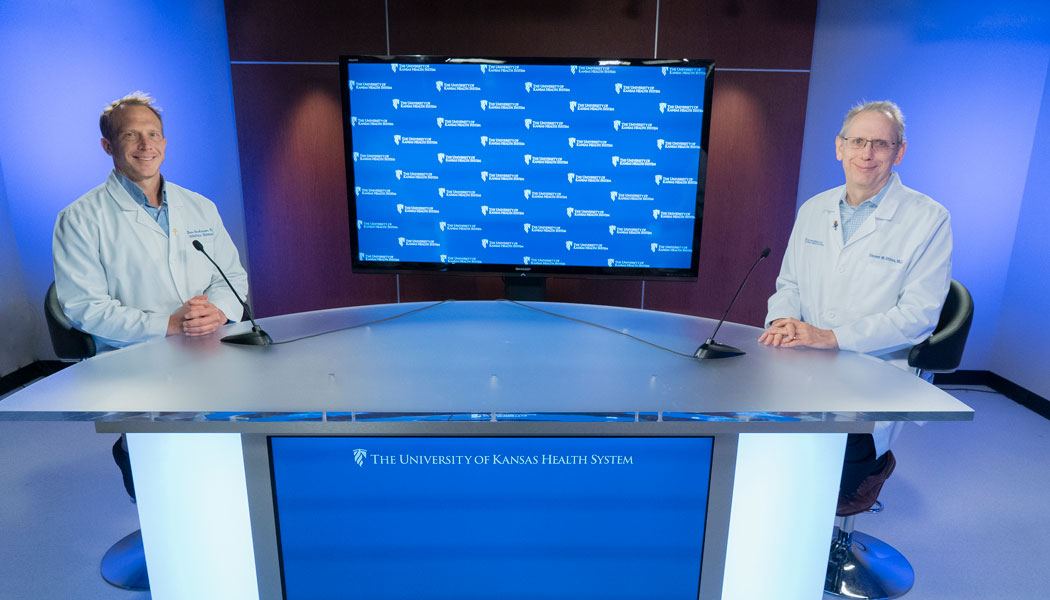 The University of Kansas Health System's daily COVID-19 briefing, launched at the outset of the coronavirus pandemic as a resource for area reporters and news directors, has blossomed into must-see viewing for journalists and members of the public alike, all of whom can tune in live on Facebook at 8 a.m. on weekdays or watch archived replays on Facebook—@KUHospital—and YouTube.
Anchored by Professor Steven Stites, the KU health system's chief medical officer, and Dana Hawkinson, medical director of infection prevention and control and associate professor of infectious diseases, each 45-minute broadcast begins with a guest to discuss a topic of the day, then opens up to questions called in by reporters and culled from Facebook comments.
"It feels like people are trying to find reasonable, fair, balanced, thoughtful information," Stites told Kansas Alumnimagazine, "as opposed to people shouting at each other."
A behind-the-scenes look at the history and future of the daily COVID-19 briefing will be featured in the next issue of Kansas Alumni magazine, due out in September, but a timely update is also warranted to help spread awareness of next week's broadcasts: reopening K-12 schools.
"The question you have to ask yourself is, how do I stay safe?" Stites says. "The answer is a little bit harder than just saying, we should open up, or not open up, schools. The question is, how is your school opening up?"
Stites and Hawkinson urge concerned parents to investigate their school's proposed procedures: Will masks be required for everyone in the building and will desks be at least 6 feet apart? Will outdoor activities be emphasized? Are reduced weekly attendance schedules an option? Can parents be assured that teachers and administrators won't cluster in small rooms to discuss lesson plans?
"There are important things that our kids need to go to school for," says Hawkinson, g'00, m'05. "This is for their mental and emotional health and their social and physical development, and also for the learning itself. Most parents, myself included, are not good teachers because that's not what we do every day. We can't direct our kids to learn in a way that somebody who is not the parent, and who is paid to do that, can.
"For those reasons it certainly is important, but there has to be thoughtful and methodical ways to reduce the risk as much as possible when the kids do go back to school."
On Monday, July 20, the KU panel will be joined by doctors from Children's Mercy and a KU psychologist to discuss pediatric medical issues and anxiety in children who are afraid to return to school. Tuesday's panel will address youth sports guidelines, and on Wednesday the panel will welcome Randy Watson, the Kansas Commissioner of Education, as well as a psychologist who will discuss anxieties faced by teachers.
The Thursday, July 23, panel will include Allen Greiner, m'95, g'00, and Erin Corriveau, KU School of Medicine faculty in family medicine who also serve Wyandotte County's Unified Government Health Department, to discuss that large district's reopening plans. The week will conclude on Friday with a show dedicated to answering community questions.
"At the end of the day, the rules of how to stay safe don't change," Stites says of engineering the 2020 classroom experience. "They didn't change when we opened up society so people could go to bars. They don't change when we open up schools and they don't change when we start up sporting events. The rules of staying safe around COVID and coronavirus—SARS-CoV-2—do not change. We want them to change, right? But the truth is, the basic principles don't change.
"If you're going to reopen schools as if it was a baseline, normal day, then you're not going to be safe. We just learned that the hard way. So how can you stay safe? I think that's got to be the question, and I think every district is handling this just a little differently."