Lauded coordinator takes reins
Former star KU linebacker Jason Thoren assumes Baker's top job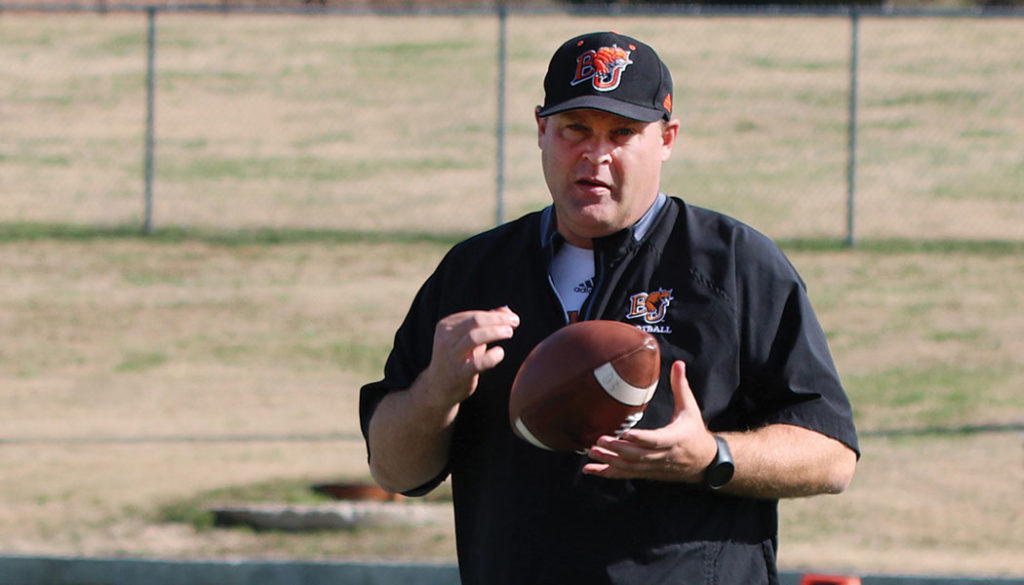 Jason Thoren says he learned his recruiting philosophy from Glen Mason: "'Would you pick 'em in the backyard?' It's so true. As a kid, you knew who to pick and who not to pick."
As a linebacker at Lawrence High, Jason Thoren was named the Kansas City metropolitan area's outstanding player. He went on to become an all-conference linebacker at KU, and in his 15 seasons at Baker University, Thoren was named the Heart of America Conference's assistant coach of the year three times.
Now that he enters his first season as Baker's head coach, Thoren is acutely aware that, given his extensive local history, the Wildcat football storyline could become all about him.
He hopes to change that narrative.
"It's not the coach's team. It's the players' team," Thoren says. "It's their experience, and that's what is important to me. As a coach, you can sign up for another season. As a player, there's a limit. That's my approach. It's a player's game, for sure."
When his KU playing days were done, following the 1997 season, Thoren, d'00, coached a season each at Lawrence and Free State high schools and finished an internship with the Kansas City Chiefs, including a brief stint with the Berlin Thunder of NFL Europe. Thoren then rejoined his KU coach, Glen Mason, as a graduate assistant at Minnesota.
After three seasons with Mason, Thoren returned to Douglas County to join the coaching staff at Baker University, in Baldwin City. After coaching defensive backs for one season, he was named defensive coordinator, a job Thoren held until the unexpected departure of coach Mike Grossner, in January.
Baker officials immediately named Thoren the team's interim coach, and removed the tag a month later.
"Jason is one of my favorites, and it's absolutely no surprise to me whatsoever that he's had success," Mason says. "Baker University could not have hired a better guy to lead that program."
Steady progress from four-win seasons early in Thoren's tenure has resulted in the Wildcats becoming perennial contenders. Last year they won their fourth-consecutive Heart of America South Division title and advanced to the quarterfinals of the NAIA Football Championship Series.
"There's a level of dedication with these kids," Thoren says. "There's times I'm watching them and listening to them and the hair stands up on my arms. It's special. Our kids are hungry."
Although it's rare for superior former players go on to successful coaching careers, Thoren says he's been able to succeed thanks to the mindset of his playing days, when, beyond the typical film and playbook study, he diligently honed esoteric skill sets such as fast instincts and confidence.
"Any coach is with me for two hours a day; I'm with me 24 hours a day, so you're always coaching yourself. As a coach, I learned early on that I just have to transition what I would be telling myself into somebody else's athleticism and ability."