Scott Francis finds satisfaction in high-flying stunts and tricks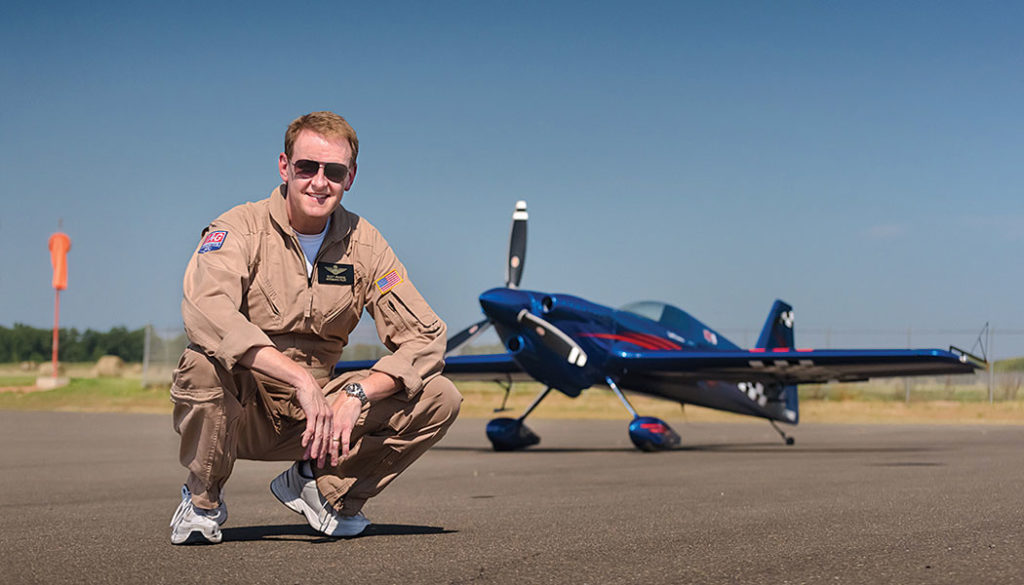 "I've taken my aerobatic flying a lot further than I ever thought I would," says Scott Francis, a third-generation pilot. "I would always like to fly more shows and bigger shows, but I have to be honest, I'm pretty happy with where I am."
By the time Scott Francis arrived at KU in 1985, with his recently earned private pilot's license and a full-ride Navy Reserve Officer Training Corps scholarship, the Wichita native seemed poised to fulfill his dream of becoming a fighter pilot. The only thing standing in the way was his uncorrected vision, which didn't meet the Navy's strict guidelines.
"Basically, there was no chance that I was going to get to fly in the military," says Francis, e'89, g'92, who decided to leave the ROTC program and instead focus his energy on an engineering degree.
Flying, and engineering, ran in the family: Francis' father, Bud, e'62, studied aerospace engineering at KU and was an experimental test pilot for Wichita manufacturer Beech Aircraft. His grandfather flew for commercial airlines.
"While my father did a lot of flying, he was really an engineer first and a pilot second," Francis says. "I had this sense that engineering would carry my career, and then I would just look for opportunities to fly."
Turns out, he didn't have to look far. In 2003, Francis started taking lessons in aerobatics, a type of flying that involves stunning maneuvers, such as loops, rolls and spins, and aircraft attitudes not seen in normal flight. At the suggestion of his instructor, Francis signed up for a local competition. He was instantly hooked.
Months later, he purchased his first aerobatic biplane, a Pitts S-1T, and worked his way up the competition ranks, earning his commercial, instrument, multi-engine and Airline Transport Pilot certifications along the way. It wasn't long before he was performing in airshows.
"Airshows are a lot more about just letting your hair down and doing crazy things with airplanes," Francis says, "whereas competition aerobatics is kind of like Olympic ice skating—it's all about doing things very precisely."
These days Francis focuses solely on airshows, performing about 20 times a year near his hometown of Dumfries, Virginia, and across the country. In 2013, he upgraded his second plane, a Giles 202, to an MXS, which is "really a rocket ride," according to Francis. The high-performance, carbon-fiber aircraft can reach speeds of up to 320 mph and has a roll rate of about 540 degrees per second, the equivalent of a roll and a half per second. At times, Francis can pull as many as 12 Gs in the monoplane.
In addition to doing airshows, Francis is a test pilot and lead engineer for a military program creating the next generation of airborne surveillance aircraft, a job that perfectly blends his engineering and aviation backgrounds. But it's the thrill of stunts and tricks that truly satisfies this self-described speed-junkie.
"To me, it's just the ultimate high," Francis says. "When you start out flying aerobatics, by definition, you suck at it, right? That's just the way it is. But as you get better it's just so satisfying. Things that you couldn't even imagine doing a year ago, now you're doing them routinely. So you just keep trying harder and harder things that used to be beyond your skill level and now they're not. For me, that's just really satisfying.