In alumna's second novel, DNA test spurs journey into meaning of family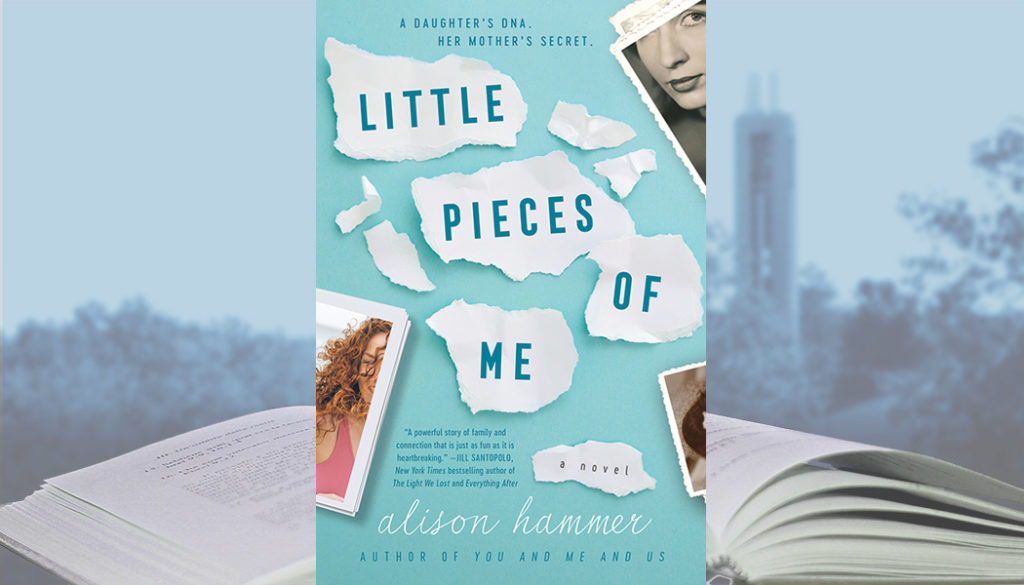 Chicago advertising executive Paige Meyer loves a man who cherishes her every word and mood, and she adores her two unlikely friends-for-life. But, as author and Chicago advertising executive Alison Hammer, '01, reveals in the fast-paced opening of Little Pieces of Me, her second novel, Paige can't breathe.
She's been laid off from her job and frets over her 43rd birthday. Her supercilious mother back home in St. Louis grates on her last raw nerve. And, churning just beneath the ripples of otherwise commonplace troubles, her father's car-crash death two years earlier still hurts in unexpected ways, stopping Paige cold when she allows herself fleeting feelings of good cheer.
At this unsettled moment, Paige gives no thought to an email from FamilyTree.com; she had submitted a DNA kit as part of her research for a failed pitch on behalf of her former agency, so the company now means nothing to her. Upon closer inspection, even the news that FamilyTree found a parent-child match is shrugged aside.
It must be a mistake on their end—I would know if I'd ever had a child.
From the moment Paige learns that she is the child half of the life-altering DNA match, the search is on for her biological father and his place in her disjointed world.
I look out the window at the apartment building across the street. If someone over there is looking in here, I wonder what they'll see. A woman about to have her world knocked off its axis.
"I want to tell you a story," Aunt Sissy says.
Hammer's confident narrative soars as Paige's free-spirited aunt reveals details about an unfortunate night of passion back in the late 1970s, when Sissy, Paige's mother and both of her fathers were all Jayhawks who socialized at KU Hillel.
As close as she was to the events in question, though, Sissy doesn't know everything—far from it—and it's left to Paige to illuminate, with a depth of compassion that startles even her, the true identities of her uptight mother, the "DNA dad" assumed to be a predatory Lothario, and the fine father who raised her as his own despite unmistakable differences in physical features.
Families are complicated and, as Paige learns, parents were once young, too, and unsure of themselves, and the future is found only in forgiveness.