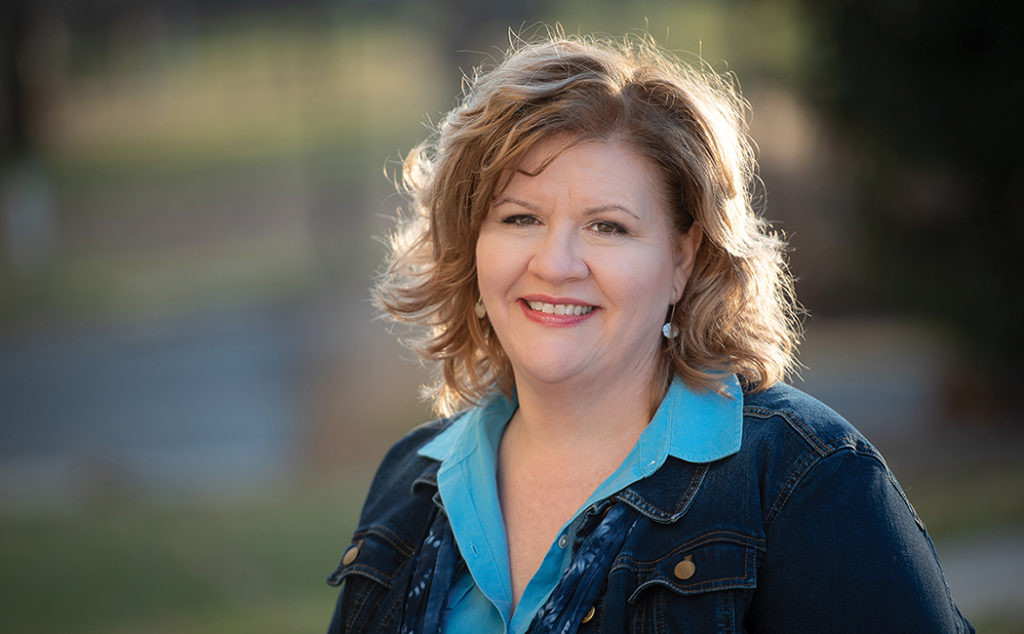 After losing both her father and husband 20 years ago prompted Toni Brou to adapt the motto "The sun always rises," the visual artist began crafting smiling sun artworks that draw inspiration from her father's love of making art from found objects in his Dodge City workshop.
Since 2011, two dozen of Brou's suns—which she sculpts and affixes to hubcaps before painting—have been featured on the long-running CBS News program "Sunday Morning." Now her digital collage "Sun Over Sunflowers," which combines her sculpture "Spring's A Comin'" and her photograph of Grinter's Sunflower Farm, is featured in the show's first calendar, Follow the Suns, a 2022 day-to-day calendar published by Simon & Schuster.
"The current sun curator at the show has been at her position for 20 years and during that time hand-picked 9,000-plus suns," says Brou, f'91. "When I heard my sun was one of 12 chosen out of 9,000 shown over the years, I was kind of shocked—and very honored."
In addition to her sun sculptures, Brou also creates ceramics, paints silk scarves, and does graphic design, including for Kansas Alumni. See more of her work at tonibrou.com.
Making art is a meditative activity that has helped her cope with personal loss, and she often hears from people who say her suns do the same for them.
"When I was first widowed, I had three little boys, and holidays were really difficult," Brou says. "We had family friends who always made sure we weren't alone. At one holiday dinner, a really kind lady told me a story about her dad. He worked in Colorado on the railroad and would get up in the middle of these brutal winters early in the morning to go to work, and he'd always say, 'Well, spring's a comin.' I knew she was trying to tell me things would get better.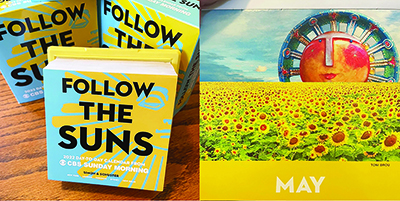 "So now that I've kind of come through—hopefully—the worst of things, I like to encourage other people. It's really worth a lot to know that it's helping someone else."
Self lecture features Kendi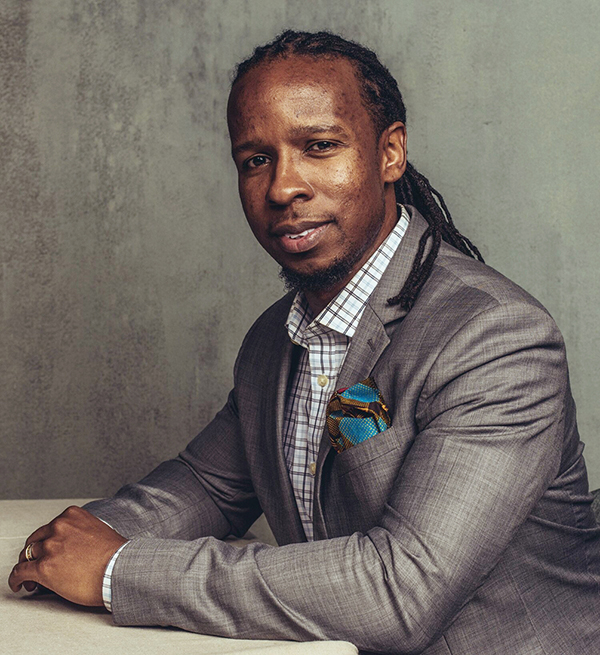 The best-selling author of How to Be An Antiracist, Ibram X. Kendi, visited campus Oct. 7 for the annual Self Graduate Fellowship Symposium Lecture, joining Professor of Film Kevin Willmott in a wide-ranging discussion on race in American politics, history and culture.
Asked what the Jan. 6 riot at the U.S. Capitol says about the scale of division now, Kendi noted that the bid to overturn election results through violence is both a result of the campaign to misinform Americans about what constitutes the gravest existential threat to the republic and a very stark demonstration of the real threat—namely, white supremacist domestic terrorism.
"In recent decades we've realized that climate change is an existential threat, in the last year and a half we've realized that pandemics are an existential threat, and what I'm also trying to get the American people to realize is that bigotry is an existential threat," Kendi said. Many forms of bigotry (racism, sexism, classism, ableism, homophobia, antisemitism) "are causing humans to see different groups as not human like them, that they're the problem, they're the threat. Certainly the scale of the division now is something that I think we should be concerned about, but not only the scale of the division, the scale of the denial. … There's mass denial about climate change, there's mass denial about the threat of pandemics and there's mass denial about a persistence of bigotry, despite all the inequality that persists between many of these groups."
The Andrew Mellon Professor in the Humanities at Boston University and founding director of the BU Center for Antiracist Research, Kendi is the youngest person to win a National Book Award, for his 2016 cultural history Stamped from the Beginning: The Definitive History of Racist Ideas in America. The week before visiting KU he was awarded a 2021 MacArthur Fellowship. His symposium appearance was sponsored by the Madison and Lila Self Graduate Fellowship program; Academic Success; Diversity, Equity, Inclusion & Belonging; and the Office of Multicultural Affairs.
Support for nurse educators
Baxter Springs native Christine Ness Hartley, n'73, g'86, and her husband, Ross, l'74, recently made a $1.5 million gift to KU Endowment, supporting nursing professorships at KU.
To honor her rural upbringing, Hartley, an avid skier who now lives in Wyoming's Jackson Hole valley, directed $1 million to establish the Hartley Rural Nursing Professorship for faculty at the KU School of Nursing Salina; $500,000 supports the Christine A. Hartley Centennial Professorship, currently held by University Distinguished Professor Janet D. Pierce, at the School of Nursing at KU Medical Center.
Hartley cites the influence of now-retired nursing faculty Rita Clifford, n'62, PhD'81, and Sue Popkess-Vawter, n'69, g'72, who allowed her to explore her interest in societal change while a student in the late 1960s and early 1970s, a time when authority figures tended to insist health care providers maintain distance from social upheavals of the era.
"My classmates and I stretched the faculty, we stretched our education, and we stretched our limits," says Hartley, whose nursing practice was in coronary and critical care and as a clinical nurse educator. "During that time there was some pushback for nursing students and professional nurses to actually be agents of change."