'Tough as nails' Garrett grinds out reputation as elite defender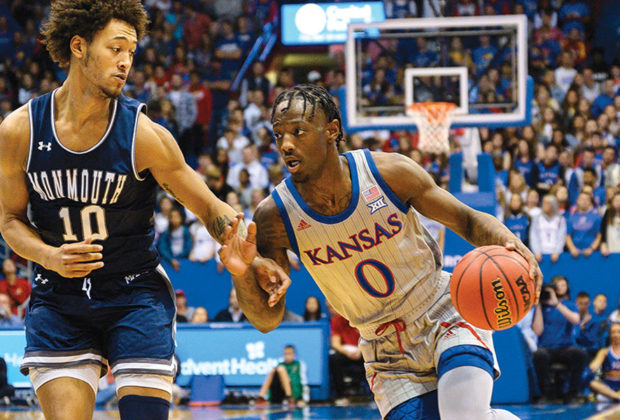 Since the concept of retiring jerseys to the Allen Field House rafters was initiated before the 1991-'92 season, criteria for the rarefied honor have come to include such gaudy credentials as national player of the year, two-time first-team All-American and consensus first-team All-American.
Will KU ever raise Marcus Garrett's jersey? Doubtful. Which probably won't be a huge disappointment to the laconic Texan, since he's already, even as a junior, a member of a much smaller group: Bill Self's unofficial "he's a stud" club.
"He's tough as nails," Self said of Garrett, a 6-5 wing from Dallas, after Garrett subbed for injured point guard Devon Dotson and racked up 15 points, five rebounds, and five assists against one turnover while playing 38 minutes as the Jayhawks' primary ball-handler and lockdown defender in KU's 66-52 victory Jan. 14 at Oklahoma. Oh, and this: Garrett was playing on two bad ankles, for which he has endured daily treatment all season.
"All the good teams we've had here that have had success have had guys that are considered 'glue guys,'" Self said before the Dec. 19 Villanova game. "Travis Releford. Kevin Young. Unbelievable glue guys. Landen Lucas, unbelievable glue guy. But I think [Garrett] takes it to another level. As good as we've been defensively [in the past], I don't know that we have anybody who guards like him since I've been here. We've had some good defenders, but I don't think we've had anybody better than him."
Self recently added an unexpected attribute for a player who can make Frank Mason III sound like a Chatty Cathy: "I think our team lacks personality. Dot's not a personality guy on the court. Ochai [Agbaji] isn't. To me, [Udoka Azubuike] and Marcus give us our personality."
Tough, an elite defender who relishes the chore, and some on-court panache: Self's kinda guy.
Garrett's teammates think so, too.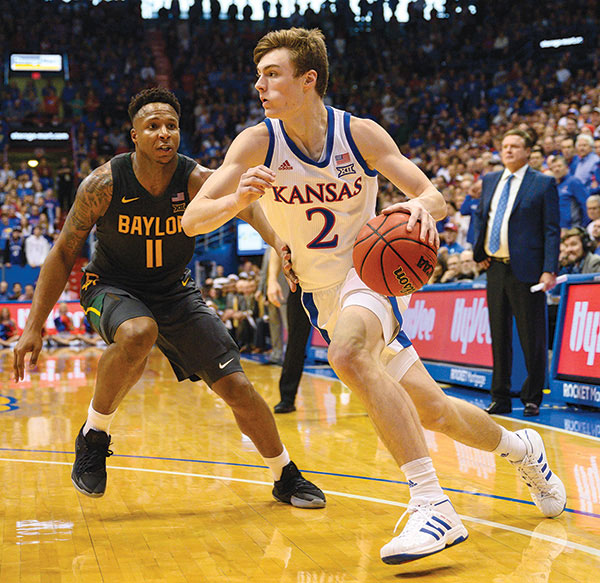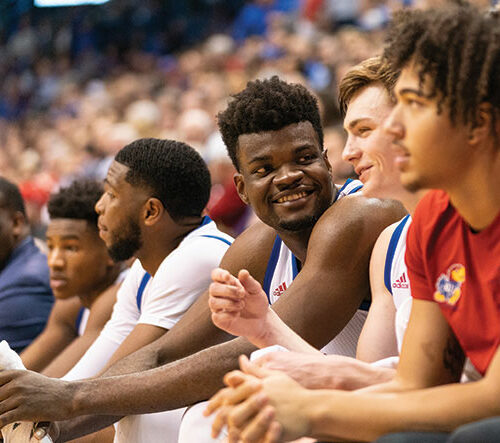 "I think Marcus does everything," says freshman guard Christian Braun. "I've realized that coach Self loves tough dudes, and I would say Marcus is one of his favorite dudes of all time."
"I look up to Marcus, defensively, and pretty much all of our guys do, too," says Agbaji, a sophomore guard. "He's our leader."
"Marcus, he's a do-it-all guy," Dotson says. "He's the guy we can rely on defensively and we can get energy from."
Garrett says he didn't grow up idolizing any particular player, but now follows Jrue Holiday, an 11-year NBA veteran who is a prolific scorer as well as a member of the league's All-Defense First Team.
"I feel like he's one of the best two-way guards in the NBA," Garrett says, "and he has the ability to defend multiple positions, too."
Turns out, playing multiple positions is yet another tool in Garrett's kit. He regularly rotates through all the perimeter spots, he can leap into the fray as an athletic forward, and he even took a few turns at center when two of Self's three big men were suspended after the Jan. 21 K-State melee.
After Garrett rang up 12 points and six assists in KU's 60-53 victory Jan. 4, West Virginia coach Bob Huggins said, "That's a hard cover when they play him at the four, because he can bounce it so well."
Garrett is known to pay attention to the national college basketball scene, but not as a fan. As Self told The Athletic's CJ Moore, "He sees it through a coach's lens, as opposed to just watching." Even the humble Garrett allows that he usually has his own scouting report prepared even before coaches break down film on an upcoming opponent.
Turns out, however, that Garrett doesn't do such a great job scouting himself. The "defensive savant," in the words of The Athletic, is averaging 5.11 assists a game through the first half of the Big 12 season, trailing only Iowa State's Tyrese Haliburton, a potential NBA lottery pick, and Garrett leads the conference in assist-to-turnover ratio at 2.88, far outpacing Haliburton's 1.82.
"I actually didn't know that until you just told me," Garrett said after KU's 69-58 victory Feb. 3 over Texas. "I definitely didn't think that was possible, before the season. It's kind of me being more aggressive this year, trying to make more plays."
After Garrett's gutsy performance filling in for Dotson at OU, Self, referencing Dotson's expected departure for the NBA, said, "There's no doubt who the point will be next year." It's an assignment Garrett would relish, but not one he wants this season. For now, he wants to play alongside Dotson, not for Dotson, and give Dotson much-needed breaks from the grind of defending the opponent's ball-handler while also bringing the ball up against pressure.
"When I see teams try to pressure [Dotson] and deny him the ball full-court, I always go ask him if he wants me to bring it up," Garrett says. "It's my job to help him out and not have him bring the ball up against pressure the whole game."
Garrett recently conceded that he spent his summer working on ball-handling—not, as many assumed, shooting—and he admits his atypical height for the point guard position gives him the advantage of seeing over the perimeter defense.
"To me, he's as fun a player as I've had to coach," Self says. "You know, here may be a little bit different because you think of Tyrel's legacy, or Brady's legacy, or Travis' legacy [Reed, Morningstar, Releford], and you don't think of guys who score a ton of points. You think of winners. And I think that will be his legacy, that he is a true winner.
"I also think this, though: I think his ceiling is higher than those other guys. I think if he tightens some things up from a shooting standpoint, he could play this game for a long time."
Upon closer inspection, there is one criterion with which Garrett might one day see his No. 0 jersey lifted to the rafters: Most Valuable Player of the NCAA Tournament would have a nice ring to it, eh?