Loral O'Hara becomes fourth Jayhawk astronaut
Loral O'Hara, a 2006 graduate of KU's School of Engineering, graduated from astronaut training alongside 12 classmates.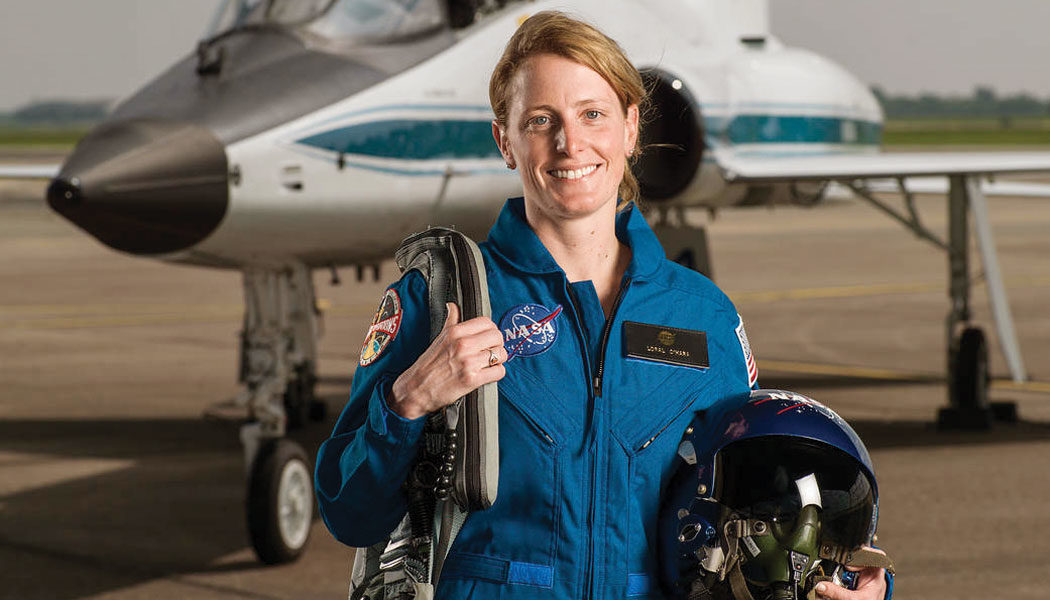 When he opened NASA's Jan. 10 astronaut candidate graduation ceremony, Administrator Jim Bridenstine introduced the 11 Americans and two Canadians with the unlikeliest of monikers: The Turtles.
 Why would these adventure-seeking scientists, all of whom hope to shoot into the heavens at thousands of miles an hour, adopt for their class mascot the famously plodding, terrestrial creature? Turns out they were paying attention at their 2017 introductory press conference, when Vice President Mike Pence noted that if a turtle is seen atop a fence post, it most assuredly did not reach that unprecedented height on its own.
It required help to get there.
"I think all of us Turtles would say that we couldn't have made it through without the support of our classmates," Loral O'Hara, e'06, said in an exclusive interview with the KU Alumni Association near the conclusion of her long graduation day at Houston's Johnson Space Center.
As depicted in The Right Stuff and other popular portrayals of NASA's space program, prospective space travelers have, from the start, been viewed as hypercompetitive, giving their all to win coveted assignments no matter the cost to themselves or others.
"In the early days of NASA, that's true," O'Hara says. "But with the [astronaut] office these days, and my class in particular, the environment is not competitive at all. It's so cooperative. It was a really cool and unique experience going through that basic training with them and learning how to be a really good team. I've never really had that experience."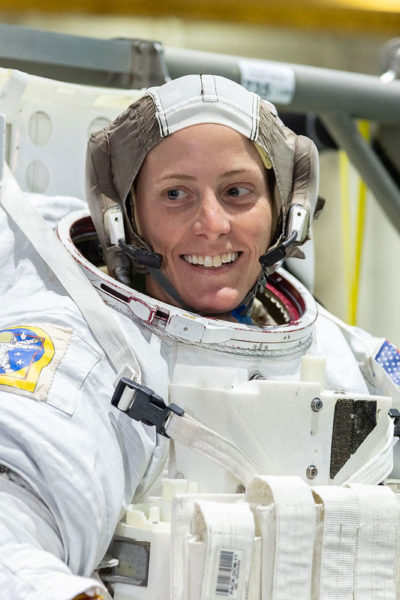 Now that she earned her coveted silver astronaut pin—which NASA will replace with a gold version after she's flown in space—O'Hara becomes the fourth Jayhawk astronaut:
Joe Engle, e'55, commanded the second space shuttle flight and earlier earned his astronaut wings with three flights above 50 miles in the X-15 experimental spaceplane.
Ron Evans, e'55, command module pilot on Apollo 17, remains the last human to orbit the moon alone and was one of only three astronauts to conduct a deep-space "EVA"—NASA-speak for extravehicular activity, or spacewalk—when he spent an hour outside the spacecraft to retrieve camera cassettes.
And Steven Hawley, c'73, professor emeritus of physics and astronomy, served as a mission specialist on five space shuttle flights, helping repair Hubble Space Telescope and launching satellites into orbit.
How will O'Hara, a Houston-area native who grew up with elementary school field trips to Johnson Space Center, make her mark as a space voyager? The options awaiting her NASA career are greater than ever, as NASA prepares to launch its Artemis program to return humans to the moon and prepare for eventual journeys to Mars.
For now, O'Hara is already working in mission control, where her mentors include plenty of Jayhawk engineers: "I know them by the 'Rock Chalk,'" she says with a laugh.
At mission control, O'Hara supports astronauts aboard the International Space Station, including Christina Koch and Jessica Meir, alumnae of NASA's previous astronaut class, 2013. Koch holds the record for the longest continuous spaceflight by a woman and, in October, Koch and Meir performed the first all-female spacewalk.
Women made up half of the 2013 NASA class; five of the 11 NASA astronauts in the current class are women; and Bridenstine emphasized repeatedly at the Jan. 10 ceremony that when Artemis launches for the moon in 2024, it will include a woman among its crew.
As the #MeToo movement fights for long overdue workplace equity, is it a reach to suggest that NASA is among the leaders in proving that women must be granted rightful roles alongside men, no matter the venture?
"You're spot-on with that," O'Hara replied. "And Christina and Jessica's spacewalk did a good job of highlighting that as well. They understand the significance and value of what they were doing that day, but, really, they were two astronauts out there doing their job. And that's very much the sense we get here. We're excited to be a part of that and we're excited to be able to symbolize the progress that we've made, but, at the end of the day, we're going to work and we're just astronauts."
Asked whether there was one particular moment during basic training when she realized she was going to succeed, O'Hara briefly paused before replying, with a chuckle, "Well, yeah, actually, there was."
That came at the Neutral Buoyancy Lab, a massive indoor pool where astronauts are fitted with full spacesuits and learn to work underwater in the cumbersome contraptions.
"It's the one thing we do that has no analogue. No one comes to NASA with spacesuit experience, so that was challenging," O'Hara explains. "I remember the first few days I spent in the pool thinking, 'Oh, man, am I ever going to be able to do this?' And then on my third or fourth run, it started to click a little bit and I started to move around in the suit.
"I was like, 'Maybe I can do this. Maybe I will be an astronaut.'"
Loral O'Hara, e'06, is fitted for her spacesuit at the NASA Neutral Buoyancy Lab.