Loral O'Hara soon to become fourth Jayhawk in space
The NASA astronaut is scheduled to soar skyward Sept. 15. She chats about her career and inspiring future astronauts.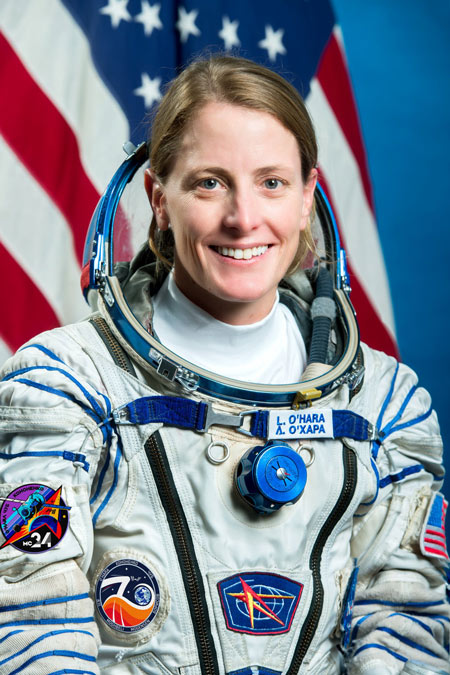 If all goes as planned, NASA astronaut Loral O'Hara, a graduate of the KU School of Engineering's aerospace engineering program, on Sept. 15 will join two cosmonauts aboard a Soyuz spacecraft at Baikonur Cosmodrome in Kazakhstan.
When she launches for the International Space Station, O'Hara, e'06, will become the fourth Jayhawk to travel into space, following legendary forebears Joe Engle, e'55, who qualified for his astronaut wings in 1965 by flying the experimental X-15 beyond 50 miles high, and later commanded the second space shuttle test flight, as well as a 1985 Discovery mission; Ron Evans, e'55, who piloted the command module on the final Apollo moon mission and completed a 65-minute spacewalk during the flight home; and Professor Emeritus Steven Hawley, c'73, whose five shuttle missions included both deploying and repairing the Hubble Space Telescope.
"It's hard to believe that something that I've been dreaming about since I was a little kid is actually going to happen," O'Hara told Kansas Alumni following a July 25 news conference at NASA Johnson Space Center. "That first moment, looking down at the Earth from space, it's surreal to think about now, and I'm very excited for it."
O'Hara joined NASA with the Astronaut Candidate Class of 2017 ("Fly High," issue No. 4, 2017) and earned her astronaut wings in 2019. She began intensive Soyuz training in summer 2021 with her first trip to Gagarin Cosmonaut Training Center at Star City, Russia. O'Hara returned for further training in February 2022, and she was on hand as part of the backup crew when classmate Frank Rubio launched from Baikonur in September 2022.
NASA's SpaceX Crew-7 mission—with an international crew of four, including O'Hara's classmate Jasmin Moghbeli—launched Aug. 17 from Kennedy Space Center. Once O'Hara and her crewmates arrive in September, ISS Expedition 70, scheduled for 190 days, officially begins.
O'Hara came to Mount Oread from her Sugar Land, Texas, home as a National Merit Scholar. While an undergraduate, she won an internship at NASA's Jet Propulsion Laboratory, and, supported by the School of Engineering and the Kansas Space Grant, she completed the intensive NASA Academy at Goddard Spaceflight Center. She spent two years as a project manager at Rocketplane Limited in Oklahoma City, completed a master's degree at Purdue University, then joined Woods Hole Oceanographic Institution as a mechanical systems engineer aboard the venerable submersible Alvin.
"When I was at Kansas, and then at Purdue, it was those astronauts who came before me who helped inspire me and make me think that it was possible, or that I should even try to apply," says O'Hara, who plans to pack a KU flag and a stuffed Jayhawk among the personal belongings she'll carry aboard her flight. "Getting to fill that role now and hopefully inspire some of the students at Kansas and Purdue is something that I would love to do."
Although O'Hara focused on her space station mission for the past two years, she also knows that greater adventures are in store for astronauts, including missions to the moon and perhaps even Mars. "I don't know what awaits for me," she said, "but there's a lot of exciting stuff going on." Judging by the smiles on administrators' faces when asked to comment on O'Hara, she has earned a glowing reputation. "Loral has demonstrated great flexibility, smarts, energy," Kenneth Bowersox, associate administrator for NASA's Space Operations Mission Directorate, told Kansas Alumni, "and I know she'll continue that on orbit and when she gets back."
As she prepared for her Aug. 4 departure to Star City and then on to the Baikonur Cosmodrome, O'Hara said she planned to savor the coffee she sips each morning on her front steps, "watching the sun rise and watching the world wake up. That's my time to reflect, and, yes, I'm thinking about what I want the launch to be, what I want the mission to be, what kind of crewmate I want to be, how I want to work with the ground, all those little aspects of the mission that it's easy to forget about when we're so focused on launch and so focused on getting through all of the work we have to do each day."
O'Hara says plans are in the works for her to connect with KU engineering students on a video call while she's in space, and there's little doubt where she'll be gazing when the space station soars over the middle of North America.
"Lawrence," she says, "is a really special place in my heart."
Editor's note: NASA astronaut Loral O'Hara, flying alongside Roscosmos cosmonauts Oleg Kononenko and Nikolai Chub, successfully launched from Baikonur Cosmodrome on Sept. 15, and, three hours later, the trio docked with the International Space Station. Speaking to her family moments before climbing aboard a bus that carried the space travelers to their Soyuz rocket, O'Hara did her best to allay at least one of her family's concerns: "If you've been trying to text me," she said from behind a glass quarantine partition, "I left my phone somewhere in the hotel." For her first trip into space—carrying a stuffed Jayhawk among her personal mementos—O'Hara flew alongside another space newbie in Chub, as well as most experienced astronaut in the history of spaceflight: Mission commander Kononenko, who repeatedly flashed peace signs while walking with his crew to their transit bus, is on his fifth journey into space. If his mission lasts a full year, as planned, Kononenko will become the first human to spend 1,000 days in space. O'Hara's mission is scheduled for six months.
Chris Lazzarino, j'86, is associate editor of Kansas Alumni magazine.